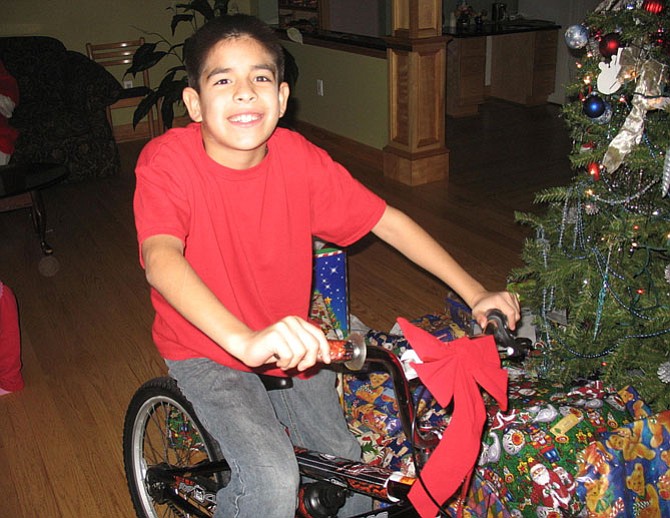 Fairfax — The holidays are a time for giving and sharing, and a wonderful way to celebrate the spirit of the season is by helping neighbors in need. That's exactly what Britepaths (formerly Our Daily Bread) does, but it can't do it alone.
It needs caring individuals, groups, businesses and organizations to lend a hand by sponsoring a Fairfax County family for the holidays. And this year, help is particularly critical.
"We anticipate serving about 2,000 families, as opposed to 1,500 last year," said Britepaths Executive Director Lisa Whetzel. "Normally, we share them with our other nonprofit partners. But what is concerning is that, this year, our partners are scaling back – so we're in desperate need for people who want to become sponsors."
Or, she said, people may make cash donations to Britepaths, and the organization will use these funds to purchase grocery-store gift cards for the recipient families. And, stressed Whetzel, "We're especially focusing on the neediest families in our area."
Through a grant from Fairfax County, Britepaths' Holiday Program matches individuals and families in need with donors who'll provide December holiday meals, plus gifts for the children in the family. Each recipient family provides a wish list for their children under 18.
FAMILIES are referred to the program by Fairfax County Public Schools social workers and counselors, as well as county social-services agencies. "Many of the families we serve work multiple jobs to make ends meet," said Britepaths spokeswoman Heather Webb. "Others are searching for work after being laid off or cannot work because of illness, injury or some other crisis."
So when it comes to holiday food and gifts, said Whetzel, "It's stressful for the parents worrying about how they'll provide these things for their children. And in some cases, if they don't receive gifts through our program, they might not receive anything at all."
Participating in the Holiday Program has other benefits, too. "It provides the donors with a face-to-face connection with the families they're helping, if they choose to sponsor a family," said Whetzel. "It raises awareness of others living on very limited incomes in our community that generally has so much. And the donors' children see how fortunate they are and have a happy memory of seeing how excited the families are to receive their meals and gifts. It's such a nice experience."
But financial contributions to Britepaths are equally welcome. "Anything people can do – even just a $25 cash or grocery-card donation is appreciated," said Whetzel. "The deadline to sign up to sponsor a family is Dec. 12, but cash and gift cards are welcome anytime. Both are great ways to give back."
"Our own budget has decreased, and the number of our families has increased, so we can really use the community's help," she continued. "It can be book clubs, civic associations, students, office departments, businesses, neighborhood or youth groups or just individuals."
To participate, go to https://britepaths.org/our-programs/holiday-program for links to sponsoring a family for Christmas or contributing funds. People may make tax-deductible donations online, or drop off or mail checks or gift cards to: Britepaths, 4080 Chain Bridge Road, 2nd Floor, Fairfax, VA 22030. Write "Holiday Program" on the memo line of checks. For more information, contact Joanne Walton at jwalton@britepaths.org or 703-273-8829, ext. 888.
"We're grateful for gift cards in denominations of $10, $20 or $25 that we can give to families who are not matched with sponsors," added Webb. "The most-needed gift cards are for Target or Walmart so families may purchase gifts for their children. As for grocery-store gift cards, it's especially helpful if they're for stores such as Giant, Safeway and Shoppers Food Warehouse, commonly found in the local community."
PEOPLE may also register for Britepaths' Holiday Program fundraiser, "Wine & Wonderment," at the Website. It's a festive wine-tasting, Wednesday, Nov. 30, from 6:30-8:30 p.m., in the waterfall room of 2941 Restaurant in Falls Church.
Basically, said Whetzel, "Many people don't realize there are so many people here living in poverty. Our Holiday Program is about acknowledging gratitude for everything you have and wanting to share it. The holidays are more about giving, than receiving, and helping others is a beautiful experience that benefits both the givers and the recipients."