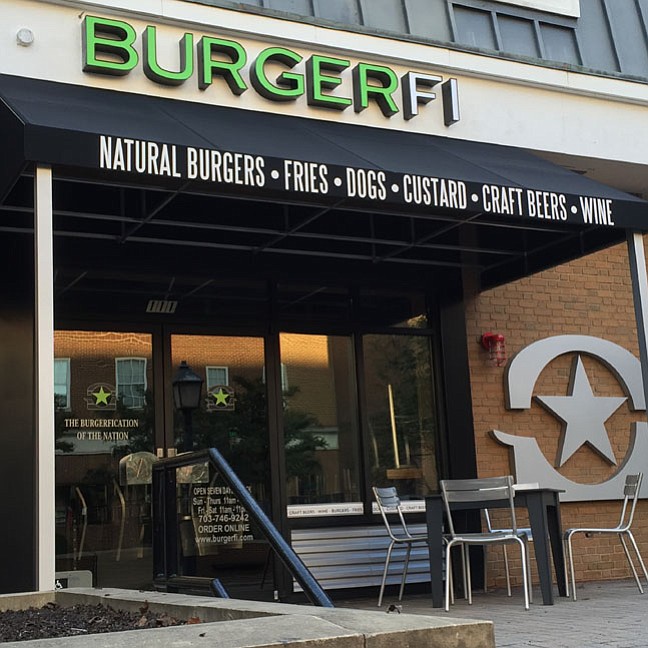 Peer down the 100 block of North Pitt Street and it's easy to spot a new neighbor. The erstwhile Pat Troy's Ireland's Own, shuttered for several years, now has new life in the form of the city's first BurgerFi. Open since Sept. 26, the locally owned franchise has begun to generate quite a bit of foot traffic — and prelaunch interest, too, with would-be customers peeking in the front door in anticipation.
But you haven't missed a grand opening event, franchise co-owner David Landry says.
"We just sort of unlocked the door and let the word get out that we were serving food," he said. "I'm pretty pleased with the reaction. We're doing a great lunch business, which I expected we would. There's a lot of fine dining in Old Town but not a lot of fast casual."
For Landry, the restaurant's new home on North Pitt Street is a family affair — and a homecoming of sorts. He co-owns the restaurant — and its sister BurgerFi in Leesburg — with his son, Chris Landry, and their family friend, Tim Kelly. And David Landry has longstanding roots within Alexandria, having grown up in the city, making their second location a natural fit.
Just two weeks into the new location's opening, the team is settling in nicely.

"The reaction's been great," Landry said. "I've heard nothing negative about the food, but I didn't expect I would because the food's fantastic."
And about that food: Don't expect a cookie-cutter, from-a-package experience, Landry says.

"We don't pour anything frozen out of a bag. Our French fries are potatoes in the morning and they become French fries. Our onion rings are huge jumbo onions in the morning and they become onion rings. Everything's made from scratch. Unlike a lot of faster-casual restaurants, we just don't take any shortcuts," he said.
But the real reason people are coming to BurgerFi are the, well, burgers. And Landry insists that customers won't be disappointed.
"That's what we do is burgers; the meat is the best we can buy," Landry said. "People are smarter these days. People are paying attention to what they put in their bodies. And while I will never pretend that a cheeseburger is health food, Americans are always going to eat cheeseburgers. And if you're going to eat a cheeseburger, then you really ought to eat this one. No junk, no additives, no hormones, no antibiotics; it's humanely raised and source-verified. You just can't buy a better meat."
While the neighborhood has quickly embraced BurgerFi, Landry and his team are eager to give back once they have the restaurant fully launched and running smoothly.
"Right now we're focused on honing our skills with all our new people and doing things right, and turning this new location into a place that people are excited to go to, but certainly we plan on getting heavily involved in the local community," including local schools, sports teams, and law-enforcement and veteran's organizations, he said.

Details
BurgerFi, 111 N. Pitt St.
Hours: 11 a.m.-10 p.m. Sunday-Thursday; 11 a.m.-11 p.m. Friday-Saturday.
Try this: The Breakfast All Day (aka BAD) Burger. Topped with maple syrup, ketchup, a fried egg, hash browns and bacon, "it has a cult following like you wouldn't believe," co-owner David Landry said.
Hope Nelson owns and operates the Kitchen Recessionista blog, located at www.kitchenrecessionista.com. Email her any time at hope@kitchenrecessionista.com.