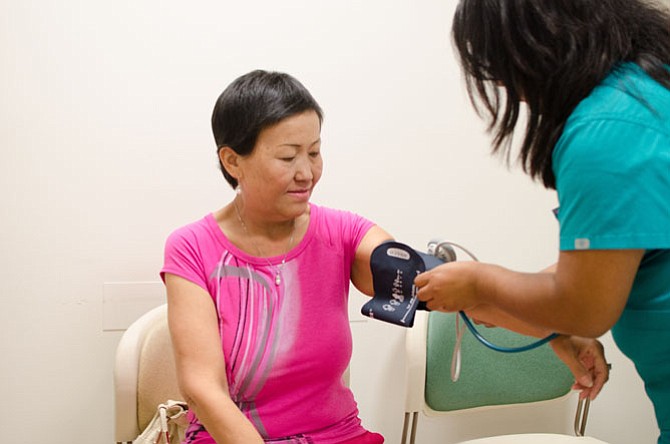 See more Arlington Free Clinic photos on Facebook.
The last person you expect to see at the Arlington Free Clinic is your own family doctor. But he's there, volunteering his time to work with Arlington's uninsured. It is one of the main tenets of the Arlington Free Clinic (AFC): This isn't just health care for the people who can't afford doctors, or free health care that is "good enough" — It's premium medical care. The doctor knows you by name, or knew you when you had your first child and is now coaching you through breast cancer.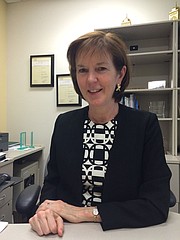 "A major motivator for our volunteers," said Terry McManus, nurse practitioner, "is the standard of care we deliver." He recalls one case of a man who lived in Las Vegas. He had abdominal cancer, but he didn't want treatment. Eventually he moved back to Arlington to be with his family: he still didn't want treatment. He was doing his own, over the counter cure. No one belittled his decision or pressured him. They just reiterated: they were available if he changed his mind. McManus talked to him about the profound mass in his abdomen, and tried to get him to do something about it, but in a way that left the decision up to the patient. Eventually, almost a year later, he began to trust McManus and went in for chemo. His cancer was turned around surprisingly fast.
The AFC was started 23 years ago by a group of physicians who were seeing an increasing number of uninsured patients. They formed the clinic and Nancy Pallesen became its head. They opened its doors in the nurse's office of Thomas Jefferson Middle School in 1993. Eventually they moved to their own space, an old bank, a green building which is now their first real space. It's a haven for immigrants who aren't in status. About 90 percent of its patients are immigrants, either recent or first generation. AFC is not a walk-in clinic: one must sign up and join. But it's free, and the immigration status of those who join is not an issue. All medical care, even mental health care, and now dental care, is covered by the clinic. They have 1,600-1,700 active "members" (patients) but with their breast health outreach program, they serve hundreds more than that.
The number of uninsured is increasing, says Nancy White, executive director since 2015. The Affordable Care Act has not solved the problem in Virginia because of the coverage gap. Increasing numbers of immigrants without insurance, and whose health problems can be very severe if they have come from a country with poor health care, make the AFC more important than ever. "And it's important to note," sayid White, "that these are the working poor: some of them have as many as seven W-2's and they are still below the poverty level: they are the house cleaners, office cleaners, babysitters, day laborers, and cashiers we see every day."
AFC takes some patients in by lottery: 60-100 people show up at the door, and they take in 20-40 of those; the others come back in six months and try again. Other patients, about half of the total, come in from referrals from VIrginia Hospital Center and the Department of Human Resources. Patients must be at or below the 200 percent of poverty level. The median annual income for Arlingtonians is $100,000: for those who come to the AFC it is $15,000 a year. Those under 18 can go to the Arlington Pediatric Center. Those over 65 have Medicare. But low income people between the ages of 18 and 65 have nowhere to go.
McManus says it's the nature of the work at the clinic that makes working there so great: they have to be very hands on, very vigilant. "One gentleman had gone to the ER with a problem in his throat; he had no insurance. They found this big lymph node, then cancer of the throat and neck. They treated it. But if they had just gone on the basis of the tests he had at the ER, they would have found nothing: nothing showed up on the X-ray or the blood test. He had been discharged from the ER with no follow up. If we hadn't been so vigilant, that man would not be living today," he said.
There is a team approach for patients. A case manager keeps the whole picture in mind; physical therapists and nurses follow up with the patients. They aren't just treating symptoms. Mental health is a major aspect of the treatment at AFC: between 600 and 800 visits a year take place to help manage depression and anxiety, PTSD, and other issues. AFC has a volunteer psychiatrist, social worker, licensed family therapist, marriage and family therapists. Although they use a language line phone link up to help translate many of the patients' issues, in the case of mental health, they also appreciate bilingual volunteers with language ability who can be in the room with them. Five hundred and fifty volunteers provide the health care at the clinic.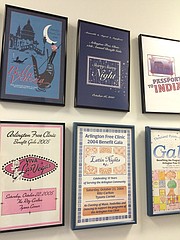 What motivates these volunteers? "It's partially the mood of the place," said White. "Physicians can come in, make recommendations, then engage in follow up care and use a network of other providers who can really treat the patient. It's also the fact that they can take the time, that no money changes hands, that they are giving back."
McManus says it's also the adventure of treating people who have lived somewhere else most of their lives. "It's almost like being a doctor in "Doctors Without Borders," he said. There are diseases that affect immigrants that the rest of Arlington doesn't worry about: like Chagas Disease, says McManus. "Northern Virginia is ground zero for that. It's known as the Kissing Bug disease, and many of the Bolivians immigrants have it."
McManus says between 60 and 70 percent of the clients at the AFC are Latino. Ethiopians and Eritreans are coming in a lot. Others are Nepalis, Vietnamese, Iraqis — many are English illiterate and unable to navigate the system. "I saw a family today," said McManus. "All three generations were there: the patriarch who is chronically ill, two older daughters who are caregivers, and on whom the care-giving is taking a toll, and their daughter. They had a patient conference to care for the whole family, in a holistic way."
Dental care is a new addition to the clinic, since last July. The need was much greater than anticipated, and the severity of the cases was great. More than 65 percent of the patients needed deep cleaning below the gum line. Thirty percent needed root canals and crowns. Three hundred patients received dental care in one year alone. The clinic is proud of its dental care, especially with the current medical news showing tooth care is a primary element of good overall health, says White. Dental care involves a $50 charge.)
The clinic's cancer care is equally impressive according to several of the nurse practitioners at the clinic. "With the support of Komen and Avon, the clinic can reach out to spread the word to women who need testing for cancer but who are not necessarily our patients," said White.
Still, running a clinic of this scope doesn't come cheaply. AFC distributes 17,000 prescriptions a year to the working poor of Arlington. Some are donated, some are bought as bulk generic drugs, and some go from the Prescription Assistance Program to generic and then can't be obtained for free. The annual gala dinner is one of the ways the AFC continues to pay for these drugs: 30 percent of the funds needed by the AFC come from the proceeds. This year, the Arlington Free Clinic Annual Gala will recognize the 550 volunteers who make the clinic operate so seamlessly. There is only one paid medical provider at the clinic: everyone else donates their time.
This year's theme for the annual benefit gala is the Masquerade Ball, and it will be held on Oct. 29, at the Ritz-Carlton, Tysons Corner.
Sponsorships and tickets are available at: gala.arlingtonfreeclinic.org. For more information about the AFC, see www.arlingtonfreeclinic.org.
Masquerade Ball
The annual benefit gala to benefit the Arlington Free Clinic will be held on Oct. 29, at the Ritz-Carlton, Tysons Corner.
Sponsorships and tickets are available at: gala.arlingtonfreeclinic.org.
For more information about the AFC, see www.arlingtonfreeclinic.org.