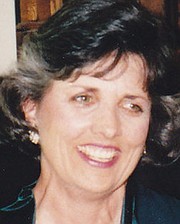 Laura Josephine Combs Davis died Sept. 19, 2016, at Georgetown University Hospital after a brief battle with cancer. She was born Sept. 22, 1939, in Los Angeles, Calif., to Samuel John Combs and Avaleah Lafferty Combs. After living in Camden, N.J. and Dallas, Texas, the family re-settled in Van Nuys, Calif. and Laura lived there until she left to attend college at Stanford University in 1957. As a young student, she studied music and played the piano. Laura won many academic awards and was an A student at Van Nuys High School. Exercise was a constant in Laura's life: as head cheerleader, she choreographed routines for the entire cheerleading team. As a high school senior, Laura served in student government, won first place in the Bank of America Mathematics competition, and was chosen for membership in the prestigious Ephebian Society of Los Angeles.
At Stanford, Laura continued her athletic pursuits as a member of the ski team. She earned a Bachelor's Degree in mathematics from Stanford and. after marriage and moving to the D.C. area, a Master's Degree in statistics and artificial intelligence from the University of Maryland. She worked for the Naval Research Laboratory as a specialist in artificial intelligence, attending many international conferences.
Laura raised two sons, Michael and Alexander. Laura enjoyed traveling with her sons and their families. Books and home-grown fruits, vegetables, and herbs from her garden were abundant in Laura's home. After her retirement, Laura remained active in her community: she joined the local elections board, was an usher for performing arts, taught popular exercise classes at the Hollin Hall Senior Center, volunteered at Mount Vernon and the American Horticultural Society, and was a block captain for the Wellington Civic Association.
Laura is survived by her sons, Mike and Alex; sister, Sarah; brothers, Bill and Tom; grandchildren, Christopher, Rachel, Ayla, and Lena; daughters-in-law Flossie and Janine; and nephews, nieces, cousins, and friends; all of whom loved her and will miss her dearly. A memorial service will be held for Laura in December; for more details, please email lauradavismemorial@gmail.com. In lieu of flowers, donations in Laura's memory may be made to the Fairfax Library Foundation.