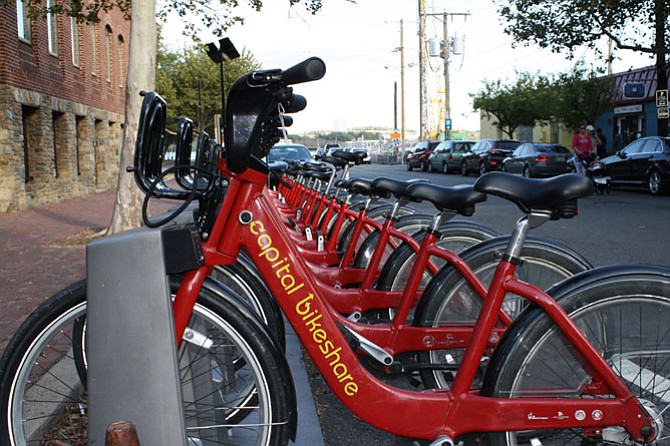 Near the corner of Union Street and Prince Street in Old Town, Alexandria, there is a row of red Capital Bikeshare bikes for commuters, tourists and locals to rent, to offer biking as a transportation option without the hassle of congestion or parking that plagues the area. This bikeshare station near the waterfront is one of eight stations in Alexandria that is part of a nationwide approach to some of the problems plaguing metropolitan areas in this country.
Bikeshare is not a wave of the future, "it is a wave of the present," said Paul DeMaio, one of the leaders at Metrobike that manages Capital Bikeshare.
Capital Bikeshare stations are all over the Northern Virginia area, but mainly located in urbanized areas to increase their potential use. The stations are all over Arlington, especially in the transit-oriented development section of the Wilson Boulevard corridor through Clarendon and Rosslyn. In that area, it's easy for commuters to ride a bike to employment destinations across the Potomac River, and dock at one of the many stations in the District of Columbia.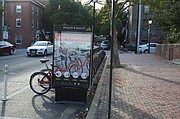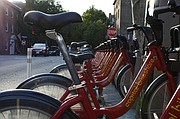 IN SEPTEMBER, Capital Bikeshare expanded into Fairfax County with two satellite networks along Metrorail's Silver Line in Tysons and Reston. Officials are planning 15 stations in Reston near the Wiehle-Reston East Metrorail station and the Reston Town Center area and 14 stations in the Tysons Corner area serving multiple Silver Line stations, employment centers, and shopping and recreation destinations, according to their website.
DeMaio sees the advantages of Capital Bikeshare as "less traffic congestion, improved health of the rider, increased economic activity at the businesses near bikeshare stations, access to a wider range of jobs for low-income individuals, and a low carbon footprint," DeMaio said, via email.
The Capital Bikeshare stations are lumped under the umbrella definition of "transit," and although there is a cost to the rider, they are not sustained through user fees and sponsors. On average, only 54 percent of the bikeshare cost is recovered, and the rest is funded by local jurisdictions. In Washington, D.C., where the riderships are relatively high due to population density "there is a higher cost recovery but I wouldn't say it's profitable," DeMaio said.
The red Capital Bikeshare bikes are made by Devinci, a Canadian company that manufactures the Bixi model, a rugged, thick-wheeled model that looks like they could ride through just about anything, and they just about can according to Any Truchon, media relations representative for Devinci. The Bixi was created for the city of Montreal in 2008, and are now available in 15 major cities in the world on three separate continents, Truchon said. In the design process, a rider went around the city with a computer in his backpack, going down stairs, over gaps, holes, and unpaved sections for a realistic experience. "None of them came back broken, it's a great source of pride for us," said Truchon in an email.
THE BIKES do sit in the stations for a majority of the time, exposed to the elements and potential vandalism. In Alexandria, there have been few complaints about the condition of the bikes, but according to Hillary Orr, program manager of the city's "Complete Streets," program, there's a way to report it on the station's computer. "If a bike is not working, a person can just dock the bike and lock it down by hitting the wrench key that will alert a technician that there's an issue with the bike," she said, via email. In August 2016, the city recorded an average of 246 Capital Bikeshare trips per day and each trip was just over two miles, the city statistics showed.
All fees are rendered via credit card but there is a cash option for those who do not have credit cards. In D.C., there is a program called "Bank On," where users deposit $50, and in Arlington, users can sign up at any of their five Commuter Store locations.
Capital Bikeshare Mission
To transform our community by providing a high quality, convenient and affordable bicycle transit system that will connect people to more places where they live, work and play in the region.