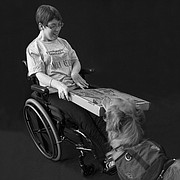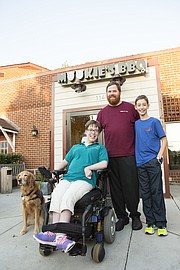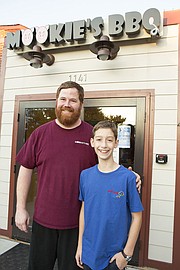 When 12-year-old Dylan Kurtz decided he wanted to help paws4people, a non-profit that trains customized Assistance Dogs for children, adolescents, veterans and service members, he says his goal was to raise as much money as possible.
He approached Mookie's BBQ, he says, because it's one of his favorite restaurants.
Brian Varani, who owns Mookie's with his wife, Megan, says that Dylan's spirit of giving was contagious and a great reminder that no matter how busy and hectic life might get, you should always make time to give back.
Brian committed immediately to a Mookie's paws4people day. And on Oct. 5, 10 percent of all gross proceeds from lunch, dinner and take out were donated to the nonprofit, to help defray the costs of training assistance dogs.
Dylan approached other Great Falls locals for raffle donations and he was clearly as persuasive. The Oct. 5 event included a raffle with a robust list of prizes from; L'Auberge Chez Francois Jacques Brasserie, Flags of Valor, Great Falls Pilates, Christie-Adam Salon & Spa, Great Falls Cycle Studio and Whippourwill Bakery.
In addition, Brian and Megan Varani donated two tickets for "Curious Incident of the Dog in the Night-Time" at the Kennedy Center and by promoting the tickets through Nextdoor Great Falls, a $150 donation was added to the fundraiser totals.
Rachael Wessell, of Ashburn, who knows first hand the difference a paws4people service dog can make, was on hand at Mookie's with her service dog, DAWSON. In addition to coming with her family to enjoy mac & cheese and barbeque, she was available to tell other diners about the limitations her cerebral palsy has created and quite literally, the doors DAWSON opens for her every day.
Understandably, Dylan was nervous about how the day would go. After raising a whopping $2,165 through the Mookie's donation and raffle ticket sales, he says, "I was overwhelmed by the support from the community and excited about the money I raised for paws4people." Varani was equally pleased with the response and looks forward to continuing to partner with the community to make a difference.
And young Dylan isn't done yet. Join him at the Great Falls Cycle Studio, Saturday, Oct. 22 at 10:45 for a 30-minute, indoor charity ride. Your $20 class fee will go straight to paws4people and includes the class and a swag bag! Sign up by email: info@greatfallscyclestudio and keep up with Dylan on Facebook at Dylan Donates.
If you are interested in reading more about Dylan's giving back journey, you can read his Connection article: How I Spent my Summer Vacation
Joan Brady is a professional photographer; award-winning columnist; co-owner of Spirited Media, Inc., mentor and advocate for current and former foster children; a volunteer with paws4people and others; and a resident of Great Falls. Reach her at joan@joanbradyphotography.com