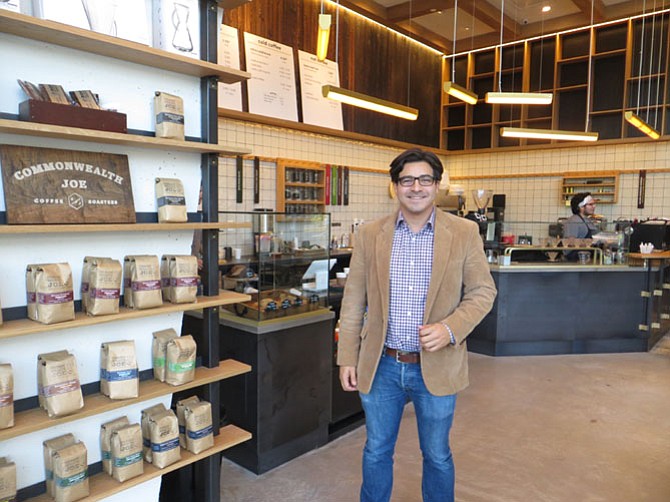 Republican candidate Charles Hernick meets at Commonwealth Joe's, a coffee shop in Pentagon City so new it hasn't even had its official opening. It's populated almost exclusively by millennials, and Hernick fits right in. When asked about the political issues that matter to them, the students and baristas at Commonwealth Joe's all answer that climate change and combating student debt are their key voting issues. It's a liberal atmosphere, but that doesn't stop Hernick from trying to win them over.
Hernick represents a new kind of Republican opponent for U.S. Rep. Don Beyer. Hernick was 8 years old when Beyer was elected lieutenant governor of Virginia. Like many younger voters in the district, Hernick moved to the area to work in consulting, focusing on economics and environmental work domestically and internationally in his work with The Cadmus Group. Hernick represents a new generation of Republicans, one more inclusive and free market focused than the GOP at the top of the ticket.
"Republicans in Northern Virginia are a very different breed from those that put Donald Trump on the ballot," said Hernick.
There's a 30-year age difference between the two candidates, but in many ways their ideological stances aren't far removed. Hernick is a Republican whose chief political inspiration is Bobby Kennedy. He's progressive on social issues, last week earning the endorsement of the Log Cabin Republicans. One of his top campaign priorities is combatting climate change that Hernick says is absolutely caused by people.
But beneath those similarities, Hernick is still true-red. When a student at the coffee shop brings up debt forgiveness and free college, Hernick braces himself to deliver an unpopular answer for many millennial voters.
"Where is free college going to come from?" asks Hernick. "We can increase our taxes on corporations but they will move abroad. Corporations are already fleeing higher taxes to places like Ireland. I'm troubled by the idea of free college tuition."
Instead, Hernick says the government needs to try and focus on fixing the fundamentals of the economy to ensure that graduates have decent paying jobs to pay back their debt. By improving the health of business, Hernick says a stronger commercial tax base can help finance government subsidies to public colleges.
Hernick also says the country needs to rework bankruptcy to eliminate student debt. Currently, student debt doesn't go away when someone files for bankruptcy.
Hernick says he disagrees with many climate change deniers in the Republican leadership.
"I've been telling Republicans that they're doomed if they can't work on climate change issues," said Hernick. "People want to see action."
But while Hernick's beliefs on the subject are closer to Beyer's there's still disagreement between the two. Hernick opposes Beyer's proposed carbon tax, saying that Republicans will never agree to it. Hernick favors cap and trade measures, specifically starting with the trade side to ease other Republicans into the idea as financially sound.
"The far-right is worried about damage to the economy with [climate change-preventative measures], so we start with trade," said Hernick. "That won't hurt the economy, it will help build renewable energy, and it's something we can get passed within two years."
Hernick also says workplace efficiency within the federal government has to be a priority for any member of Congress in the 8th District.
"The kind of inefficiency that resulted in the Metro issue and the [current situation] at the Department of Veteran's Affairs plagues the federal workplace," said Hernick. "A whole batch of millennials are looking at government work but are leaving this area because it's not a good place to work. There's hiring freezes and incompetent employees are impossible to fire. We're losing a lot of good young talent."
Hernick says he disagrees with the conventional wisdom that Virginia, even Northern Virginia, is a guaranteed Democratic win. At a local level, Hernick says he drew a lot of inspiration from Arlington County Board member John Vihstadt's election and subsequent reelection to the overwhelmingly Democratic Arlington County Board.
"He built a fiscal platform with a broad coalition," said Hernick. "He won because he focused on the issues that matter. We're one of the youngest and most diverse areas of the country. If I can get my message out, I can win."
Hernick says the 20 percent of millennials voting for Gary Johnson gives him hope for his candidacy as well. On election day, Hernick says he plans to vote early and then travel the district to introduce himself outside other polling stations.
Friends of Hernick say he's honest and upfront about his beliefs. Tracy Mehan worked together with Hernick at the Cadmus Group.
"Anyone who's met [Hernick] knows he's very upfront," said Mehan. "What you see is what you get. You may not always agree with him but he's free of guile. He tells you where he stands and gives you his best effort."
Nathan Perry is a Libertarian in Arlington and a friend of Hernick's. Like Mehan, he says he doesn't always agree with Hernick on some issues but says Hernick is always open to friendly debate and discussion.
"He's got actual integrity," said Perry. "We have good, vigorous open debates about how we think the world should work. That's what I like about him. I've never seen him dodge a question or change the topic. He's got real integrity. For once, he's a politician I actually want to be [in power]. He will listen to people's ideas."
Mehan says Hernick has always been passionate about environmental and economic issues.
"[Hernick] also did a lot of work in the international area," said Mehan. "He always had a very broad view and worked in Latin America and Africa. He brings a global approach things. He had the right blend of a good environmental ethic and a good sense of what motivates people and incentivizes behavior."
Charles Hernick
Party: Republican
Campaign Priorities:
Enviromental Reform (Cap and Trade)
Federal Efficiency
National Security.
Campaign funding - as of Sept. 30 from Opensecrets.org
Raised: $59,852
Spent: $45,660
Contact: charles@charleshernick.com