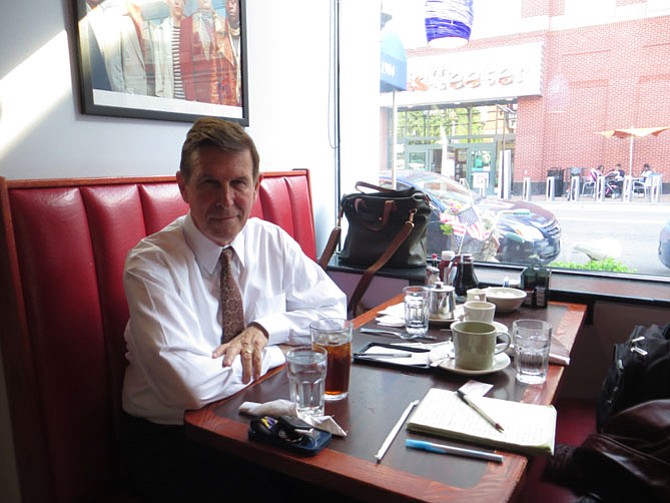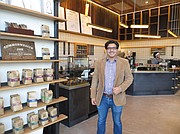 While the nation chooses between two Presidential candidates of extreme political and temperamental differences, voters in Virginia's 8th District face a different kind of decision. As Democratic U.S. Rep. Don Beyer runs for reelection, he faces opposition from an un-Trump-like Republican candidate.
Republican candidate Charles Hernick meets at Commonwealth Joe's, a coffee shop in Pentagon City so new it hasn't even had its official opening. It's populated almost exclusively by millennials, and Hernick fits right in. When asked about the political issues that matter to them, the students and baristas at Commonwealth Joe's all answer that climate change and combating student debt are their key voting issues. It's a liberal atmosphere, but that doesn't stop Hernick from trying to win them over.
Hernick represents a new kind of Republican opponent for Beyer. Hernick was 8 years old when Beyer was elected lieutenant governor of Virginia. Like many younger voters in the district, Hernick moved to the area to work in consulting, focusing on economics and environmental work domestically and internationally in his work with The Cadmus Group. Hernick represents a new generation of Republicans, one more inclusive and free market focused than the GOP at the top of the ticket.
"Republicans in Northern Virginia are a very different breed from those that put Donald Trump on the ballot," said Hernick.
There's a 30 year age difference between the two candidates, but in many ways their ideological stances aren't very far removed. Hernick is a Republican whose chief political inspiration is Bobby Kennedy. He's progressive on social issues, last week earning the endorsement of the Log Cabin Republicans. One of his top campaign priorities is combatting climate change that Hernick says is absolutely caused by people.
But beneath those similarities, Hernick is still true-red. When a student at the coffee shop brings up debt forgiveness and free college, Hernick braces himself to deliver an unpopular answer for many millennial voters.
"Where is free college going to come from?" asks Hernick. "We can increase our taxes on corporations but they will move abroad. Corporations are already fleeing higher taxes to places like Ireland. I'm troubled by the idea of free college tuition."
Instead, Hernick says the government needs to try and focus on fixing the fundamentals of the economy to ensure that graduates have decently paying jobs to pay back their debt. By improving the health of business, Hernick says a stronger commercial tax base can help finance government subsidies to public colleges.
Hernick also says the country needs to rework bankruptcy to eliminate student debt. Currently, student debt doesn't go away when someone files for bankruptcy.
Hernick says he disagrees with many climate change deniers in the Republican leadership.
"I've been telling Republicans that they're doomed if they can't work on climate change issues," said Hernick. "People want to see action."
But while Hernick's beliefs on the subject are closer to Beyer's there's still disagreement between the two. Hernick opposes Beyer's proposed carbon tax, saying that Republicans will never agree to it. Hernick favors cap and trade measures, specifically starting with the trade side to ease other Republicans into the idea as financially sound.
"The far-right is worried about damage to the economy with [climate change-preventative measures], so we start with trade," said Hernick. "That won't hurt the economy, it will help build renewable energy, and it's something we can get passed within two years."
Hernick also says workplace efficiency within the federal government has to be a priority for any member of Congress in the 8th District.
"The kind of inefficiency that resulted in the Metro issue and the [current situation] at the Department of Veteran's Affairs plagues the federal workplace," said Hernick. "A whole batch of millennials are looking at government work but are leaving this area because it's not a good place to work. There's hiring freezes and incompetent employees are impossible to fire. We're losing a lot of good young talent."
Hernick says he disagrees with the conventional wisdom that Virginia, even Northern Virginia, is a guaranteed Democratic win. At a local level, Hernick says he drew a lot of inspiration from Arlington County Board member John Vihstadt's election and subsequent reelection to the overwhelmingly Democratic Arlington County Board.
"He built a fiscal platform with a broad coalition," said Hernick. "He won because he focused on the issues that matter. We're one of the youngest and most diverse areas of the country. If I can get my message out, I can win."
Hernick says the 20 percent of millennials voting for Gary Johnson gives him hope for his candidacy as well. On election day, Hernick says he plans to vote early and then travel the district to introduce himself outside other polling stations.
U.S. Rep. Don Beyer meets at The Royal Restaurant, a diner serving Old Town Alexandria since 1908. It's a quieter and more sedentary atmosphere than Commonwealth Joe's, but one whose walls are adorned with pictures of famous visitors.
It's been two years since Beyer took office, stepping into the shoes of longtime U.S. Rep. Jim Moran.
"I was surprised Hernick got the nomination," said Beyer. "I respect his positions on climate change and we end up agreeing on a lot."
For Beyer, climate change and environmental work has been at the center of his campaign. While respecting Hernick's positions, Beyer says it is naive to think Republican leadership is going to be willing to work on climate change issues, referencing Cap and Trade measures similar to what Hernick is proposing that were brought up in 2010 and actively campaigned against by Republicans. Instead, Beyer has been pushing for a tax on carbon emissions, one aimed at environmental deterrence rather than as a revenue source.
"One hundred percent of that tax revenue will go back into people's pockets," said Beyer. "I think Republicans will like this version more because it isn't about increasing revenue to the government."
Beyer says he's spent the last two years in office trying to reach out to Republicans and has found only 10 even willing to talk about the issue, with several of them retiring.
"To pass a carbon tax [and other environmental reforms], Democrats will have to be in the majority," said Beyer. "If we are, we can get the Republicans onboard."
In the meantime, Beyer says he's continuing to meet with Republicans one on one to work on changing their minds.
Beyer's stance on free college would have gone over well with many of the patrons of Commonwealth Joe's. Beyer supports free community college to help make the first few years of school tuition and debt free. Beyer says the government needs to work to help make it possible to refinance student loans.