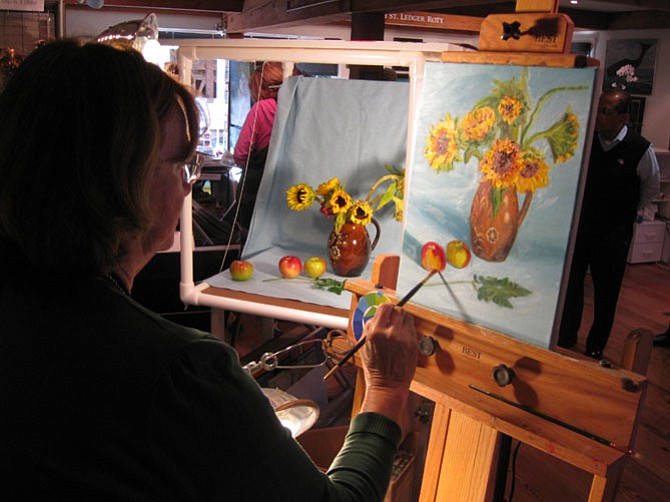 See more Art Tour photos on Facebook.
About 500 visitors and 59 artists took part in the 13th annual Great Falls Studios 2016 Art Tour last weekend, Friday through Sunday, Oct. 14-16, in Great Falls. Working artists opened their homes and studios to visitors all over the back roads of Great Falls, and the three group art studios at the Village Green -- The Artists' Atelier, Artists on the Green, and The Artists' Loft -- participated as well. It was a chance to see artists at work in historic outbuildings, remote sheds, converted garages and other unusual places.
"The really fun thing about this annual event is seeing people from all over the region enjoy the variety of art that the artists of Great Falls share. It's a great community event," said Julie Casso, Executive Director of The Arts of Great Falls. "It's fun to drive down the winding roads of Great Falls and come across a hidden studio."
"Visitors can visit artists in their own creative spaces; they can see art being made on site, talk to artists about their process and inspiration, and purchase an original piece of art," said Cindy Grisdela, a fiber artist at The Artists' Atelier.
"I think this is a great opportunity to bring the community to see the art that's being produced in Great Falls," said painter Judith St. Ledger-Roty. "It's very diverse; we have oil painters, mixed media, acrylic painters, photographers, and a diversity that has sprung up in the last several years. It's great because it's three days and people can come and meet their friends, have a cup of coffee and enjoy seeing the art that's here."