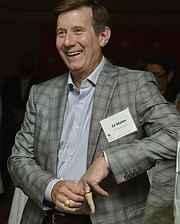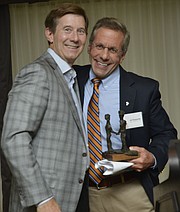 At the 67th annual Board of Directors meeting held in St. Louis, Mo. the National Kidney Foundation (NKF) bestowed its highest honor to long-standing volunteer, W. Edward Walter of McLean, President, Chief Executive Officer and Director of Host Hotels & Resorts. Walter received the Martin Wagner Award from the foundation for his many years of service both as a local and national board member. The Martin Wagner Award, NKF's most prestigious honor for volunteers, recognizes those individuals who have given countless hours on behalf of its programs and devoted themselves to helping the foundation reach its goals and serve the people who could benefit from its service.
"For the past 16 years, Ed Walter has been an integral part of the National Kidney Foundation and represents the epitome of leading by example. His tireless commitment to helping people affected by kidney disease; continued support of our programs from the local level to the national board; and genuine desire to use his business acumen to help move the mission of the foundation forward have directly impacted each and every one of us," said Art Pasquarella, Chairman, NKF Board of Directors. "One of his most notable achievements has been through his founding support of CKDIntercept—NKF's most ambitious initiative yet to raise kidney health and prevention of kidney disease to a national priority, and change the way the primary care system works with regard to chronic kidney disease," noted Pasquarella.

Walter has served the foundation since joining as a volunteer in 2000, all the way through to his recent retirement from the national Board of Directors in 2016. He began his involvement with the foundation at the local level through the annual Kidney Ball hosted by the National Capital Area office. In 2002, Walter served as Chair of the Kidney Ball; and from 2003 to 2008 served on the National Capital Area Board of Directors. From 2008 to 2016, Walter served on the national Board of Directors; during which time he was Chairman of the National Audit Committee, led the Chairman's Business Roundtable, and in 2011 was elected Chairman of the Board of Directors. During his national board tenure Walter served on the Audit, Executive, Nominating, Finance, and Compensation Committees.
The National Kidney Foundation (NKF) is the largest, most comprehensive and longstanding organization dedicated to the awareness, prevention and treatment of kidney disease. For more information about NKF visit www.kidney.org.