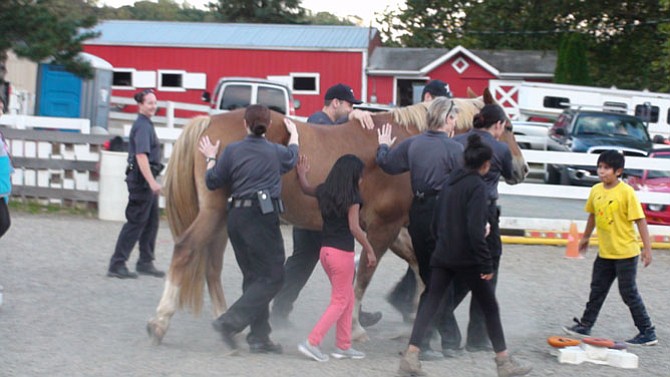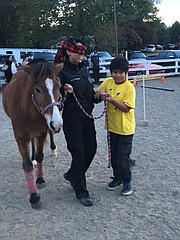 Fairfax County Sheriff's deputies tread carefully as local youth led them around an obstacle course they'd designed, blindfolded. Others were taught horse safety by their young coaches.
On Oct. 14, more than 12 deputies from the Sheriff's Office spent time with at-risk youth from Alternative House in a pilot partnership program for community engagement at the Northern Virginia Therapeutic Riding Program farm in Clifton.
Alternative House and NVTRP are longtime partners; at risk youth being one the groups among children and adults with disabilities, and military service personnel that NVTRP helps through equine-assisted activities and therapy.
Alternative House helps underserved, at-risk youth in low-income areas of northern Virginia including Falls Church, Springfield and Annandale. Among their services, the organization provides shelter for runaway adolescents, as well as a 24-hour crisis hotline and young mothers assistance program.
"With the attention around conflict between minorities and law enforcement, we thought NVTRP could have a role in bridging that gap," the riding program's executive director Kelsey Gallagher said in a statement, "using horses to help individuals find common ground."
The event Friday marked the end of a six-week session for the youth at NVTRP. They demonstrated some of their horsemanship skills for the deputies and then did some teaching themselves.
"These kids are subject to seeing violence, so we are so grateful for having a chance to be in this environment [at NVTRP] where they are close to nature, interacting with a beautiful horse and learning life lessons," Nandred Navarro, director of community based services at Alternative House, said in a statement.
"This new initiative of coming together with the deputies from the Sheriff's Office is invaluable to teaching them to trust authority, a relationship that has been tarnished by recent [national] events," Navarro added.
Second Lt. Emily Fary with the Sheriff's Office said it gave the deputies a great opportunity to interact with youth in the community and be part of an activity that brings smiles to their faces.
"It's definitely a good feeling to know that you touched a life in a positive way," she said in a statement, "that maybe they have never experienced with law enforcement before."
The Northern Virginia Therapeutic Riding Program is located at 6429 Clifton Road in Clifton. For more information, visit www.nvtrp.org.