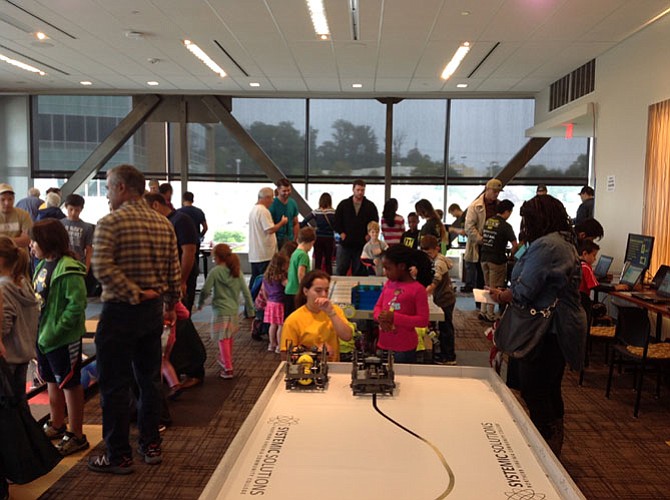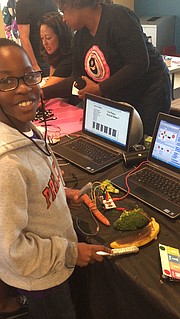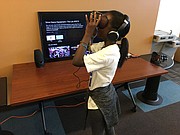 Arlington — A local educator used carrots and broccoli to teach girls about science and technology as part of a Science, Technology, Engineering and Math (STEM) fair at Northern Virginia Community College (NOVA) earlier this month. Kandis Weiler of Cyberjutsu Girls Academy (CGA) in Arlington presented an exhibit that included vegetables that, when hooked up to a computer, functioned like a mouse. The project, known as MaKey MaKey, encourages people to find creative ways to interact with their computers, by using every day objects as a replacement for keyboards and mice.
"[It's] just another way to make learning technology fun," said Weiler. "Our goal was to illustrate how grounding completes the circuit through their body via the use of objects that are electrically conductive."

The goal of the fair was to give children, particularly girls, an opportunity to learn about STEM projects. Event organizers hoped to get them excited about studying STEM subjects through hands-on exhibits.
In addition to operating computers with vegetables, other exhibits gave students opportunities to drive "Star Wars" spheres using a mini tablet, operate robots, explore Mars and participate in virtual reality simulations.

"We wanted to expose youth to opportunities and careers in the STEM field," said Laura Siko, director of enrollment management at Northern Virginia Community College. "There's definitely a need for growth in these in-demand fields. Doing large-scale, free, open-to-the public events is a great way to expose a lot of students to this area."
The event drew about 1,600 participants, primarily students in kindergarten through 12th grade. "It has been obvious for a long time that the STEM fields are of escalating value in the Northern Virginia region and in the global economy," said Dr. Julie Leidig, provost of NOVA's Loudoun Campus.
Cyberjutsu Girls Academy is a nonprofit STEM-based program that aims to inspire exploration in the fields of technology, cyber security, and electronics. It holds monthly workshops at NVCC's Alexandria campus. For more information visit http://www.cyberjutsugirls.org/.