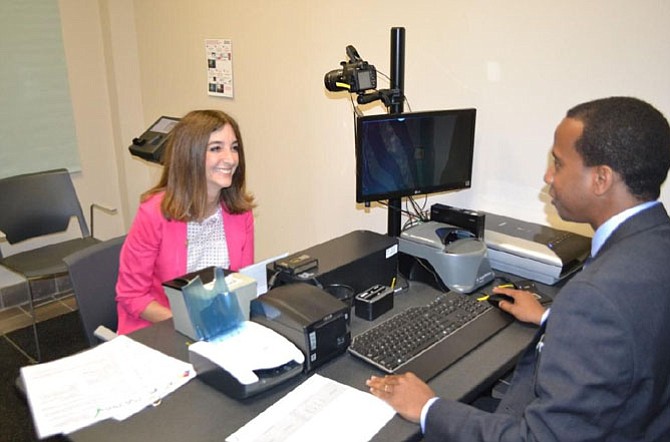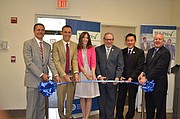 Delegate Eileen Filler-Corn (D-41) joined Virginia Department of Motor Vehicles (DMV) Commissioner Richard D. Holcomb and Virginia legislators at a ribbon cutting for a groundbreaking customer service initiative. The Virginia Department of Motor Vehicles (DMV) is partnering with the Transportation Security Administration's vendor MorphoTrust USA to offer TSA Pre✓® and Transportation Worker Identification Credentials (TWIC) at DMV's Tysons Corner office.

TSA Pre✓® offers travelers expedited security screening at select airports across the United States. TWIC provides workers access to secure areas of the nation's maritime facilities. These important, secure services allow convenient access to safe travel and transport, as well as increasing opportunities for Virginia's diverse workforce.
"I have been thinking about enrolling in TSA Pre✓® for a while now, and it's exciting to be able to do so simply by visiting the neighborhood DMV," said Del. Filler-Corn, a member of the House of Delegates Transportation Committee as well as a member of the Joint Commission on Transportation Accountability, while addressing attendees of the ribbon cutting.
Virginia is the first state in the nation to offer TSA Pre✓® and TWIC at select DMV offices around the state. Legislation effective July 1, 2016 enables Virginia DMV to partner with contractors of federal government agencies to offer federal services through DMV. By the end of the year, nine DMV offices across the Commonwealth will offer the services, with a tenth to open in 2017.
In addition to TSA Pre✓® and TWIC services, DMV partners with other state agencies to offer E-ZPass services at several northern Virginia locations, fishing and hunting licenses, and certified copies of Virginia vital records at all 74 customer service centers and five mobile offices across the state. Instead of traveling to the Division of Vital Records in Richmond, or requesting certificates by mail, customers can obtain their Virginia birth, marriage, divorce, and death certificates on-the-spot at DMV.

"DMV is much more than a place to renew your driver's license or vehicle registration," explained Commissioner Holcomb. "DMV is always working to expand its portfolio of product offerings. It's important that we bring services to you when you need them."