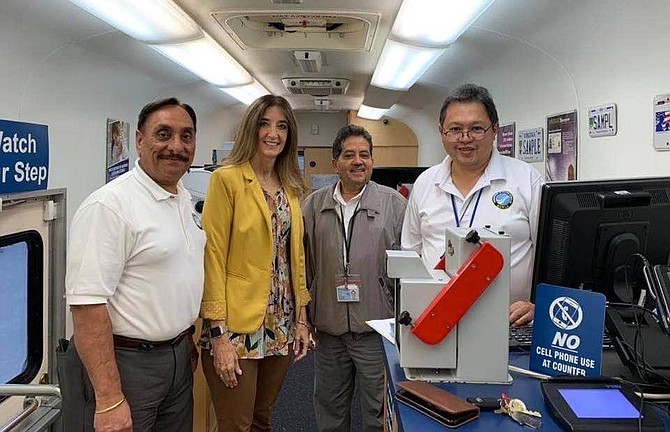 On Saturday, Oct. 12, Del. Eileen Filler-Corn hosted "DMV 2 Go," the Virginia Department of Motor Vehicles' mobile office on wheels, for a special REAL ID event at the Pohick Regional Library in Burke. Between 9 a.m. and 2 p.m., area residents patiently waited to visit the DMV 2 Go to upgrade their driver's license or identification card to a REAL ID, as well as complete other DMV transactions. However, unlike most DMV buildings, people enjoyed the beautiful Saturday outdoor weather while waiting for their turn to go inside the DMV 2 Go bus.
"Do you want a doughnut?" Filler-Corn asked, as she crouched down to a young girl accompanying her mother to the REAL ID Event. Knowing that there might be a wait, her office provided coffee, water and Dunkin Donuts' munchkins to the crowd.
Filler-Corn's history with the REAL ID program extends farther back than her career in the House of Delegates. In 2005, while she served as the Deputy Director of the Virginia Office of Intergovernmental Affairs, she sat on Governor Warner's inaugural REAL ID Taskforce, formed just months after the REAL ID Act was signed into law. However, beginning Oct. 1, 2020, Virginians who want to continue to use their state-issued driver's license or identification card as the ID required for this purpose will need to upgrade their current credential to a REAL ID, but they can still present an alternative form of federally approved identification such as a passport or some military IDs.
"I'm hosting this event to ensure that my constituents have the identification they need," Delegate Filler-Corn said. "This is a terrific opportunity to upgrade your driver's license or identification card to a REAL ID now and avoid the last-minute rush next year." REAL ID also affects access to secure federal facilities and military bases. Because these facilities have the ability to set their own entry requirements, DMV advises Virginians to verify the identification needed for access prior to their visit. Effective immediately, some military bases may no longer accept non-REAL ID compliant credentials displaying "Federal Limits Apply."
More than 670,000 Virginians have already obtained a REAL ID compliant driver's license or identification card. The documents needed to apply for a REAL ID are readily accessible to Virginians and are similar to those needed when individuals applied for their original Virginia driver's license or ID. All applicants for a REAL ID compliant credential, including current Virginia credential holders, must apply in person and provide DMV with physical documentation of:
Identity (e.g. unexpired U.S. passport or U.S. birth certificate);
Legal Presence (e.g. unexpired U.S. passport or U.S. birth certificate);
Social Security Number (e.g. Social Security card or W-2 form displaying full nine digits);
Residency – two proofs required and must display name and current Virginia residential street
Address (e.g. utility bills, mortgage statements, Virginia driver's license); and
Proof of any name changes (e.g. marriage certificates or divorce decrees). Note: If the name on your identity document is different than your legal name, you must show proof of your name change. Multiple documents may be necessary if your name has changed more than once. DMV can issue certified copies of Virginia birth and marriage certificates for a fee.
There are a variety of acceptable documents; a complete list is available at dmvNOW.com/REALID. You may also use DMV's interactive document guide. Obtaining a REAL ID is optional in Virginia. It is available for a one-time $10 fee, in addition to standard driver's license or identification card fees. For example, a standard driver's license renewal costs $32, while a replacement driver's license costs $20.
To learn more about REAL ID, visit dmvNOW.com/REALID.