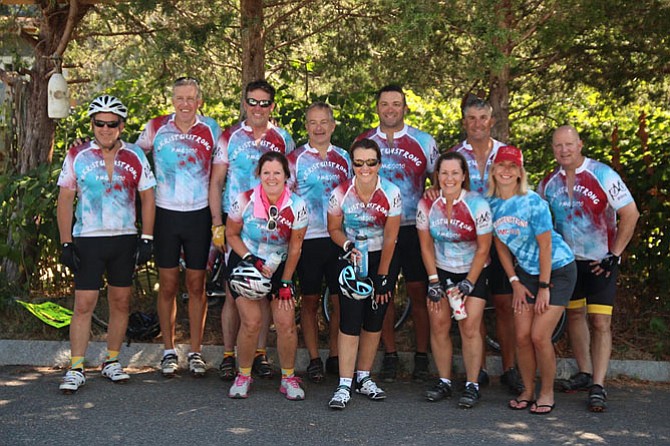 Over the weekend of Aug. 6-7, Chantilly resident Paul Meng cycled 192 miles across the Commonwealth of Massachusetts as part of the Pan-Mass Challenge (PMC), to benefit cancer research at the Dana-Farber Cancer Institute in Boston.
The 2016 PMC was the 37th Pan-Mass Challenge, and Meng's second time participating in the event, which since 1980 has raised about half a billion dollars for cancer research.
Meng cycled on a 10-person team, Team KristenStrong, to honor a friend, Kristen Cubbage, who died last fall after a long battle with cancer. KristenStrong set out to raise $50,000 and, collectively, the team has already met their goal.
"We made our fundraising goal as a team," Meng said. "There were 10 of us, and we set a goal of $50,000 in honor of Kristen. This was my second year doing the Pan-Mass challenge. There is a group of us, and we are all good friends. My friend Gary, whose wife was battling cancer, formed the team and that's how I got started."
The PMC offers 12 different bicycle routes that cyclists can choose from, ranging from 25 to 192 miles. Depending on the route, cyclists either ride for one day or two days. Meng, whose first experience with the PMC was in 2013, chose one of the longest routes this year. All of the PMC courses start and end in Massachussetts, and although some of the cyclists get pretty close to the Rhode Island border, they all stay within the state.
"The PMC has two different options for 192-mile routes," Meng said. "One starts at Wellesley, and the second option, which we did, starts in Sturbridge. It was 110 miles the first day, and then 82 the next day. The route was a little longer and a bit hillier than the one I did last time. Riding with friends, it was a great experience. With so many people joining the cause and making the PMC happen, it truly is a team effort."
The PMC requires a village of volunteers and is known both for its organization and for pouring every single rider-earned dollar into the Jimmy Fund, for adult and pediatric patient care and patient research. The PMC set a $46 million goal for its approximate 6,300 participants in 2016. Already, the organization has raised more than $36 million. Fundraising began at the beginning of the year and will go through the end of September.
"Some of Kristen's treatment came from the Dana-Farber Cancer Institute, and I love that 100 percent of the fundraising goes toward cancer treatment," Meng said. "They have done an amazing job of finding sponsors so that the proceeds can go where it deserves. It's a great group and an amazing event. They've got a huge support staff up there and it's well supported along the ride, and plenty of people cheering along the way."
The weather also cooperated this year, and the New England-bound riders from Northern Virginia enjoyed a nice break from the record-breaking heatwave this summer.
"The weather was great," Meng said. "We were fortunate. It was cool and dry when we expected that it could have easily been hot or rainy. Still, my favorite part was riding with my teammates and everyone else. Rain or shine, sharing this experience with everyone was great."
Meng's teammate, Gary Cubbage of Leesburg, said he began his PMC journey as a family affair back in 2011.
"This is the sixth year that I've done the PMC," Cubbage said. "I started in 2011 and have done it since then. My in-laws are from New England, and every summer, we would see people in Cape Cod riding their bikes and clearly training for something. We found out it was for Dana-Farber, and when by brother-in-law hit 50 years old, we said 'Let's give this a shot.'"
And, even though cancer in itself is a worthy cause to pour blood, sweat, tears and even money into, it was even more personal of a cause for Cubbage – the friend of Meng's whose wife, and Team KristenStrong's namesake, fought a more-than-decade-long battle with cancer.

"The real reason we got into it because my wife had been suffering from soft tissue sarcoma since 2004," Cubbage said. "The PMC has always had a lot of meaning for us because of what she was going through. That first year in 2011, it was myself and my three brothers-in-law and it was such an amazing experience. It's hard to describe. It's such a meaningful, impactful, feel good event that we got hooked and we've done it since."
Since this year's PMC was the first time Cubbage couldn't return to his wife, it had a particularly significant meaning.
"This year's PMC was particularly meaningful for a lot of reasons, but most especially because Kristen died last September," Cubbage said. "We had seven of us that did the two-day route and a couple of Kristen's close friends and sister did it with us the second day. It went from being something you want to be a part of every year to becoming a pretty emotional experience."
Training for the local members of KristenStrong involves a lot of miles on the local Washington & Old Dominion (W&OD) Trail, 44 miles of marked and paved trail stretching from Arlington all the way westward to Purcellville.
"Our typical route starts at mile 28 [in Ashburn], ending in Purcellville and then the return trip," Meng said. "Longer rides would continue onto Route 9, and then the return. So, our average rides were between 40 and 60 miles."
He added that their average pace is between 18 and 20 miles per hour.
Previously more of a runner, Meng said that he only started putting serious mileage on his bike to join his good friend, Gary Cubbage, in what he immediately recognized was an incredible venture. His second year cycling with the PMC just reinforced his support and enthusiasm for it, and he is already gearing up for the 2017 challenge.
"I just started cycling because of this cause," Meng said. "Gary was riding for his wife, and he was looking for someone to train with him, and I volunteered. The first year, I was just riding and training with him, and the second year I joined the cause. And, I've already signed up for the PMC this coming year."
Cubbage echoed Meng about the inability to articulate just how incredible it is being a part of the PMC. Other rides, he added – even those rooted in the same cause – just can't match the experience of the PMC.
"It has become something I look forward to every summer," Cubbage said. "The first time, you get nervous about getting through that long of a ride. Then you realize, it's not so hard. Thousands of people come to cheer you on. It's hard to describe to other people who haven't done it just how neat it is."
To donate to Team KristenStrong, visit http://profile.pmc.org/TB0242.