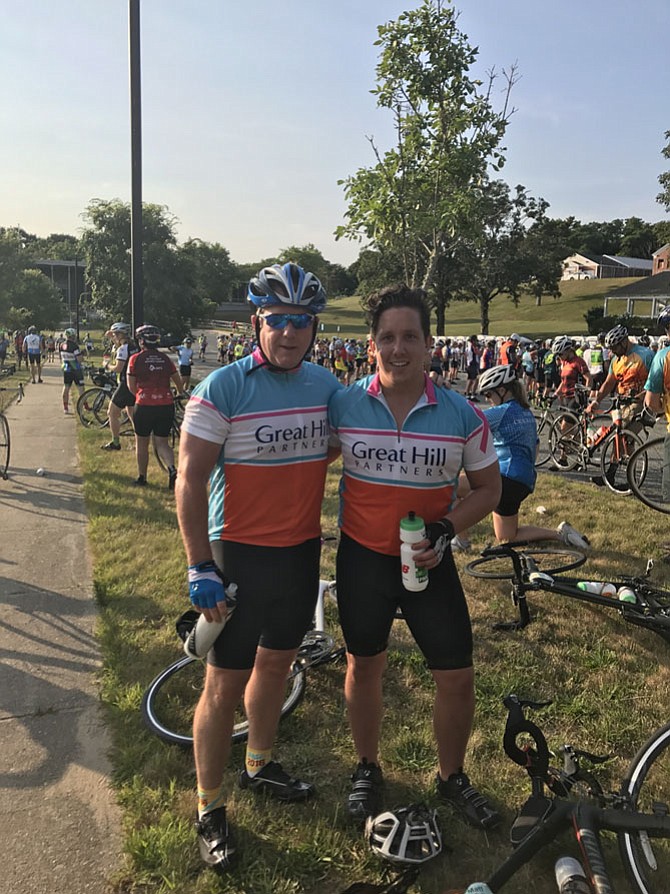 More than 6,200 riders from all over the world — including a few from Reston
"We averaged over 16.5 miles per hour, even with all the hills on Day Two, and felt great after crossing the finish line in Provincetown."
— Reston resident Peter Stevenson
— journeyed to the Boston area for the Pan-Mass Challenge (PMC), an annual cancer fundraiser in the form of a weekend-long bike-a-thon.
PMC started small in 1980, when Billy Starr of Boston launched a modest cycling event to raise money for the Dana-Farber Cancer Institute. Today, it is an annual, weekend-long fundraiser of epic proportions. To date, the Pan-Mass Challenge has raised almost $600 million for Dana-Farber.
2017's Pan-Mass Challenge weekend began on Aug. 4 with riders embarking upon one of 13 designated routes. All official PMC routes remain within Massachusetts, and range in length from 27 to 192 miles. The longer ones take riders two days to complete. Collectively, all of the millions of miles pedaled are to help cure cancer.
"We announced a $48 million goal in January, and we believe we will meet or exceed it," Starr said. "We're sitting at $41 million and still counting. Some of the biggest months of fundraising are August and September — it's that final push before the fundraising period ends on Oct. 1."
EVERY RIDER-EARNED DOLLAR goes directly to Dana-Farber, he added, which makes it easy to garner both community and corporate support.
Starr's personal vendetta against cancer drove him to organize the Pan-Mass Challenge 38 years ago. When he was in his early 20s, he lost his mother, uncle and cousin to different forms of cancer in three successive years. He pursued a number of physical challenges as a way to cope with such loss, and it was the cycling that stuck.
"My mother died of melanoma," Starr said. "Being from Boston, I grew up hearing all about the Jimmy Fund. Since the 1950s, that fund has raised much money for Dana-Farber. So, as for who and what cause I wanted to benefit, it was an obvious choice. Dana-Farber is a world-class institute. It was then, and it is now."
Part of the Pan-Mass Challenge success formula is to hold every single rider personally responsible for raising a decent sum of money. Upon registration, participants must enter their credit card information as collateral against sizable fundraising minimums. While intimidating for some, Starr insisted that the financial commitment that comes with the PMC is like paying upfront to reserve your dream vacation.
"The money that we raise is at the center of this whole thing that we call the PMC," Starr said. "We were the first people in the country to say to registrants, 'Put your credit card up,' and it changed the paradigm of the PMC to one that required commitment and not just good intentions. PMCers realize that they're doing quite a lot for people. You're signing up for a vacation with a higher spiritual cause."
Reston resident Peter Stevenson took his fourth consecutive vacation to Massachusetts with his bike. This year, he rode one of the two-day routes, amounting to a total 162 miles, alongside his teammates of the PMC team, "Conquering the Great Hill."
"We're comprised of about 10 people, and we even had our own jerseys for Day Two of the ride," Stevenson said. "Team members included my son and one of his friends, along with a few people from Great Hill Partners, who are investors that I have been working with for the past decade. One of our riders is a cancer survivor who is remarkable to talk to. All of us had been touched by cancer in our families."
Their route, which started in Babson and ended in Provincetown, amounted to 162 miles. Some of those miles were painful, and most brought intangible rewards.
"This year went great," Stevenson said. "There was good weather on Day One, and great weather on Day Two — with some challenging winds within the last 20 miles to the finish. There was lots of camaraderie, good vibes, and excellent ride support with thankful citizens cheering for us all along the way. It felt like a real mission that we accomplished as a team. While it's a ride, not a race, our team did get after it which made the ride all that more exhilarating. We averaged over 16.5 miles per hour, even with all the hills on Day Two, and felt great after crossing the finish line in Provincetown."
THIS TEAM has been conquering the Pan-Mass Challenge together for three years and will likely begin planning for next year's PMC before they know it. According to Stevenson, it's quite easy to find yourself addicted to the PMC experience.
"It was just outstanding," Stevenson said. "The event is unbelievable each year and this year was no different. The whole experience leaves a lasting impression on all that participate. You're greatly humbled, and sad, and happy, and excited, and motivated all throughout the weekend — from check in on Friday to the ferry ride back on Sunday afternoon. The mission is even more important. The event is one of the best organized events I have ever experienced and it's even more incredible that the whole thing is comprised of volunteers."
Ed Shanahan, another Reston resident, was one of those volunteers at the 38th Annual PMC. He has the unique perspective of the event as both a volunteer and a cyclist. After the 2017 PMC, Shanahan's first as a volunteer, his conclusion of absolutely everyone who plays any kind of role in the PMC is: "the level of dedication of absolutely everyone involved is mind-boggling."
Through his first five PMCs as a cyclist, riding 192 miles each time in the classic Sturbridge-to-Provincetown route, Shanahan became hooked to the experience. When he was injured midway through the training cycle this year, he knew without question that he had to remain involved.
Shanahan donated his time and talents to the 38th Annual Pan-Mass Challenge as an event photographer. Needless to say, Shanahan's PMC experience was a little different this year.
"Instead of having a joyous and fun celebration on the bike, you're working," he said. "It was a fun job. Although I would prefer to go back as a cyclist next, year, I understand firsthand now how important it is that so many people contribute to the PMC in such a meaningful way."
Shanahan first signed up for the Pan-Mass Challenge when cancer had finally struck too many blows against his loved ones for him to take sitting down.
"When I first looked up the PMC, everything from the fundraising to the mileage requirements just seemed so daunting," Shanahan said. "I thought, 'maybe someday down the road.' In 2011, a friend of mine was given a fatal diagnosis. I decided I wanted to do something to honor him, so I decided to do the ride. I booked the closest hotel to Sturbridge and when I was able to sign up in January 2012, I did."
Whether he traverses the Pan-Mass Challenge paths next year by bike or in a car, chasing cyclists down to capture their images, Shanahan does not yet know. He will definitely be there, though.
"Doing six PMCs is nothing when you take a look at all the riders every year," he said. "Something like 80 percent of participants are returnees. A lot of people you talk to up there — including some of the teammates I usually ride with — have completed more than 25 PMCs. I know I'll be involved somehow. We'll see how I feel. It will be an honor to contribute in any way."