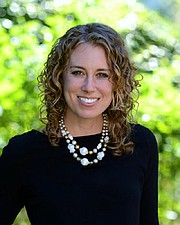 In an age where Americans are increasingly aware of chemicals in their food and toxins in the air, naturopathic medicine has become a health route that many people are willing to explore. Naturopathic medicine, according to the American Association of Naturopathic Physicians (AANP), "offers safe, effective natural therapies as a vital part of the health-care systems of North America in the 21st century."
Long-time Potomac resident Anne Berkeley, N.D., who completed her medical training at the Southwest College of Naturopathic Medicine and Health Sciences (SCNM) in Tempe, Ariz., recently returned to the East Coast, and will open her Washington D.C. practice this October. Since living abroad after completing her undergraduate degree at Penn State, she has yearned to bring specific knowledge of how botanical medicine and clinical nutrition can be used to enhance human health.
"There's a shift taking place," she said, "with more people conscious about their health than ever before. A trend in medicine nowadays is towards personalization in health care. I see people taking a proactive interest in their health because they want to have the energy to do everything they want in life. It's exciting to me that people are moving in this direction."
The AANP describes naturopathic physicians (NDs) as doctors who have grasped both nature's healing methods as well as those of modern science. They work to "help facilitate the body's inherent ability to restore and maintain optimal health."
Naturopathic medicine, Berkeley said, addresses the underlying conditions that may be preventing a patient from optimal health.
"We use safe and effective individualized natural treatments, while focusing on wellness and prevention," she said. "Once we gather information, we can then come up with a treatment plan for your specific health status. This can supplement the care you receive from the other members of your health care team."
There's a scientific reason that naturopathic doctors don't standardize treatment plans.
"We are all genetically and microbially different, so it makes sense that each of our bodies needs different things," Berkeley said. "The goal for us is to get to the root cause of your symptoms. Your health could be affected by many things, some of which might be food sensitivities, infections in the gut, hormonal imbalances, environmental toxins or stress."
To better understand what's happening in a patient's body, Berkeley uses specialty functional lab testing. These tests provide information for each specific patient and include, but are not limited to, salivary cortisol level testing, micronutrient status or a complete hormone analysis.
People of all ages and backgrounds can visit naturopathic doctors for maintaining wellness or for help with a variety of other concerns.
"Many people come to me because they feel like something isn't quite right, but all lab tests have come back normal," Berkeley said. "A good number of my patients in the past have sought out naturopathic treatment because they are seeking other options."
While Berkeley's practice will grow and evolve with the needs of her patients, both male and female, she will offer two programs from the start: a Vital Pregnancy Program to help women maximize health and enhance fertility; and a Vital Woman Program, which is individualized to empower women to live a healthy lifestyle.
For those exploring alternative medical treatment options, Berkeley said it is important to take the same careful, research-based approach that patients should with any doctor.
"Always ask questions and find a practitioner who is equipped to work with your condition," Berkeley said. "It's important to make sure any doctor you work with is licensed and board-certified."
She also encourages readers to at least look into some naturopathic remedies to supplement their traditional regimens.
"There are effective treatments that combine natural therapies with modern medicine that can help restore your health," she said. "When you give your body all the nutrients it needs along with the right environment and pursue individualized treatment, you give yourself the best chance of nourishing and maintaining a strong and healthy body."
See her website at www.medicinetothrive.com. Her office is located at 1915 I Street, NW in Washington D.C.