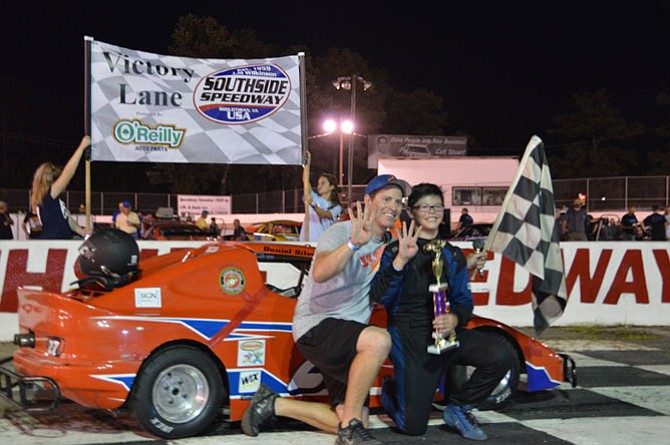 Thirteen-year-old Daniel Silvestri from Great Falls won Southside Speedway's track championship in the Bandolero series. This well-known short track is located just outside of Richmond and is known as the "toughest short track in the south." Nascar legends like Darrel Waltrip, Bobby Allison, and Richard Petty have all raced at Southside Speedway and home track to Current NASCAR Driver Denny Hamlin. Throughout the 10-race season, Daniel has achieved top three podium finishes in 8 races. With four wins, three second place finishes, and one third, fourth and fifth place finishes, Daniel has accumulated a total of 291 points overall; 15 points ahead of the second place driver.
Daniel, whose dream is to be a Nascar driver, started his racing career when he was 6 ½ years old at a local indoor go kart track in Sterling. He quickly rose to the top, and when his love for the sport only increased, his parents decided to make a jump into paved oval racing in the Summer of 2015. Thanks to his sponsors, Ike Lans Dentistry in Ashburn, ChiceLacu in Vienna, the United States 2nd battalion 5th Marines Echo Company, and the support of his family, Daniel has been able to race at three Virginia tracks this season (Southside Speedway, Dominion Raceway and Shenandoah Speedway).
The Bandolero series is part of the US Legend INEX Series. A Bandolero car contains a Briggs and Stratton Vanguard engine with 30 Horse Power, and typically races between 68-72 miles an hour with a restrictor plate. Top Nascar drivers including Joey Logano, David Ragan, and Reed Sorenson all started their racing career in this series.
Next year, Daniel will be moving up to the Legend car series, also a part of the US Legend INEX Series. Many successful current Nascar drivers that include Joey Logano, Kurt Busch, and Kyle Busch have raced in this series as well. These Legend cars have 132 horsepower with a Yamaha 1250cc engine, running at average speeds of 70 to 100 miles per hour, depending on the size of the track.
When interviewed after the track championship award ceremony, Daniel said, "Southside Speedway is my favorite track in Virginia because driving skills make a difference on this track. If I have a slow car on a certain day, that does not determine what place I finish. Our goal this year was to win the track championship, and we have done just that. It has come with hours of studying videos of my races, and lots of time spent tuning the setup of the car. No words can't express both the gratitude I feel towards God for the favor he has given me, and towards my sponsors, Ike Lans Dentistry, Chicelacu, The United States 2nd battalion 5th Marines Echo Company. Also a big thank you to my father who has done all the work on the car throughout the whole season."
In his class, Daniel is currently number one in Virginia state points, and top 25 in the nation. He is currently third in points at Dominion Raceway in Fredericksburg with two races to go.
For more information and updates about Daniel's racing career, visit his website at www.danielsilvestriracing.com.