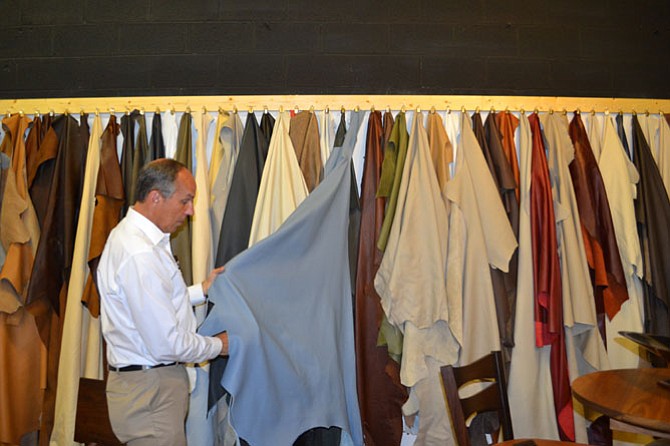 John W. Smith treks through a maze of sleek chairs and stately sofas in a large, sunlit showroom tucked in an industrial warehouse center in Fairfax. He pauses at a dining chair, upholstered in beige linen and framed with espresso hardwood.
"Feel how smooth that is," he said, running his fingers along the wooden edge of the seat. "If you're at a sitting at the table for three, there's no sharp edge against the back of your calves."
Dubbed the "three-hour dinner party" chair, the Etesian is part of the Willem Smith Furnitureworks collection. Pieces ranging from the brown, leather San Luis, a streamlined version of a traditional wing chair, to the Francisco Metro Swivel, a petite recliner, to the Canapé sofa, fill the showroom.
"The comfort of the pieces sells them, but it doesn't look like big, over-stuffed furniture," said interior designer Lowell Wade of Interior Motives in Alexandria.
Like many furniture makers, Smith strives to marry style and comfort. He's taken that commitment to a new level, however, creating and patenting his own seating mechanism to ensure comfort. Named piErgonom, it's a device that attaches the seat back to the seat cushion, preventing slippage and offering back support. Beauty and style matter to Smith, but in his liberal view of aesthetics, beauty springs from not only the physical appeal, but also the way a piece feels and functions.
"Comfort is the final element that determines whether the chair or sofa is a success," said Smith, a Great Falls father of four teenage daughters. "We sweat all of the details and are completely consumed by making all of our seating more comfortable."
Smith says that he is committed to minimizing his company's impact on the environment. His practices include using non-endangered hardwoods. All of the springs incorporated into the cushions of his seats are made from recycled steel. Most of the furniture and fabrics used are made in the United States. Buyers can choose from a range of textiles and finishes, including leathers and fabrics, which are displayed in the showroom.
Born and raised on a farm in Ontario, Canada, Smith left a career in banking to spend more time with his then-young family. He also itched to find creativity in his life. His pieces, which not only include seating, but also tables, cabinets and other wood works, are a blend of contemporary lines and classic styles.
Smith credits a talented team of what he calls "style leaders" with the aesthetics of his goods. "I have no illusions that I'm Yves St. Laurent and I wouldn't pretend to have an affinity for style," he said. "There is a difference between design and style. Design is the engineering, construction, materials and performance, and that's my focus."
Before hitting the market, for example, each piece undergoes a careful inspection by Smith and his business partner John "JB" Behrens.
"We know all of our pieces intimately," said Behrens. "The designs essentially come out of a collaborative process. We think about furniture logically and practically and we obsess over comfort."
"We focus a lot on scale and proportion and how that relates to a furniture buying decision," he continued. "When we have a chair, for example, John and I look at it together, think about what works, what doesn't, what things bother us, how can we figure out a solution to turn problems into positives."
A combination of versatility and comfort drew Potomac, Md.-based interior designer Anne Walker of Anne Walker Design to Willem Smith furniture during a recent home redesign. "All of their pieces are incredibly beautiful. They combine this very clever combination of Old World and classic style with innovation," said Walker. "The greatest strength is the comfort of their pieces. They take painstaking details. You can tell the first time you sit on one of their products that they are extremely comfortable."
Smith's wife, Mary, helps with marketing and other tasks. "The clear differentiator for the furniture is the attention to comfort and functionality," she said. "There is a lot of furniture out there that may look good, but isn't functional. A lot of the public doesn't realize it. That's the fun of the marketing piece: educating others about this great solution for people. Like before there was Starbucks people didn't realize they were drinking bad coffee all them time."
This attention to detail attracts clients ranging from furniture-seeking homeowners to interior designers on a mission to create a showplace.
"Their furniture has a bespoke quality and an incomparable level of comfort," said Joseph Van Goethem of Joseph Van Goethem Interior Design in McLean. "I believe Willem Smith is the epitome of authenticity and timelessness." Even better, he added, "when I first took a client to Willem Smith, there was no smothering my client, no sales pitch. When your furniture is that good, there's no need to sell it."
Locally, Peet's Coffee & Tea selected Willem Smith's Rio Java chair for the lounge area of its coffee shops.