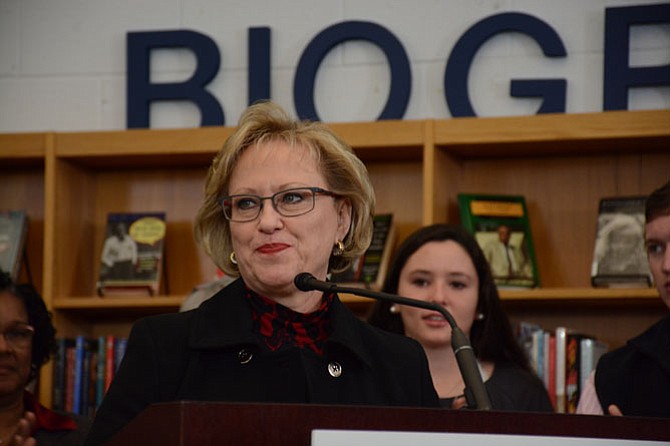 Fairfax County Public Schools superintendent Dr. Karen Garza has announced her resignation, just months after the FCPS board renewed her contract through June 30, 2020.
Garza informed the board in the afternoon on Sept. 19 that it would take effect on or before Dec. 16 this year.
The first woman superintendent of FCPS said she's accepted the position of president and chief executive officer of Columbus, Ohio-based Battelle for Kids, a not-for-profit education organization.
"I am so grateful for the opportunity to have served this world class school system since June 2013," Garza said in a letter to the school system. "It has been an honor and privilege to have worked with the dedicated and professional staff who make FCPS the finest school system in the country.
"I extend to you my deepest gratitude for your tremendous support," Garza continued. "I am so proud to have been a part of this outstanding system and this great community. I wish Fairfax County Public Schools much continued success in the coming years."
GARZA INFORMED the full board in a closed session following their work session on Monday. Providence District representative Dalia Palchik said there was shock, gasping and crying among the members.
"We feared she would be taken away, but hoped it wouldn't be so soon," Palchik said.
From parents and teachers she's talked to and seen react on her Facebook feed, Palchik summarized "people are devastated."
"This is the best time for us to have stability," she continued. "Teachers are just concerned. She's fought so much for the budget, their salaries. We want to make sure we continue on the track."
Karen Corbett Sanders, Mount Vernon District representative to the School Board, said, "I am appreciative of the focus that Dr. Garza has brought to the needs of the schools in Mt. Vernon and her commitment to ensuring that FCPS attracts and retains educational leaders that inspire all of our teachers to create learning environments enabling each of our students to achieve their potential. I wish her well and am confident she will continue to inspire educational leaders in her new role at Battelle."
Kevin Hickerson is president of the Fairfax Education Association, representing teachers, custodians, bus drivers and support staff. He said of the teachers he's talked with and seen react on Facebook, reaction to her resignation has been "overwhelming positive" and that she's definitely going to be missed.
"She put a lot of chips into the middle," Hickerson said, "with a lot of help from the community and organizations like ourselves we got it done. It will be really tough to replace her and her leadership."
Precious Crabtree teaches K-6 art at Deer Park Elementary School in Centreville. She's been a teacher for 21 years and with Fairfax County for 16.
"I couldn't wrap my brain around this was going to happen," she said, on hearing her phone ring with the news while she was shopping for groceries.
"I've had several superintendents in the systems that I've worked. Dr. Garza was different. She was an educator. You could tell from the moment you met her, she was very personable, you could tell she cared deeply. This is really a big loss for our school system."
Crabtree also said she was grateful for the way Garza tackled the budget with the Board of Supervisors.
"[Former superintendent] Dr. Dale had very good intentions but never stood up for us when it came to the supervisors," she said. "I never saw him fight for us the way Dr. Garza did. That's courage."
School Board chair Sandy Evans sent out a letter in reaction praising Garza as "a transformational leader who has had a tremendous impact on our schools, families and most importantly the children of Fairfax County."
Evans highlighted Garza's "vision, candor and grace" in successfully implementing later high school start times, full-day Mondays for elementary schools and reducing elementary school class sizes during her tenure.
"A tireless advocate for teachers, she navigated one of the most challenging budget environments in recent memory, and achieved the largest investment in FCPS teacher compensation in a decade," Evans said.
"Under her leadership, FCPS has embarked on a path that will transform our schools in positive ways that benefit all children, our employees, and our community. The School Board is committed to maintaining this path as we find new leadership."
AN INTERIM SUPERINTENDENT will be named soon by the School Board, Evans said. They'll also go over details of a search process for Garza's replacement in the next several weeks.
"For a county this size, it's going to attract very strong candidates," said Hickerson. "I don't have any worries in a sense we'll find someone good, I just don't know how they'll compare to Dr. Garza."
Palchik likened Dr. Garza to Mary Poppins. "She's come in and moved us in the right direction," Palchik said. "Around the table, all of us, we're just in awe of who she is, how high she's raised the bar for our system."