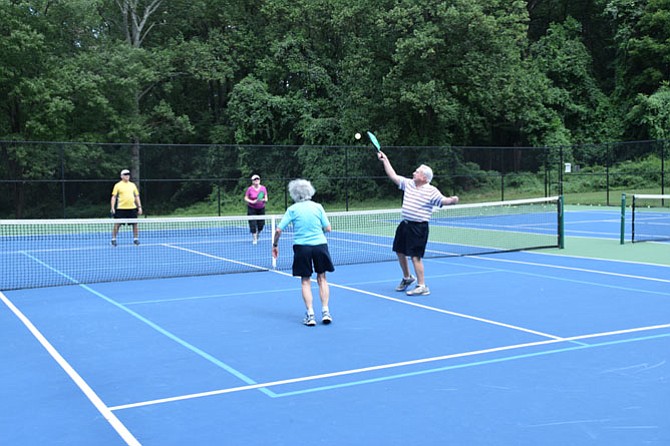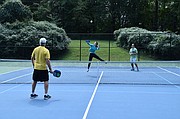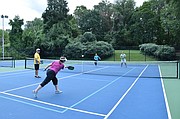 McLean Central Park behind the Dolley Madison Library now has two lighted pickleball/tennis courts where pickleball fans can play. Bring your own paddles and balls.

Not familiar with pickleball? Pickleball is the nation's fastest growing racket sport. It's a mixture of tennis and ping-pong played on a smaller tennis court. Two-person teams compete on a court, using paddles and a wiffle ball. The team that first reaches 11 by two points wins the game.
It's a great sport for all ages. Grandparents can play with grandchildren and families can play together. The low-impact nature of the sport also makes it a good form of exercise for older players.
According to the USA Pickleball Association (USAPA), pickleball was invented in 1965 on Bainbridge Island, a ferry ride from Seattle, Wash. Three dads, Joel Pritchard, Bill Bell, and Barney McCallum, whose kids were bored with their usual summertime activities, are credited with creating the game. Since then, the sport has grown to several million players in dozens of countries.
Helen White, the USAPA Ambassador for Northern Virginia and the Mid-Atlantic District Ambassador says that "Pickleball is all about fun, fitness and friendships. It's easy-to-learn and quickly becomes quite addictive."
Spring Hill Recreation Center offers a class at mid-day on Tuesdays starting on Sept. 20. Paddles and balls are provided. If you enjoy paddle sports, you will enjoy pickleball!
To find fellow pickleball players in the McLean/Great Falls area, e-mail: pickleball.mclean.va@gmail.com