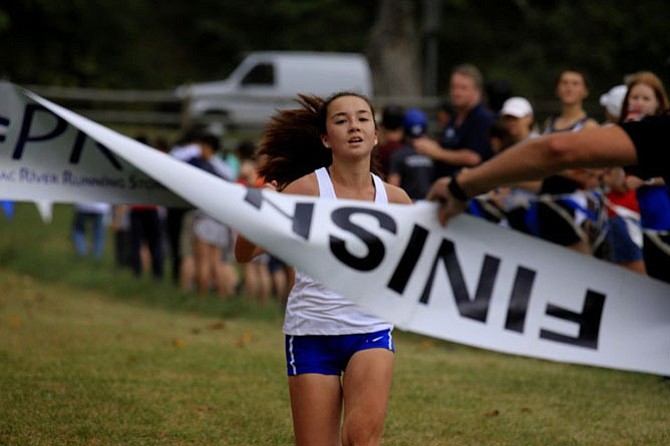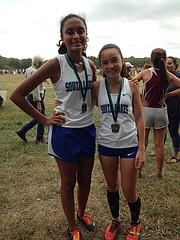 Led by its freshmen girls' team, South Lakes High School cross country teams placed in every invitational meet they competed in thus far this season.
The latest success came at the 87-team Oatlands Invitational, Saturday, Sep. 17 in Leesburg. Competing in six divisions, the Seahawks were led by the first-place finish of the JV Underclassmen Girls, the third-place finishes by both the JV Underclassmen Boys and Varsity B girls and fourth place in the Varsity A boys division.
Junior Anna Prater won the JV Upperclassmen girls division race in leading the team to an eighth-place finish. The Varsity B boys team was 11th.
Sophomores Jordan Anderson (21:52.00, 4th), Isabelle Gulgert (21:57.00, 5th), Sophie Halkett (22:26.00, 12th) and Nicole Post (22:38.00, 16th) were the top finishers for SLHS in winning the JV Underclassman Girls title. But if was the consistent performances of freshmen Brooke Tobias (22:49.00), Emily Lannen (23:10.00), Marissa Banga (23:17.00), Kelly Bidwell (23:42.00), Frankie Delmolino (25:15.00), Sydney Anderson (25:51.00) and Alyssa Spar (25:53.00) that has had them finish atop the team standings.
The freshmen girls started off the season winning their division at the =PR= Kickoff Classic Aug. 25 in Manassas. They followed that up with a second place finish at the Chancellor High School Cross Country Invitational Sept. 3 in Fredericksburg A and Monroe Park Invitational Sept. 10 in Burke. SLHS also placed second in the JV girls division of the PTXC 8 Invitational in Kutztown, Pa. Sept. 10.
Oatlands, which had more than 2,000 runners competing in eight different divisions has proven to be the SLHS teams' most successful competition thus far this season with additional top 20 finishes by sophomore Calvin Warstler (18:17.00, 5th), junior Katie Bidwell (20:55.00, 5th), senior Morgan LaRow (21:16.00, 8th) and juniors Emily McGrath (21:54.00) and Tara Ravishankar (23:10.00, 18th).
After a conference meet Tuesday, Sept. 20 at SLHS, 52-members of the team will travel to Greensboro, N.C. to compete in the Hagen Stone Invitational Oct. 1.