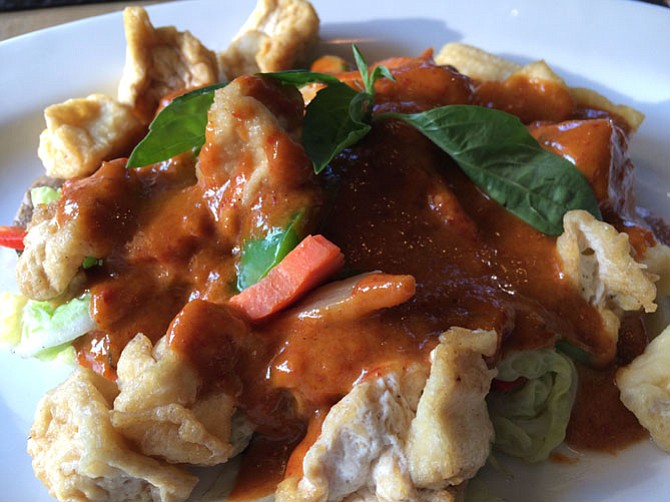 Walk past the location of the most recent restaurant addition at 835 N. Royal St., and it's easy to miss the facelift from years past. What was long the venerable Thailand Royal Street, and then the erstwhile Casa Felipe, has once again taken up the Thai mantle — only under new leadership, with a new name, and with big plans for the future.
One thing is for certain: Thanida Thai has entered the neighborhood, and while it's building on its predecessor, it's quickly developed its own personality despite its lineage.
And that lineage runs deep: The former owners of Thailand Royal Street (which in later years moved to Fairfax Street and became Royal Thai) sold the business to Jaruvan "Yui" Simuang and Songyodh "Noom" Tantiyangkul, who launched Thanida Thai in June. Both Simuang and Tantiyangkul have a lengthy history in the restaurant business and were eager to pounce on the opportunity.
"I worked with the previous owner (of Royal Thai), Ms. Kim, for about four years," Tantiyangkul said, and that relationship laid the groundwork for taking over the restaurant.
Adds Simuang: "His own restaurant is (Tantiyangkul's) dream, so we used to mention to Ms. Kim that 'Whenever you want to sell the business, please let us know.' And then one day she came up and said, 'You know what, they're gong to transform the building to be a new condominium. It's about time (to sell)," she said "… Then we transformed the Mexican place here back to a Thai place."
Thanida is a family affair. Indeed, the restaurant is named after the couple's daughter, 2-year-old Thanida, who has quickly become a restaurant mainstay and unofficial greeter to customers. And Simuang and Tantiyangkul are a hands-on presence — in the kitchen and in the front of the house.
But they do have help. Their chef, Wanchai Deedanklang, is a 15-year-plus veteran in Thai kitchens and has added complexity to every dish, making the flavors sing off the plate.
And the food is what's been keeping Thanida Thai's tables full — and phones ringing for takeout and delivery — since the restaurant opened.
"We try to make the food authentic Thai. When you come to Thanida Thai, it's like going to Thailand," Tantiyangkul said.
For something with a little kick, try Thanida's Sassy Shrimp, named after the couple's daughter, Simuang says.
"It's very tasty. … We batter the shrimp and deep-fry, make it very crispy, and then we stir-fry those shrimp with chili basil sauce — the chili basil sauce is the signature sauce for Thai food."
Another popular item is the Ped Ka Prao, Simuang says. One of her personal favorites, the Ped Ka Prao is "a crispy duck, also stir-fried within a chili basil sauce. This one never disappoints customers. Everybody tries it."
While the Tantiyangkul and Simuang are launching a restaurant, they're also working to create a community, Simuang says.
"Besides the good food, we have good service and we're really friendly," she said. "I try to recognize all the customers. … We refer to everyone like friends. We make friends."
And for Thanida Thai, the more the merrier — and its network continues to grow. The restaurant has expanded its delivery radius to two miles and is also venturing into catering. But look for some new specials within the restaurant's walls, as well: "We plan to do a happy hour and a weekly special" in the coming weeks, Tantiyangkul says.
Details
Thanida Thai, 835 N. Royal St.
Hours: Monday-Thursday 11:30 a.m.-3 p.m. and 4:30-9:30 p.m.; Friday 11:30 a.m.-3 p.m. and 4:30-10:30 p.m.; Saturday noon-10 p.m.; Sunday noon-9 p.m.
Hidden gem: The Moo Ping skewer. "It's a grilled marinated pork on a skewer and served with sticky rice," Simuang says. "We call it breakfast in Thailand. Everybody has it in the morning, in a rush before they go to school or go to work."
Hope Nelson owns and operates the Kitchen Recessionista blog, located at www.kitchenrecessionista.com. Email her any time at hope@kitchenrecessionista.com.