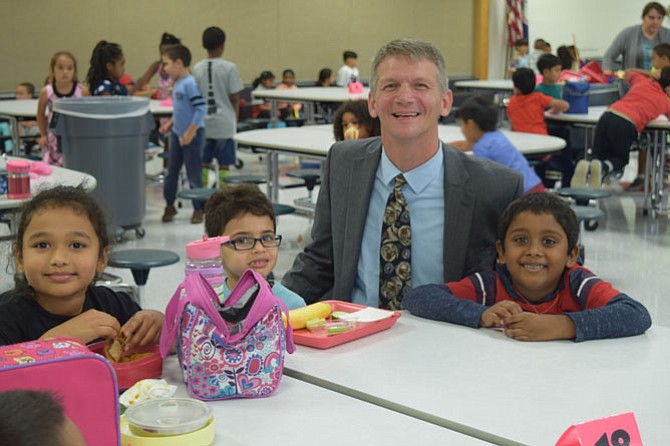 With 21 years in education, Jesse Kraft, age 42, of Centreville was named the new principal of Lutie Lewis Coates Elementary School on River Birch Road in Herndon, on July 7. He is replacing former principal Toni Rose who moved into administration with Fairfax County Public Schools. He will be overseeing 740 students with a staff of about 95, including five full-time ESOL teachers. Coates is a part of the Westfield Pyramid.
"I truly believe that when you work in public school you make a difference to every person who works there," Kraft said. "The principal is especially lucky because, No. 1, if I'm doing my job well, I can be part of the reason why great teachers get better every year. Another good thing is I can actually see kids improve over time. I can literally be in a front row seat to watch the magic happen."
The ethnic breakdown of Coates Elementary is: 28.8 percent Asian; 37.3 percent Hispanic; 18.2 percent black; 12.08 percent white; and 3.49 percent other, according to the school's website. Some 49 percent of the students are on free or reduced lunches and 11.81 percent require special education services.
"The Coates community is ethnically diverse and I'm finding pretty involved, and I think supportive of the school overall. I've had multiple opportunities to meet with families ... People had a lot of pride in the school and people were extremely welcoming to me. Once school started, it became clear that that kind of warmth is reflective of everybody overall. It's a really happy place," said Kraft.
What's new this year is more advanced academic numbers, he said. "We're in the beginning years of FCPS having local Level IV Advanced Academic classrooms. What that means is we have one classroom at third, fourth, and fifth grade that the teacher is teaching the same curriculum as the Advanced Academics Program Centers in FCPS. And we will have a sixth-grade Level IV next year."
He added: "So this means we are retaining more of our students who require daily enrichment and who are eligible to go to an Advanced Academic Center site."
With Coates being a Title One school, it allows some federal funds that translate to more staffing, he said. For example, Title One funds provide an extra reading and math specialist to the staff. "When you have those extra specialists in the building, they can support not just the students who need extra help but they can develop the teachers in the building. So I've always kind of seen the positive side of being in a Title One school, where you have extra resources, and if you use them, it benefits all students," he said.
He said he is most impressed so far by the dedication of the staff. "I've been a building administrator for 11 years and I've been lucky to work in positive environments and I know this is a very positive environment. We're going to accomplish a lot because of clearly the right attitude, and the willingness to do whatever it takes," he said.
For personal goals, he said, he wants to work with staff and families to cultivate a stellar reputation for the school by promoting all of the good things that are already happening there, along with strengthening some instructional plans. "Another goal is to develop some kind of unique program that really goes beyond the curriculum and teaches critical and creative thinking," he said. "I think there's a lot of potential to develop something amazing given the character of the school we already have."
As far as challenges, he said, "First, like any new principal coming to a school, there's going to be some changes, and it will take time to work with families and staff to implement the right changes and to make sure they are right for our school."
He added: "Just being a Title One school, increasing student performance, particularly in reading and math, and this will require everything from implementing the right professional development for our staff, engaging parents so that they can do their part, and using our human resources as effectively as possible to challenge students appropriately and close achievement gaps."
Kraft said the school has a team of teachers called the Positive Behavior Support Team, whose task is to figure out ways to promote a positive culture among the students. "This year they've decided they want to work to instill empathy in all students .... There's research out there to say kids lack empathy compared to previous generations. So the idea that other people matter or the idea of thinking of things through others' perspectives is something we want to explore this year with our students," he said.
According to Dan Phillips, principal of Providence Elementary School, "Jesse Kraft is a great principal because he values the limited time we have in school with our students. He works to help teachers maximize their effectiveness and their impact on student learning. He has a sharp focus on instruction and a unending dedication to helping each student succeed. He was an incredible leader for our school, and the Coates community is very fortunate to have him as their principal."
Kraft grew up in the Philadelphia area and attended North Catholic High School, graduating in 1991. He received an undergraduate degree in English from the University of Pittsburgh, and completed licensure requirements for education, graduating in 1996.
He started his career at Newington Forest Elementary in Springfield, teaching 3rd, 4th, and 6th grade. He was a coach for the Great Beginnings Program, a program for first-year teachers in FCPS, and he also earned National Board Certification.
In 2004, he received his master's degree in administration from George Mason University, and then went into school administration. He then worked as an assistant principal at Westlawn Elementary in Falls Church; then assistant principal of Oak Hill Elementary in Herndon; followed by principal of Providence Elementary in Fairfax City in 2009. From there, he moved onto Coates Elementary.
Jesse Kraft is married to wife Susan; the couple has a daughter named Molly, age 10; a son named Will, age 8; and a son named Ian, age 3. They reside in Centreville.