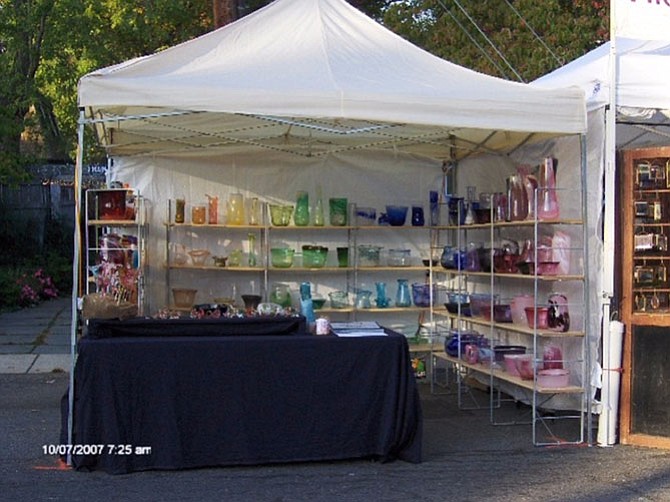 In 2005, Frank Burdell of Fairfax started blowing glass. He was driving back from Niagara Falls with his family when they stopped randomly in Corning, New York and decided to take a few short classes in blowing, fused glass and etching.
Burdell went on to take more classes back in Northern Virginia, in Sperryville and Warrenton. Before long, his "addicting habit" had amassed him a large body of work: hand-made blown glass works of plates, bowls and vases of various sizes and shapes.
"Your mind can't wander," Burdell said. "You focus on that one part thing, doing nothing but that glass piece. It's very intensive work. Hot work, and challenging."
To support his hobby, and to share his art, Burdell began to sell it under the name Lucky Break Glass Co. Ten years ago, he began bringing the works to the annual Clifton Day festival.
"Clifton is one of the only venues I have a chance to sell it, show it off and meet people," he said. "And since I live so close, I see a lot of neighbors, people my kids know. And I have repeat customers who expect me to be there, so I'm there."
Burdell is one of around 150 vendors scheduled to participate in this year's Clifton Day, along with antique dealers, artists and bakers. The festival, celebrated in the historic downtown area, began in 1967.
"It takes months of planning and a dedicated team of volunteers to organize and coordinate all the logistics for Clifton Day," event chair Barbara Hutto said in a statement. "But in the end, it's gratifying to produce this family-friendly event, which showcases one of the area's most beautiful and historic towns."
In addition to the vendors, tens of thousands of expected visitors can expect live music throughout much of the day, a Civil War reenactment, dance performances, pony rides and a wide variety of foods and drinks.
THE 2016 FESTIVAL, hosted by the Clifton Betterment Association (CBA), is a fundraiser for the Girl and Boy Scouts, Clifton Lions Club, Acacia Lodge, the Clifton Presbyterian Church and other nonprofit groups.
"These nonprofits help make Clifton a special place to live," CBA president Michelle Stein said in a statement. "The festival provides a way to support them and recognize their contributions to the community."
Clifton Day is also the one day of the year the Virginia Railway Express stops in Clifton. It provides round-trip service from all stops between Manassas and Rolling Road. The ride to Clifton is free and the return trip costs $5 per person (free for children under two years old).
This means the town draws exponentially more visitors and from further afield than any other day. For new Clifton resident and small business owner Lauren Betz of Sweet Annaline's custom-decorated sugar cookies, the immediate swell of customers is a cherry on top of her already feeling welcomed to the community.
"I've heard that it's very large," she said, "but as long as weather holds, we should expect some great traffic."
Betz is planning to have lots of cookies decorated with fall themes, as well as some iconic Clifton images including the Texaco sign and festival gazebo.
Pat Lasus of Fairfax Station is a member of the Clifton Day planning committee and coordinates the eight vendors in a special art and crafts demonstration area.
She said favorites such as a potter, beekeeper and birdhouse builder will all be back.
"Everything in there, someone has made," Lasus said. "It's the value of creating something and having other people enjoy it. We've known each other in this square for many years."
Lasus will have a booth herself where she'll show off items she's created from Angora wool spun from 13 rabbits she keeps as pets.
A new group in the craft area based out of Centreville will be rolling decorative paper beads and donating the profits to assistance for Haiti.
CLIFTON DAY is scheduled for Sunday, Oct. 9, from 9 a.m. until 5 p.m. Admission is free. Parking starts at five dollars per car. For more information visit www.cliftonday.com or the Clifton Day Facebook page.