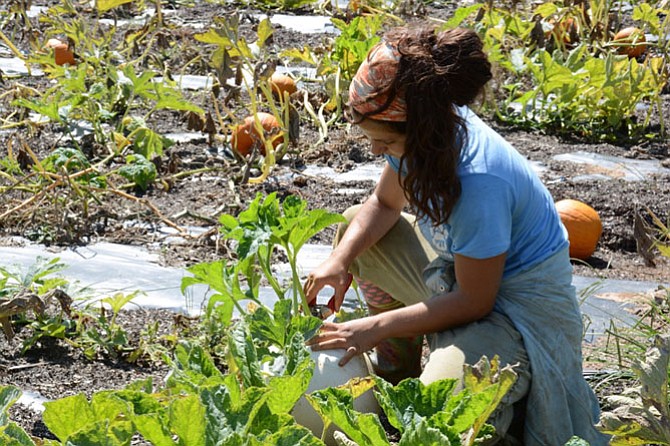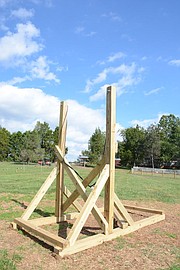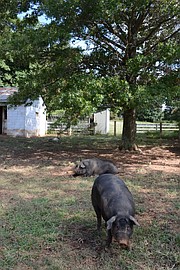 Pumpkin. Slingshot. The imposing medieval-esque wooden structure Whitehall Farms business owner Jeff Waters built by hand stands ready to launch seasonal gourds 250 to 300 feet past a grazing area of chickens into a vast grassy expanse. Next year, Waters said, there will be a proper trebuchet.
The pumpkin tosser is a standout as far as new attractions at the farm's second annual Farm Fun Days.
The more than 200-acre property located in Clifton is owned by Waters' wife Nadine Vazquez, whose father purchased it after immigrating to the United States from Cuba and becoming a naturalized citizen.
Waters, Vazquez and a small but hardworking staff, have not only brought the farm back to life, but host agricultural tours and lessons for schools. They sell their own and other small business products in a market on the premises, and test different techniques for composting and crop-rotation. In June this year, they began providing produce to 60 individuals through a Community Supported Agriculture program.
Returning Fun Days activities include hayrides, an inflated slide and bounce house, pick-your-own pumpkin patch, and animal meet-and-greet (check out the newest addition: a pair of mulefoot piglets).
Waters and company also brought back a three-acre corn maze full of eight-foot-tall stalks. Last year's design of farm mascot "Henry" the cow has been replaced by a Chinook Helicopter, a farewell gesture to former head grower Brian Yoder. Yoder flew Chinooks in two tours in Afghanistan.
Waters said attendance at the festival's opening weekend Sept. 24 and 25 was already a 50 percent increase over last year.
Fall Fun Days at Whitehall Farms run Saturdays and Sundays now through Nov. 6, 10 a.m.-5 p.m. Tickets are $12 for adults and children over 3. Parking is available at 6080 Colchester Road in Fairfax. For more information, visit www.whitehall.farm/fall-fun-days.html.