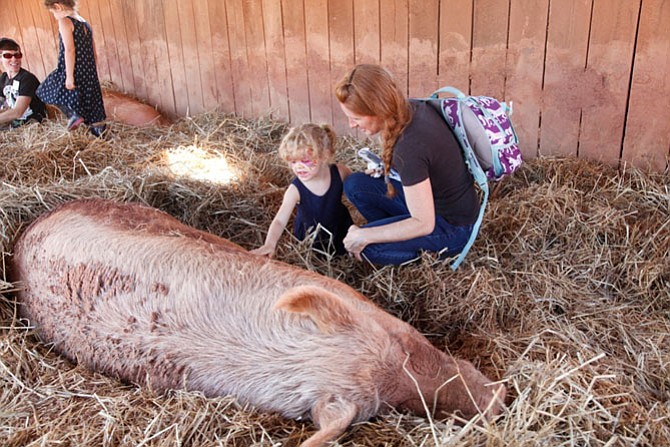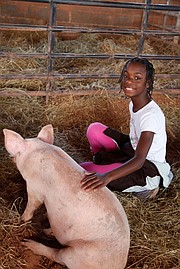 See more Animal Sanctuary photos on Facebook.
For supporters of Poplar Spring Animal Sanctuary's annual Open House fundraiser in Poolesville the day broke warm and sunny and stayed that way, and reflected the caring that brought visitors to this Eden-like farm dedicated to helping abandoned and abused farm animals.
It is here that the rescued pigs, cows, chickens, goats, sheep, several horses and donkeys, and some very thankful turkeys are able to live out their lives in peace. And, it is here that a record number of friends and families showed up and shared the day with the animals as they roamed freely, petable as pups.
When I arrived to photograph the day's event, I saw a farm turned country fair, a vast party with something happening to entice everyone. Dave Kitchen's band played their lively music, many folks bid on items in the silent auction, and families watched their children race from petting pigs to hugging a horned goat. Then, after a taste of vegan fare, all lined up for the chocolate cake, its three-bite pieces cut and laid out by the hundreds on a table longer than a hay wagon and wafting a fragrance so enticing it still lingers.
On this day and every day, each dollar raised goes directly to the care and upkeep of the animals, according to Dave Hoerauf, who with his wife, Terry Cummings, run this 400-acre sanctuary. "We are fortunate because the property was donated, so we are able to operate on a lot less than an organization of the same size," he said.
"We are amazed and thrilled with the turnout," said Hoerauf.
So for all, it was a very good day I have to say.
To visit, donate or volunteer to help the animals, go to www.animalsanctuary.org.