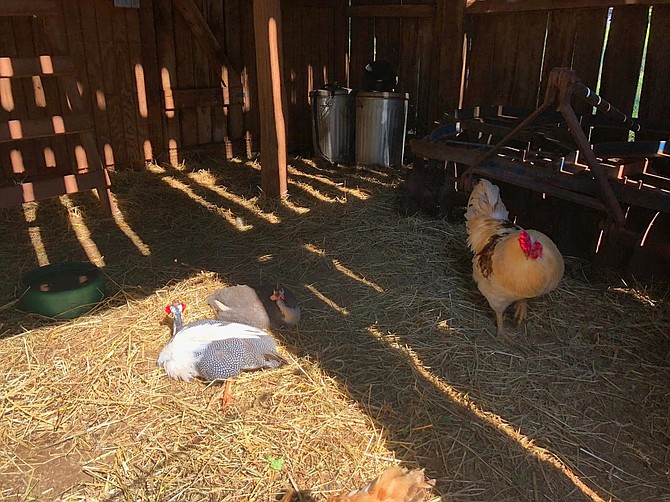 That's the kind of day it was. One of those beautiful Sundays reserved for fall. The sky showed its particular blue, the freshly mown fields wafted perfume in a breeze so enticing it was difficult not to throw myself down on the spot and close my eyes. And, more than 1,800 people felt the same way last Sunday when they visited Poplar Spring Animal Sanctuary's Open House and fundraiser.
There, its residents, the farm's 250-plus rescued farm animals, reigned supreme.
"This is our biggest event of the year, and the funds, over $90,000, helps us to continue to rescue and provide a permanent home for our animals," said Terry Cummings, who with her husband, Dave Hoerauf are co-founders and directors of Poplar Spring. They work ceaselessly to provide a safe haven for these lucky animals who graze on 400 acres of pristine pastures, live in cozy, straw-filled barns and thrive in safety and peace thanks to the volunteers and friends who help care for them.
These are the lucky ones.
Their counterparts, all those pigs, chickens, calves, cows, steers, sheep, turkeys, and goats whose meat will grace our tables at restaurants and at home, live a very different and tragic life. The life Poplar Spring's residents escaped.
Confined to cages, each of the millions of factory farmed animals has a personality as distinctive as the ones who were being petted and admired by the guests that Sunday. I looked at a huge pig lying in a pool of mud, happy in the sun.
But, how about all those other individuals, and they are that, who are stuffed in those rattling metal slaughterhouse trucks and headed for hell? Then one escapes. Why that one? Is it luck or do some have that extra impulse to defy death?
It is enough to make me become a vegetarian, but I am not.
But, what I can be is an advocate to help advance more humane treatment for these individuals who will die for our table. All of us can do this.
And, thanks to the internet, not always our friend, the tragedy of farm animal treatment has awakened millions of people to their plight. It is slowly changing the way animals are treated because advocates have a platform to spread the word about abuse in all aspects of animal care.
On Sunday, I met a woolly sheep in her shed and felt her thick coat. When she looked up at me, her eyes were soft with trust. I talked to Vivien Straume, a volunteer, who said she loves these sheep who now act like pets. We spoke about the others, the ones sheared for our wool. About how they are thrown, with eyes bulging in fright, and stepped on to be sheared. When it is over, they are then shoved aside bleeding and traumatized, only to have it happen again when the wool grows back. They don't die, no, but maybe this is worse.
Later, I was introduced to Ivan, the turkey, who must have squeezed out through the slats of a slaughterhouse truck. He found freedom as he tumbled to the side of the road. A vegan passerby, that's what I was told, found him lying there with a broken wing. Today, he struts his stuff minus that wing, a huge white explosion of feathers with the bearing of a prince.
Then there is the odd couple. Stevie, the hen and Nicky, her mate, a pigeon.
At least those are the names that Deb Durant of Arlington, Va., a volunteer at Poplar Spring for 12 years, told me. She said she could have it backwards. Regardless, Nicky loves Stevie. Really loves the hen. They are inseparable. He dances his pigeon circles around her, sits on her back and gives pecking kisses, which she tolerates.
In a shelter, they fell in love and were determined to stay together. When Stevie went to the vet; Nicky followed. They were rescued in tandem by Poplar Spring and will live there happily ever after.
It was a good day. Visitors would tell you that. As they left, arms loaded with silent auction items, the music of the Dave Kitchen band still in their heads, kids proud of their painted faces and telling their parents about how they were really able, really, to hug that huge wiry-haired pig and how cute the chickens were. They would tell you all of that.
And so would Terry and Dave, who oversaw this day and who devote themselves to this glorious farm where their only goal is to make sure that their charges are healthy and safe for the rest of their lives.
Poplar Spring Animal Sanctuary is a 501(c)3 organization supported only by individual donations. To volunteer or donate, go to www.animalsanctuary.org. Want to have thanksgiving dinner with the turkeys? They eat first. Saturday, Nov. 17, 2018, noon – 4 p.m. Call 301-428-8128.