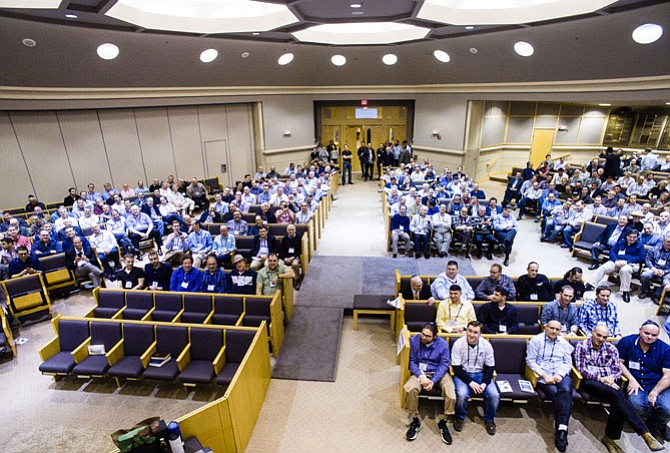 Potomac's Beth Shalom Congregation hosted a one-of-a-kind gathering on Sunday, April 2: More than 500 men from Maryland, D.C., Virginia and beyond came together for single malt and blended malt Scotch whisky, Kosher BBQ ribs, fried chicken and fries. Orthodox rabbis, men who rarely experience a synagogue, fathers, father-in-laws, grandfathers, sons, grandsons, nephews, friends and acquaintances all enjoyed Guys Night Out.
Bruce Weiner has attended since the inception. "It's hard to distill the most meaningful part of the event," he said. "I'd like to single out the camaraderie. The event draws guys from all over the D.C. area. It's a wonderful chance to enjoy each other's company, help exceptional nonprofits, and learn together."
Another regular attendee is Avi Hofman. His feelings about the evening are: "It is a wonderful combination of fun, good food and drink, words of Torah that help get me in the mood for Pessach and a great bunch of guys from all walks and all persuasions. There is always a tzedakah project associated with the Guys Night Out. We often bring slightly-worn suits to help those looking for jobs who can't afford to buy a suit for an interview. It really makes me feel like I'm doing something worthwhile. One of the most fun take-aways for me last year was that there is really no reason that the entire Seder has to take place at the dining room table. Since I learned this from Rabbi [Nissan] Antine, we have begun every Seder in the family room sitting on comfortable couches and chairs. It adds to the fun and certainly serves the purpose of getting the kids to ask why this night is so different from others. Every year Rabbi Antine has a few gems that he shares which make the holiday more meaningful."
Heroes was the theme for this year. Four Jewish Wounded Warriors/active duty military personnel attended along with five emergency responders from Baltimore who went to Israel to fight fires. The 500 men celebrated the bravery of these heroes — along with sharing camaraderie and stories of their courage.
The evening was also about giving back to community. This year, participants were asked to bring used sports equipment to the event as well as gently used sport coats. The sports equipment will be given to LPF — Level the Playing Field — a nonprofit that distributes equipment to underprivileged youth. The Wider Circle will distribute the sportcoats. The group will also make a donation to support their Maot Chitim fund allowing Jewish families to buy Passover food for the holiday.
Rabbi Antine, host of the event, planned an educational Seder Summit: "Passover celebrates the Jewish liberation from slavery in Egypt thousands of years ago. There is a rabbinic teaching that suggests that one of the reasons that the Jewish people merited liberation was because they continued to dress like Jews. Many have interpreted this statement to mean that an antidote against assimilation is Jewish dress. As Jews in America, we want to absorb in and participate in all of the wonderful things that happen in America. At the same time, we want to remain strong to our Jewish identity, heritage and values. The question for most Jews (other than ultra-Orthodox who still wear a very distinct Jewish garb) is what does it mean to dress like a Jew? What does it mean to wake up every morning and, literally, as we dress, to be making Jewish decisions?
"Are there items (and Jewish dress in general) just meant to be negative identity markers (we are Jewish because we dress differently from non-Jews) or are there positive spiritual and ethical lessons behind the symbols of what we wear? There are fascinating parallels to this discussion in Islam with Hijabs. The question of minorities wearing their distinct dress and the balance between healthy acculturation versus assimilation and loss of identity is fascinating to me."
Antine added, "I have been a part of this wonderful men's event from the beginning. It has been amazing to watch it grow over the years. There is nothing more meaningful than watching grandfathers, fathers and sons/grandsons enjoying a wonderful evening centered around great food and great learning. Passover is all about passing our Jewish values from parent to child through the Seder. I think we live in a world, where fathers and son have fewer opportunities to share this and this program allows them to bond in that way. Guys Night Out has also given me the opportunity to meet and learn with so many wonderful people from our community who don't otherwise come to our Shul. I will often be at the Giant and someone who I don't recognize will say 'Hey Rabbi Antine, You don't know me but I know you …' and I will complete the sentence 'from Guys Night Out.' It is a great bonding experience for men across the community from all denominations. It is an evening of unity around good food, drink, kindness and Torah study.
"The most meaningful Guys Night Out so far was last year when my own father came for the first time. I spoke about some Jewish gifts and values that my father gave to me. I did this in front of 500 of my best friends. My dad was very touched."
See www.bethsholom.org.