Vienna — On the Hindu lunar-solar calendar is "Holi," the "festival of colors," a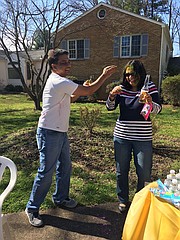 celebration of the coming of spring – hence, the colors – and the passing of winter. A national holiday in India whose date is determined by the lunar calendar, Holi is celebrated, too, by Hindu Indian-Americans with playful traditions and traditional dishes.
This year, Holi fell on March 13, the last full-moon day of the Hindu lunar-solar calendar month. Since the weather in Northern Virginia is not, typically, conducive to outdoor festivities, a Vienna family living in the Cinnamon Creek subdivision, invited friends and neighbors to their Holi lawn party on Sunday, April 2. More than a dozen parents and 15 children celebrated the occasion with splashes of colored powder smeared on their faces and clothes, children's games, Indian food, and, a bonfire. Neighbors unfamiliar with the tradition were warmly welcomed by Hindu guests.
"In India, we do the celebration every year, but this is the second year we are doing it here," said homeowner Karuna Galla who hosted the celebration, lending her yard for the party of color, water balloons, blow-bubbles, and food. "Holi is celebrated in different parts of the country for different reasons," she said.
The Holi celebration lasts for a night and a day, starting on the evening of the full moon. In 2018, Holi will be celebrated on Friday, March 2.
The origin and religious significance of Holi differs in its interpretation regionally, Sunita Braynard said. The common reference point, though, is that Holi welcomes spring, new life, while bidding winter – and evil – farewell. According to legend, the bonfire is symbolic of the fire that destroyed Holika, sister of a demon king.
The powders, in the traditional Holi colors of pink, yellow, green, and red are imported from India. The cornstarch-based powders are intensely-hued but wash out readily. Galla's 10-year-old daughter, Siri Dusanapudi, said her favorite part of the celebration is throwing the colors and watching the smiles.
Holi has influenced events, such as DC's Color Run, said Braynard, who helped Karuna Galla set up the party. "I think there is a definite correlation with Easter's pastels, too. Holi signifies the welcoming of spring in our home."