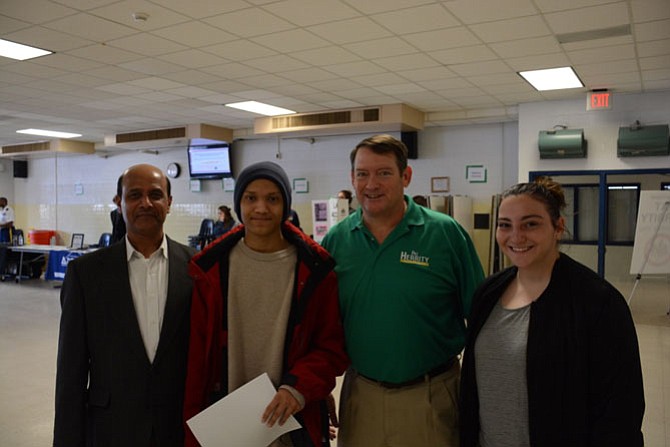 Springfield — Catherine Ly of Lorton remembers by the time she went off to college, she
didn't have much work experience and was overwhelmed with her first job.
For her daughter Rebecca, a junior at South County High School, she thinks of getting real life experience and preparation through a first job: "The earlier, the better."
The two women attended the third Fairfax County teen job fair, this one held April 1 at West Springfield High School. The list of dozens of companies and organizations included representatives from the military, law enforcement, restaurants, political groups, parks and pools.
Rebecca is interested in pursuing some type of medical internship, but is also looking at lifeguarding as a stepping stone in that direction.
But looking for work opportunities on the vast internet was too open-ended, they both said. "We didn't know what to look for," Catherine said.
They heard about the job fair and decided to check it out. Catherine said she was impressed with the variety of opportunities and vendors at the fair, that they were all laid out well and easy to navigate.
Hanna Bjarnason, a West Springfield sophomore, was also at the fair searching for first-time employment: summer work, a small job to get experience.
"It's good to talk with prospective employers," Bjarnason said. "Maybe something at a restaurant, in the service industry."
Her mother Mary Frances Bjarnason walked around the fair with her daughter, keeping a safe enough distance so Hanna could interact on her own, but also able to observe.
"The employers have been great with this age group," she said. "They've been calm, patient, helping them with what questions to ask, how to act — I'm very pleased."
Pat Malone of Alexandria helped hatch the concept for the teen job fair with supervisor Pat Herrity (R-Springfield). This is the third year a fair has been held at West Springfield.
Malone said parents have appreciated being able to browse prospective employers along with their children.
"They watch, see where their child could work," he said, "and see if they think they're going into a good situation."
Herrity said he was pleased with the turnout, which he estimated to be around 500 for the day. As the event continues to grow and evolve, the supervisor said he hopes to include more employers from the tech field, though he concedes it's more difficult to find companies looking to hire in this age group.
Herrity also said he'd like to see more opportunities for 13- and 14-year-olds. While they can't work professionally, He'd like to include more volunteer and service opportunities to bring them into the fair and get experience in the social-semi-professional environment.
At 13, Porter Wallington of Centreville attended the job fair looking for volunteering and service opportunities. He said he was interested in the Fairfax Democrats, but was "open to anything."
Though he couldn't walk away an employed young man, he said he did gain confidence. "I know how to talk to people now," Wallington said, "what to ask."
For more information and to register either as a student or a business for the next teen job fair, visit www.fairfaxcounty.gov/springfield/teenjobfair.htm.
The final fair is scheduled for Saturday, April 29, 11 a.m. to 1 p.m., at South County High School, 8501 Silverbrook Road in Lorton. Co-sponsored by Supervisor Dan Storck, South Fairfax Chamber of Commerce, South County Federation, and South County High School.