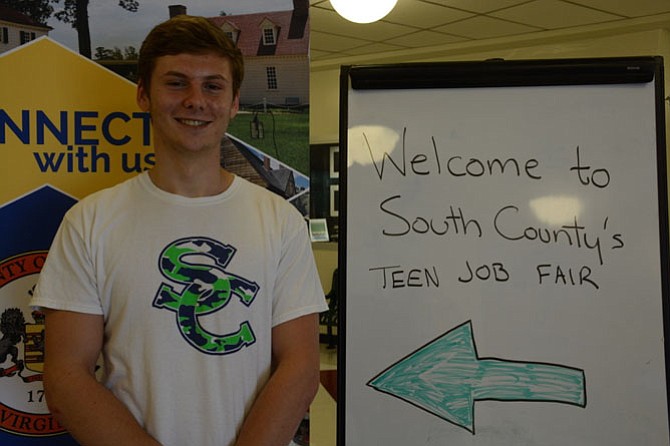 South County High School senior Will Riffe is ready to break out his new U.S. Army lanyard. Last summer, Riffe worked as a lifeguard at the Fairfax Station Crosspointe community's Glen Eagles pool. This year, before he leaves to begin classes at James Madison University, he's looking for a different work experience. That search brought him to the teen job fair held April 29 in the high school's cafeteria.
"It was good to know what different things are offered," Riffe said, "to spend time looking for jobs, see faces and meet people." Grabbing his interest were Laurel Hill Golf Club, NOVA Parks, moving services and Gold's Gym. There was also the Army recruiter who told Riffe he enlisted at 16 and now has a lucrative career with the service working on combat vehicles.
"It was very informative, and well organized," Riffe said on leaving the fair.
SOUTH COUNTY was the fourth teen job fair held in Fairfax County this year, the last being at West Springfield High School. The idea sprang out of Supervisor Pat Herrity's (R-Springfield) office, to help connect students and employers, and offer opportunities for building job skills.
"It's just good practice," Herrity said, of both the face-to-face interactions with students and potential supervisors, as well as those first jobs that can be a springboard either to a career or establishing a strong work ethic.
This was the first of the fairs to take place in the southeast of Fairfax County, offering more accessibility to students in Lorton and up the Richmond Highway corridor. Staff from Supervisor Dan Storck's (D-Mount Vernon) office helped run the event, and Storck as well as Mount Vernon representative to the Fairfax County School Board Karen Corbett Sanders pushed the fair through their newsletters and social media.
Herrity attributed strong attendance at South County's first fair (700 registered, at least 562 attended over just two hours) to that outreach, as well as co-sponsoring from the Connection Newspapers.
"Their support has made a big difference," Herrity said. "I don't think there would've been as big a turnout."
Another partner unique to the South County fair was the South Fairfax Chamber of Commerce. The chamber's board chair Tom Repczynski of Fairfax Station called the fair "an incredible first experience."
"Clearly there's a pent up need for this," Repczynski said, highlighting the diverse mix of opportunities including part time and full time employment, and volunteer and graduate work.
Already thinking of next year, he said he'd like to see either this fair or another location reach out more towards the Hayfield Secondary School area of Alexandria.
FOR SOME EMPLOYERS like Great Waves Water Park along Cameron Run in Alexandria, or Petty Officer Michael Subra with U.S. Coast Guard, they spent a fair amount of time just talking with younger students about when they would be eligible to interview and work. But even that practice of coming up and talking with a potential future boss or recruiter is valuable, they said.
Springfield's Greenspring continuing care community draws considerably from the job fair, even offering online applications ahead of time. On the day of the fair, representatives said they held around 20 interviews on-site and made more than 10 job offers.
G Surujpaul, general manager of the Fireside Restaurant and Potomac Café dining spots at Greenspring said most of the positions they were looking to fill at the fair are part-time wait-staff. And while that may be a single-summer job for some, for others like him, it could be much more.
Surujpaul himself started as part-time wait staff. Now he's made food service management at Greenspring his career.
"I enjoyed seeing every side of it," he said. "I like being able to make a difference in someone's life every day. That kept me coming back."