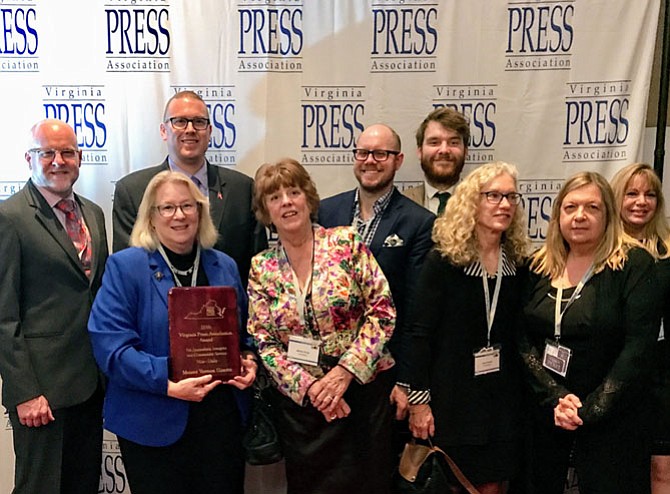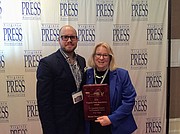 Virginia Press Association Award for Journalistic Integrity and Community Service, the association's highest award, went to Local Media Connection/Mount Vernon Gazette for coverage and editorials relating to police reform in Fairfax County.
Shirley Ruhe, 1st Place, In-Depth or Investigative Reporting, Arlington, Investigative Series-Sex Trafficking
Mark Mogle, 1st Place, General News Photo, Wreaths Across America, Arlington Connection
Eden Brown, 1st Place, Education Writing, Arlington Connection
Shirley Ruhe, 1st Place, Column Writing, People at Work, Alexandria Gazette Packet,
Jeanne Theismann, 1st Place, Headline Writing, Alexandria Gazette Packet
Steven Mauren, Mary Kimm, Steve Artley, Geovani Flores and Laurence Foong, 1st Place, Editorial Pages, Alexandria Gazette Packet
Mark Mogle, 1st Place, Picture Story or Essay, "Plaid Tidings," Alexandria Gazette Packet
Tim Peterson, 1st Place, Public Safety Writing, Burke Connection
Bonnie Hobbs, 1st Place, General News Writing, Fairfax Mayor Caught in Sex-for-Meth Sting, Fairfax Connection
Joan Brady, 1st Place, Feature Series or Continuing Story, Great Falls Connection,
Alexandra Greeley, 1st Place, Personal Service Writing, Food Features, Great Falls Connection
Tim Peterson, 1st Place, Sports Writing Portfolio, Springfield Connection
John Bordner, 2nd Place, General News Photo, Kluge Farewell, Alexandria Gazette Packet
Shirley Ruhe, 2nd Place, Feature Series, Homelessness, Arlington Connection
Kemal Kurspahic and Staff, 2nd Place, General Makeup, Fairfax Connection
Marilyn Campbell, 2nd Place, Personal Service Writing, Oak Hill/Herndon Connection
Jon Roetman, 2nd Place, Sports Writing Portfolio, Oak Hill/Herndon Connection
Shirley Ruhe, 2nd Place, Column Writing, In the Kitchen, Mount Vernon Gazette
Jean Card, Laurence Foong, Renee Ruggles, 2nd Place, Informational Graphics, Guide to the Parks, Fairfax Station Connection
Shirley Ruhe, 2nd Place, Personality or Portrait Photo, Vienna-Oakton Connection
Ken Moore, 2nd Place, Health, Science & Environmental Writing, Great Falls Connection
Kemal Kurspahic, Andrea Worker, Donald Sweig, Ken Moore, Geovani Flores, Laurence Foong, 3rd Place, Front Page Design, Reston Connection
Shirley Ruhe, 3rd Place, Personal Service Writing, Arlington Connection
Steven Mauren, Geovani Flores, Laurence Foong, 3rd Place, General Makeup, Arlington Connection
Shirley Ruhe, 3rd Place, General News Photo, Arlington Connection
Eden Brown, 3rd Place, General News Writing, Arlington Connection
Jeanne Theismann, 3rd Place, Personal Service Writing, Obituaries, Alexandria Gazette Packet
Steve Artley, 3rd Place, Illustrations, Editorial Cartoon, Alexandria Gazette Packet
Vernon Miles, 3rd Place, Feature Writing Portfolio, Alexandria Gazette Packet
Jon Roetman, 3rd Place, Sports Writing Portfolio, McLean Connection
Jean Card, Laurence Foong, Renee Ruggles, 3rd Place, Informational Graphics, Guide to the Parks, Mount Vernon Gazette
Tim Peterson, 3rd Place, General News Writing, Mount Vernon Gazette
Laurence Foong, 3rd Place, Informational Graphics, Real Estate Map, Great Falls
Mary Kimm, 3rd Place, Editorial Writing, Great Falls Connection
Ken Moore, 3rd Place, Education Writing, Great Falls Connection
Ken Moore, 3rd Place, Feature Writing Portfolio, Oak Hill/Herndon Connection
Your Award Winning Papers
Richmond Times-Dispatch (daily) and the Mount Vernon Gazette/Local Media Connection (non-daily), win the Virginia Press Association's highest awards
Virginia Press Association's highest award, the VPA Award for Journalistic Integrity and Community Service, went to Local Media Connection/Mount Vernon Gazette for coverage and editorials throughout 2016 relating to police reform in Fairfax County.
The Richmond Times-Dispatch won in the daily category for its series about the death of a mentally ill prisoner, Jamycheal Mitchell, in a Portsmouth Jail.
The judges noted, "The Mount Vernon Gazette covered the complex issue of police reform from February through December 2016, sparked by the shooting of an unarmed man by a Fairfax County police officer. … The Gazette focused community attention on the case, particularly on the efforts of citizens and representatives of law enforcement agencies working together on reforming police practice. This led to the creation and implementation of a Civilian Review Panel to provide oversight of police policy, procedures and activities. … The approach of the Gazette in this matter provides a good illustration of the positive role a community newspaper can play when it takes an activist approach to issues of importance to its readers." Editor Mary Kimm and reporter Tim Peterson accepted the award.
Virginia Press Association honored its 2016 award winners on Saturday, April 8, 2017 in Richmond at its annual dinner. The Connection papers, including the Alexandria Gazette Packet, garnered more than 35 awards in many categories, including investigative reporting, education coverage, headline writing, photography, column writing, sports writing, obituaries, environmental writing, food writing, graphics, and more.
Shirley Ruhe was the top award winner, earning seven different awards including two first place awards, one for investigative reporter for her series on sex trafficking.
Other first place award winners include photographer Mark Mogle, who also won two first places; Bonnie Hobbs for General News for her coverage of the rise and fall of the mayor of the City of Fairfax; Eden Brown for Education writing; Tim Peterson for Public Safety writing and for Sports writing; Joan Brady for Feature Series on foster care alumni success stories; Jeanne Theismann for headline writing; Alexandra Greeley for food writing. Steven Mauren, editor-in-chief, won first place for Editorial Pages in Alexandria Gazette Packet, along with Mary Kimm, cartoonist Steve Artley, and designers Geovani Flores and Laurence Foong.
— Mary Kimm
mkimm@connectionnewspapers.com