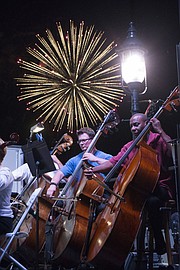 Connection Newspapers won dozens of awards from the Virginia Press Association for work done in 2015. Award winners were announced on Saturday, April 9, at an awards banquet in Richmond.
While the papers won awards in many categories, the common underpinning was community journalism, accessibility of information, and reporting on critical issues like transparency in government.
Thematically, the papers won multiple awards for stories and sections that were informative and helped make communities, events and resources more accessible to our readers.
Examples included Ken Moore's reporting on Robert Simon's role in Reston, which included coverage of Simon's 101st birthday, Simon's ongoing influence, and his obituary. The series won first place.
Print newspaper obituaries play a vital role in local communities, reflected in Jeanne Theismann's first place award for three obituaries in the Alexandria Gazette Packet. Earl Lloyd was born into "the cradle of segregation" yet persevered to become the first African American to break the color barrier in the NBA. Dr. Robert Wineland,­ "Dr. Bob," was a WW II veteran and survivor of the Battle of the Bulge. He was a beloved local doctor for more than 60 years. And Ferdinand Day was the first African American to be elected to chair a public school board in the state of Virginia.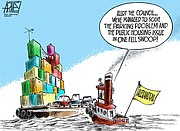 We are lucky to have cartoonist Steve Artley to skewer and edify many issues, including his first place cartoon that suggests Alexandria could solve parking and housing problems by placing both on barges in the Potomac River.
Jean Card, Renee Ruggles and Laurence Foong have collaborated over several years on the Insider's Guide to the Parks, which won awards in Mount Vernon and Vienna/Oakton, capping several awards for informational graphics.
Our Newcomers and Community Guide to Arlington was described as "Informative, well written, with good use of graphics." Winners included Steven Mauren, Eden Brown, Vernon Miles, Shirley Ruhe, Laurence Foong.
Sarai Johnson, Hope Nelson, Shirley Ruhe, and Steve Hibbard won second place for entertainment pages in the Alexandria Gazette Packet, weekly coverage of arts, entertainment, food and things to do in Alexandria.
Reporting on elections, the environment, health and fitness, and organizations that are designed to help others also garnered awards.
Kenny Lourie won for his ongoing column writing about living with cancer. Lourie both lives and writes with humor and perspective. The judge said, "Though filled with heavy subject matter, the author hooks readers by using his first-person perspective, humor and emotion to describe the events of his life. These columns grab your attention from the first paragraph."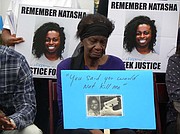 Abigail Constantino's photo that shows the great aunt of Natasha McKenna at a protest of McKenna's death in custody, won second place for general news photo. Eudora Paul's sign displays McKenna's last words: "You promised you would not kill me."
Tim Peterson's coverage of McKenna's death won second place in In Depth/Investigative. Peterson garnered the most awards of any Connection staff member, winning seven.
Mary Kimm's editorials on lack of police transparency and local government accountability won second place for editorial writing.
Kemal Kurspahic's opinion pages in the Herndon Connection won third place.
Jeanne Theismann, whose profile includes that she "dreams of one day writing headlines for the New York Post," won second place for headline writing in the Alexandria Gazette Packet. Headlines: Some Like It Haute, story about the 10-year anniversary of a boutique warehouse sale; Soul Providers, a story about volunteers recognized for service to seniors; Something to Wine About,­ on the opening of a new wine cellar; Luck Be a Lady,­ on the opening of a new bath apothecary called Ladyburg; To the Rescue, about­ a nonprofit started by firefighters to collect toys for underprivileged children.
Awards
Ken Moore, Oak Hill/Herndon Connection, First Place – Feature writing portfolio included a trip to the farmers market, remembrance of Latin teacher Christine Sleeper and celebration of the one-year birthday of the Silver Line.
Marilyn Campbell, Oak Hill/Herndon Connection, Second Place – Health, science and environmental writing
Kenneth Lourie, Oak Hill/Herndon Connection, Second Place – Column writing. Judge: "Though filled with heavy subject matter, the author hooks readers by using his first-person perspective, humor and emotion to describe the events of his life. These columns grab your attention from the first paragraph."
Ken Moore, Oak Hill/Herndon Connection, Second Place – General news writing for election coverage. "Excellent coverage. … Balanced and thorough. Effective at conveying why this is relevant for readers."
Jon Roetman, Oak Hill/Herndon Connection, Second Place – Sports writing portfolio.
Kemal Kurspahic, Geovani Flores, Laurence Foong, Mary Kimm, Oak Hill/ Herndon Connection, Third Place – Editorial pages
Ken Moore, Reston Connection, First Place – Feature series or continuing story, on Reston founder Robert Simon. Judge's comment: "This was an in-depth series, very informative and interesting to read." Moore covered several key moments, including celebration of Founder's Day 2015 and Simon's 101st birthday; later, Moore wrote Simon's obituary and covered the celebration of Simon's life.
Jean Card, Laurence Foong, Renee Ruggles, Vienna/Oakton Connection, Second Place – Informational graphics, Connection Insiders Guide to the Parks.
Mary Kimm, Great Falls Connection, Second Place – Editorial writing for multiple editorials on police transparency. Judge: "Brings important pressure to bear on people in power."
Ken Moore, Great Falls Connection, Second Place – Health, science and environmental writing; stories covering issues of deer, cleanup of groundwater contamination from gas station and tree preservation. Judge: "Excellent and informative."
Laurence Foong, Great Falls Connection, Third Place – Informational graphics, Map of Property Assessments. Judge: "A very interesting concept."
Ken Moore, McLean Connection, Third Place – Feature writing portfolio. Judge: "Great reads on interesting topics. Who knew there was such a thing as pinball championship, especially out of someone's basement? Pull out information added neat and tidy facts and/or information."
Abigail Constantino, Fairfax Connection, Second Place – General news photo, Natasha McKenna's great aunt holds a sign: "You promised you would not kill me." Judge: "Good capture of emotionally charged event."
Tim Peterson, Springfield Connection, Second Place – Personal service writing, coverage of three worthy causes. Judge: "This submission quickly makes the reader care about the causes championed in the stories. ... There was good detail presented in such a way as to make the reader want to donate to each of these causes by the end of the story — I was ready to get my checkbook out after reading each one."
Tim Peterson, Springfield Connection, Third Place – Government writing, coverage on aftermath of police shooting of John Geer, Virginia General Assembly. Judge: "A very comprehensive look at the Geer case was well-thought out and I was very impressed with the state legislature package."
Tim Peterson, Springfield Connection, Third Place – Public safety writing, stories on sex trafficking, police and fire department training and National Night Out. Judge: "Each of the stories in this submission is comprehensive in its handling of the topic, as well as engaging for the reader. The information offered is very good, and the presentation attractive. There was adequate space given to each story, which was then complemented by excellent artwork."
Tim Peterson, Burke Connection, Second Place – Education writing. Stories on School Board action on gender identity, graduation of triplets, and renovation of a local school. Judge: "All three stories had outstanding ledes. Quality writing and reporting."
Tim Peterson, Burke Connection, Third Place – Breaking news writing, about escape of prisoner from hospital and his recapture. Judge: "Excellent art, good storytelling."
Tim Peterson, Fairfax Station/Clifton/ Lorton Connection, Second Place – Business and financial writing. Stories on Goat Landscaping, sustainable farm, and a handcrafted greeting card company. Judge: "Good business stories with a great features twist. Very enjoyable stories."
Steve Artley, Alexandria Gazette Packet, First Place – Illustration. Cartoon: "Alert the council, we've managed to solve the parking problem and the public housing issue in one swoop." Judge's comment: "Excellent image to poke fun at a growing problem. Excellently delivered in a single image."
Jeanne Theismann, Alexandria Gazette Packet, First Place – Personal service writing. Three obituaries: Earl Lloyd, Dr. Robert Wineland ­and Ferdinand Day. Judge's comment: "... an outstanding job … She provides a wonderful context to the lives of people who may be overlooked in the typical press. Her insights into these individuals reflects her research into the subject and her analysis of the character of that individual. When I go, I hope she writes about me."
Jeanne Theismann, Alexandria Gazette Packet, Second Place – Headlines. Judge: "Clever yet informative."
John Bordner, Alexandria Gazette Packet, Third Place – Feature photo, Fireworks light up the sky July 11, 2015 as musicians from the Alexandria Symphony Orchestra to celebrate the 266th birthday of the City of Alexandria.
Marilyn Campbell, Alexandria Gazette Packet, Third Place – Personal service writing, stories on fitness.
Sarai Johnson, Hope Nelson, Shirley Ruhe, Steve Hibbard, Alexandria Gazette Packet, Second Place – Entertainment pages
Vernon Miles, Alexandria Gazette Packet, Third Place – Government writing
Tim Peterson, Mount Vernon Gazette, Second Place – In-depth or investigative reporting on the death of Natasha McKenna, a 37-year-old woman with a history of mental who died while in custody of the Fairfax County Sheriff's Office. Judge: "Painstaking, persuasive reconstruction of events leading to the death of a troubled woman. … This careful, thorough reporting is welcome."
Jean Card, Laurence Foong, Renee Ruggles, Mount Vernon Gazette, Third Place – Informational graphics, Connection Insiders Guide to the Parks
Jean Card, Sarai Johnson, Steven Mauren, Arlington Connection, Second Place – Special edition, Children's Connection. Judge: "Clean, crisp, appealing. The design flowed throughout this section."
Steven Mauren, Eden Brown, Vernon Miles, Shirley Ruhe, Laurence Foong, Arlington Connection, Third Place – Special edition, Newcomers and Community Guide. Judge: "Informative, well written, good use of graphics."