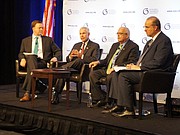 "I'm going to be political, because we have to be," U.S. Rep. Gerry Connolly (D-11) began as keynote speaker and panel member at a luncheon forum hosted by the U.S. Global Leadership Coalition on April 18. Better known for starting off his speeches with a few humorous quips, on this occasion Connolly wasn't joking.
A member of the House Committee on Foreign Affairs, and the co-chair of the Congressional Caucuses on Korea, Georgia and Taiwan, he said, "The world counts on American leadership. To retreat is risky. Damage has already been done," referencing recent Executive Orders by President Donald Trump, and statements by the President and other members of his administration. "Words have consequences. To retreat now is to open the door to grave situations."
While acknowledging that criticism of the Trans-Pacific Partnership (TPP) was not without validity, the Connolly called the pull-out of the United States from the trade agreement as "an incredible gift to China. I bet they're still drinking champagne in Beijing." According to Connolly, at least the TPP imposed certain conditions and set standards that had to be met by all countries doing business with the partners. "That's all been zeroed out now."
With tensions running high in the Asian region, Connolly also worries that the U.S. has no regular diplomatic presence there now, with no ambassadors in Japan, China or Korea. Without these portals to the American president and to other high-ranking American diplomats, the stage is set for misunderstandings, and decision-making — by all parties — while operating in a vacuum.
Connolly recently returned from a trip to South Korea where he visited the Demilitarized Zone (DMZ) separating the country from North Korea, an hour's drive from Seoul. The capital city and its environs are home to more than half of the country's population of 50 million people. "The South Koreans [and the Japanese] are apoplectic" being about 30 minutes from potential annihilation by North Korean nuclear missiles.
In the view of Connolly and the members of the USGLC, a large part of tackling today's diplomatic issues and the increasing threat of terrorism is to maintain and enhance the U.S. role on the world stage, and to keep funding intact for the International Affairs Budget. It's also critical to the economic health of the nation, and to the Commonwealth of Virginia, he said.
Most people don't know what is included in the International Affairs funding. "Everyone just automatically thinks handouts to foreign countries," said USGLC Executive Director Jason Gross, but the budget, which has been placed in the reduction crosshairs in recent days, funds U.S. embassies, the Peace Corps, global health threat watches and research, and assistance for start-up companies in emerging markets. The presence of NGO's (non-governmental organizations) and official organizations promotes democracy and a "rule of law" environment that helps develop new trade partners and economic opportunities for workers here at home, he said.
The speakers provided data showing that 8,000 companies in Virginia do business around the globe. The state exports more than $18 billion in goods to foreign markets each year and trade supports more than 1 million local jobs. "It's a win-win. It's the right thing to do as human beings, and it helps make our own economy stronger," said Ambassador Barbara Stephenson, president of the American Foreign Service Association and a speaker at the event.
"Ninety-five percent of the world's customers are outside the U.S.," said Stephenson. "Using only 1 percent of the federal budget, these programs and grants help grow more customers and create jobs. It's a great return on the investment."
Stephenson also warned that if the U.S. didn't take advantage of these opportunities, other countries certainly will.
Connolly pointed to China's growing presence in Africa. "They're building everything in sight, getting contracts and spreading their influence." He said that the Chinese know how to play "the long-term game" and that they are slowly winning over the emerging market in the world's economy.
Other countries may also step in militarily "if the U.S. fails to lead," cautioned Vice Admiral William Sullivan, U.S. Navy (Ret.), "and we may not like who steps in to fill the void." Sullivan advocates for "thoughtful diplomacy" to complement a prepared military force. "I strongly believe in preventing violence rather than resorting to violence," and he agrees with the USGLC membership and his fellow speakers that continuing to support an adequately funded international affairs program is the way forward to success.
AMERICAN LEADERSHIP on the military and the diplomatic fronts is key to combating terrorism in action today, and fighting the root causes that keep the problem growing, he said. Failure to act and stay engaged, especially in "failed or failing states" just "fertilizes the breeding grounds of terrorism," in the opinion of Sullivan.
According to the speakers, there are still more reasons to stand against cuts to the International Affairs and USAID budgets. Connolly brought up another threat to world interests if the Administration's thoughts on foreign policy don't change direction. Proposed international aid budget cuts could mean the loss of "first warning beacons against pandemics."
Despite the toll taken by the Ebola outbreak that began in 2014, the congressman noted that in the United States, "we still kind of dodged a bullet." Cutting aid to some of the programs cuts a first line of defense against many deadly viruses, "that are only a plane-ride away. These are cuts to worldwide mechanisms that we all rely on" for citizens' very lives.
Sullivan agreed, saying that so much of the military's work is humanitarian, and that the military provides security to help researchers, medical personnel and others get to difficult and often dangerous places.
The session ended with USGLC Northeast Regional Field Manager Colleen Bowman urging the attendees to stay informed and get engaged.
"We really don't have a choice," said Connolly. "It's our responsibility to speak up. It's in our best interest," and with one more parting shot, he added to the citizenry at large, "you voted to make America great again. Live up to that."
The USGLC is a network of 500 businesses, NGOs, national security and foreign affairs experts, military, academics, faith leaders, and more. For more information, see www.usglc.org.