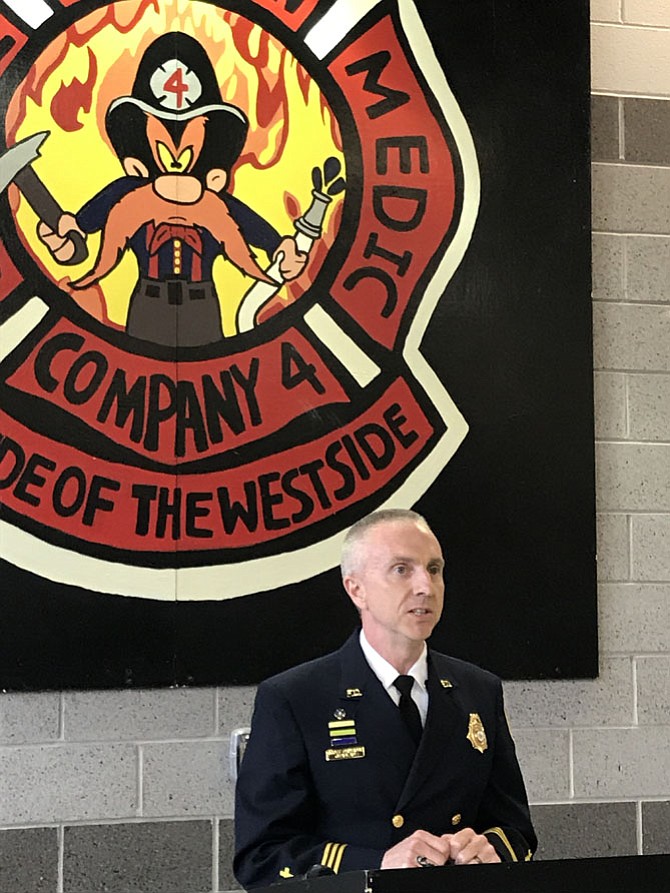 After a long process to construct a new fire station in the Town of Herndon, on April 22 the men and women of Station 4, Herndon officially returned home again. Despite heavy rain, the community gathered together in the apparatus bays at Fairfax County Fire & Rescue Department Station 4, Herndon, for its long awaited grand opening celebration. Two years earlier, Herndon had the oldest fire station in the county. Now Herndon has the newest.
Captain II, Robert W. Kitchen of Station 4, shared with the crowd of nearly 100 people that the process began in 2012 when the Board of Supervisors approved a Public Safety Bond to replace the old station. In February 2015, members of Station 4 moved into their temporary quarters one block away.
Over the next two years, the community and the men and women of Station 4 watched the project progress — from demolition and excavation to construction of their new home. "Some of you may wonder why I called it a home," Kitchen said in his opening remarks. "To the crews assigned here, that's exactly what it is...we spend 24 hours a day here on the ready, to serve this wonderfully welcoming community. It's our second home, with our second family."
Guest speaker Howard Nachman, president of Herndon Volunteer Fire Department in 1982, thanked Herndon Mayor Lisa C. Merkel, members of Herndon's Town Council and Chairman of the Fairfax County Board of Supervisors, Sharon Bulova for making the new fire station a reality.
Nachman asked the men and women of Station 4 to make the station, "warm and inviting, especially to the children." Kept in his care, he presented the flag, which last flew over Company 4, to Unit One. In his remarks, John W. Foust, Supervisor Dranesville District said, "When we brought the flag down two years ago, I think we may have underestimated how great today is."
Mayor of Herndon Lisa C. Merkel spoke of the importance of having Station 4 remain in downtown Herndon, "These things matter to people who live and work in Herndon," she said. Merkel noted in her remarks that Vice Mayor Connie Hutchinson played an instrumental part in securing the Spring Street location for the new fire station site, rather than other locations that were considered.
David M. Rohrer, Deputy County Executive, recalled the changes the community has seen in the last 15 years — 9/11, anthrax and terrorist attacks. Roher said, "The quality of people here, in this station, has never changed; the mission has never changed." Rohrer emphasized the unique and cooperative partnership and training between Fairfax County Fire & Rescue, Station 4, Town of Herndon Police Department and Fairfax County Police Department. "The partnership is very strong. Police and Fire train together to integrate operations and perform cross-training."
Fire Chief Richard R. Bowers was one of the last to speak. He slowly said to the crowd, "Those here, who put their lives on the line every day, do so very proudly." Bowers paused. He turned a moment and then presented a box of bricks from the old fire station to Kitchen. Bowers said, "Distribute the bricks to those here today, those who have served and who have worked diligently." With that, the men and women of Fairfax County Fire & Rescue Department, Station 4, and Herndon were truly home at last.