Alexandria — The Colgate Bright Smiles, Bright Futures mobile dental van, decked out with
cartoons and video, cruised to Old Town Alexandria, covering miles in the past from North Carolina to Pennsylvania and beyond.
It took a turn at 322 Tancil Court on April 21 at the Ruby Tucker Family Center, to the welcome of many, including Mayor Allison Silberberg, who offered participants a few dental tips of her own.
"Approximately 60 children were signed up for the Bright Futures dental van visit," said Gaynelle Diaz, director of the ARHA Ruby Tucker Family Center.
All participating children received a free dental screening and were taught the way to brush, floss and care for their own teeth. Children received a free toothbrush and goody bag, as well.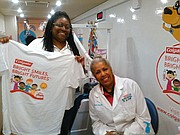 Typically, the mobile van travels to select communities to provide services to children in need.
Virginia Universal Lodge #1 of Alexandria, ARHA's Ruby Tucker Family Center, In God's Hands Ministry and the Colgate Bright Smiles made this event happen through a grant. "Citizens have to be creative to bring resources [to the community]," said community activist McArthur Myers.