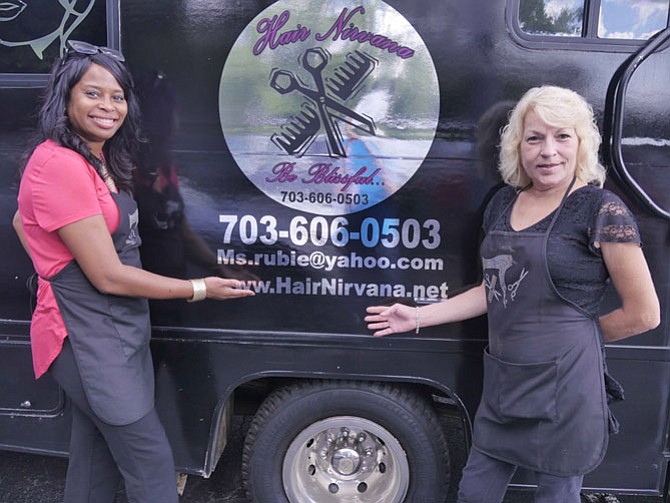 Alexandria — A black 28-foot former recreational camper sits in the parking lot behind
Enterprise on Duke Street. It has been converted into Hair Nirvana, a mobile hair salon on wheels complete with a shampoo bowl, two hair dryer stations and two salon chairs plus a waiting area. Clippers are wedged in wall racks along with mousse, flat irons, gel and hair spray.
Today Lori Knoernschild has driven from Del Ray to get her regular wedge cut and 6N Neutral hair color. Although Rubie D. Williams, known as Ms. Rubie, often drives to a customer's home on request, Knoernschild explains the streets of Del Ray are too narrow for the van. She says she has been coming to Ms. Rubie for probably 25 years and when Ms. Rubie decided to open her mobile hair business, Knoernschild followed her. "I just let her go. She makes it work for me. My mother uses her too."
Ms. Rubie says she got the idea a couple of years ago when one of her regular customers moved to Gainesville and asked Ms. Rubie if she would be willing to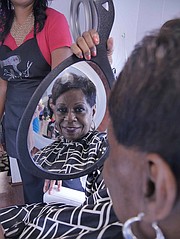 come out there to do her hair. "It was a long way but I did it for her. But it was always possible to leave some of my supplies at home or in her house. So she told me I should do a mobile hair salon." Ms. Rubie says that allows her to go to customers who can't get out with everything she needs.
Ms. Rubie remembers she first started out parking her van at the old Fuddruckers parking lot. People would beep and stop and look. "Now it's a dialysis center."
Now Ms. Rubie travels from Ashburn to Marymount to Kingstowne to the Farmer's Market at Cameron Station and a lot of places in between. She says it is mostly the teachers at Marymount where she goes once a month. They send out a notice when she will be in the parking lot, and customers sign up for appointments. "We'll be there again Sept. 28. "I even did the bridesmaids' hair for a wedding on Solomon Island in May."
Her assistant, Alycia Conner, also recalls a baby shower and a 9-year-old's birthday party for seven children where they did hairstyles and nails for the girls. "The girls were all crowded in here with their relatives and everyone was having a great time." She says the girls mostly wanted their hair sprayed colors. Connor says she has been a hairdresser at various salons for 35 years and has been working with Ms. Rubie since she opened her mobile salon.
Ms. Rubie added, "People want change. Colors are trendy right now. A lot of people of all ages are putting in purple. Others like highlights. I guess colors make people happy." Ms. Rubie explains that bobs are popular now although hairstyles often stay pretty much the same but they just add a different name. "History repeats itself."
Lasheall Washington from Alexandria walks in to occupy the other chair for today's feather haircut "and don't cut too much off. I just tell her to trim it where it needs it." Ms. Rubie pulls out a pair of clippers and works around the edges, fluffing up the top as she gets caught up on the most recent events. Washington will be in again in two weeks for highlights. She says she averages every two weeks for one of her hair treatments. Ms. Rubie hands her an oversize mirror. "Want to see what I did with the back?"
Ms. Rubie says it wasn't easy getting the code for her new business. "I went to zoning but they didn't know what to do. It didn't fit into any category." It wasn't a food truck so there wasn't a code that fit her business. "The manager of zoning was awesome." He told one of his employees to find her a code "because this woman is trying to do a business."
The first appointment is 8:30 a.m. and on a busy day she will work until 5 or 6 p.m. She drives her mobile van on Tuesdays, Thursdays and every other Sunday and Fridays "in an emergency." Knoernschild added, "I'm amazed she can drive that thing."
People at Work is a weekly column featuring people in our community doing their jobs. Send suggestions by email to slrbc@aol.com.