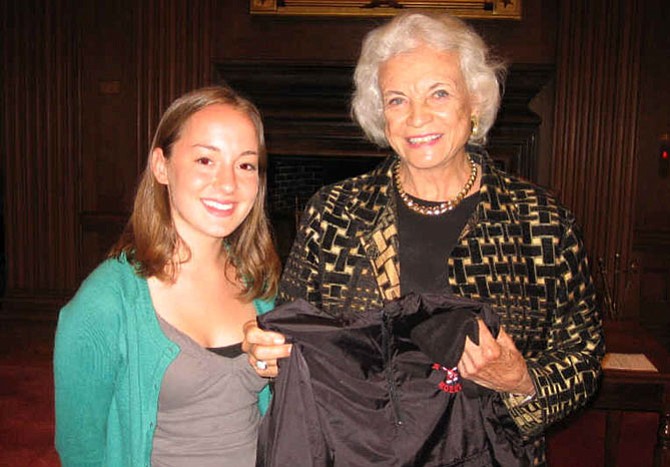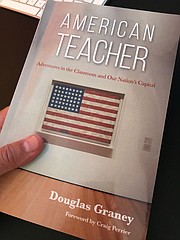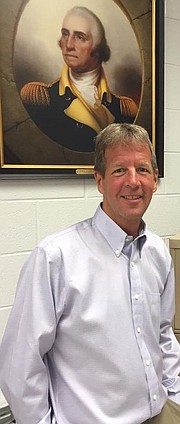 When Douglas Graney went off to college, he had one goal: earn a degree in broadcasting so four years later he would set the sports world on fire as an announcer. It didn't happen, not even close, at least for the sports world. Fast-forward a couple of decades.
Circumstances prevailed. Plans changed. Graney is a National Board Certified Teacher with more than 30 years of classroom experience, the past 13 years spent at Herndon High School teaching political science. Graney is also the published author of "American Teacher, Adventures in the Classroom, Foreword by Craig Perrier."
Kyle O'Connor, the Former Special Assistant to the President and Deputy Director of Speechwriting for President Barack Obama, was a student of Graney's. O'Connor reviewed the book and wrote, "Mr. Graney's class changed my life. His knowledge of history and love of debate taught thousands of other students and me the importance of active citizenship. And his belief in the power of real-world experience — combined with sheer stubbornness — opened doors for us that we could never have walked through on our own."
ON SUNDAY, AUG. 13, from 5-7 p.m., Jimmy's Old Town Tavern, located at 697 Spring St. in Herndon, hosts a book signing and sales celebration for Graney and his newly released book published by Mascot Books in Herndon. A limited number of books will be available for the Sunday, Aug. 13 signing, but additional copies can be ordered.
Graney shared with the Connection: "I hope to see many students (and their parents) from the early '90s up through students I had last year. That would be a nice reunion. I'm also honored that Dr. Scott Brabrand will be attending the book release party. We were colleagues for many years at Herndon High, and I'm thrilled that he is now Superintendent of FCPS. And the fact that the book release party is taking place is doubly special. First of all, Jimmy's is in Herndon, so that's great. Secondly, Jimmy's is a Buffalo-themed establishment, and I earned my undergraduate degree at Buffalo State College. And they have great wings there!"
"American Teacher" is an autobiographical account of Graney's career as a political science teacher at Herndon High School. Through field trips, presentations by guest speakers, and other events such as rallies and political dignitary funeral visitations, Graney acts as an agent for change within the classroom, Herndon High School, and the wider community and society as a whole. Graney tells how he inspires and challenges all his students, gifted, average, and those just getting by, to become change agents themselves, in other words, respectful leaders. These are lifelong skills, sought after in today's executive boardrooms, nonprofit organizations, and political fields.
In one of the opening chapters, Graney recalls that before teaching at Herndon High School, his early teaching career was a "trial by fire."
"I experienced the 'Sunday Night Freakout'," he writes, referring to trying to be prepared for all his classes. It put a dent in his social life, but it forced him to be creative "…to think of my teaching career as a performance, to try to make lessons interesting, controversial, funny, relevant, meaningful, and powerful to a secondary student. This may be a simplification, but I wanted to be the teacher I would have wanted to have when I was a student. I'm still on that road."
Graney explains that when he was first hired to teach political science at Herndon High School, he created his own course, from the ground up. "During the first semester, I would design and teach units of my choice usually related to upcoming field trips... Perhaps FCPS had a curriculum laid out somewhere, but I never bothered to look."
Graney goes on to tell how for the next 13 years he motivates students. In the classroom and on field trips, Graney models for his students characteristics necessary to become catalysts for change: the willingness to search for facts, confidence, patience yet persistence, the ability to ask tough questions, and respect, always respect. He even creates what "would be the largest intern placement program on Capitol Hill," as Craig Perrier writes in the book's foreword. "The program continues to this day....the effort it took to make his vision a reality is a testament to Doug's dedication to his students and a model of conviction that refutes any claim of the ineffectiveness of our nation's public schools."
Morgan Findley, Class of 2008 reports, "Beyond teaching students about how our government functions and how to conduct respectful political dialog and debates, Mr. Graney taught me the inherent importance of civic responsibility. He encouraged his students to be informed, compassionate citizens. I will always be indebted and grateful." Frank Wolf, former Member of Congress for 10th District, writes in his review of Graney's book, "Whether it was engaging with students on the Declaration of Independence and the Constitution, or the hot button issues of our time, Doug's students were a vigorous experience. Many of these students would become the best interns I ever had."
"Douglas Graney is an educational inspiration," says spokesperson for the Herndon Education Alliance, Ellen Findley. "Mr. Graney teaches students to think differently and shape inquisitive, thoughtful questions formulated to solicit detailed answers from American political leadership. His enduring impact in the community goes beyond the classroom, prompting his students, their parents, co-workers, and politicians to broaden their thinking and understanding of American government."
Graney has been recognized with several awards including 1997 Herndon Optimist Club Teacher of the Year, 2007 Virginia Education Association Award for Teaching Excellence, 2008 Horace Mann Award for Teaching Excellence, 2011 Dulles Area Chamber of Commerce Educator of the Year, and 2014 Virginia Veterans of Foreign Wars Teacher of the Year.
A SECOND BOOK SIGNING is planned for Thursday, Aug. 17, 6-9 p.m. on the Herndon Town Hall Square, 730 Elden St. during Arts Herndon's Third Thursday Arts Crawl.
To set up an interview, reading, signing, or for information regarding "American Teacher," contact Doug Graney at drgraney@fcps.edu.