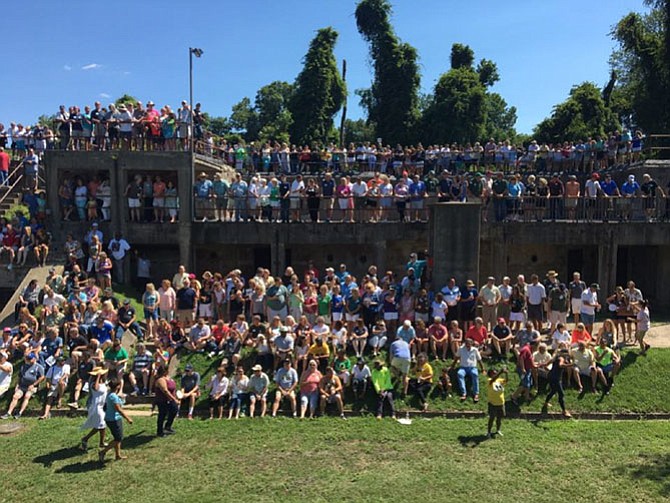 A three-day All-Class Reunion of Fort Hunt High School graduates took place July 28, 29 and 30. It included the James MacFarland Memorial Golf Tournament played at Pohick Bay Golf Course on Friday morning. It was organized by Rob Woehrle ('74) in honor of his friend Jim MacFarland ('74) who recently died from cancer. On Friday evening alumni enjoyed reconnecting with friends at Chadwicks in Old Town. On Saturday afternoon, alumni attended the FHHS Memorial Garden Re-Dedication at the site of the old school — now Carl Sandburg Middle School. School tours were offered after short speeches by Fort Hunt High School Alumni President Joe Gililland and Mount Vernon District Supervisor Dan Storck followed by a review of the new memorial pavers at the garden.
On Saturday evening, Tom Harvey and Bonnie Christ (both '67) hosted a reunion party at the Old Dominion Boat Club in Old Town. The Class of '77 hosted a reunion party at Cedar Knoll Restaurant at the same time, hosted by Temple Whitson ('77).
On Sunday, the All-Class Reunion was attended by more than 500 alumni and friends and featured four live bands, a car show, a BBQ lunch, class photos, memorabilia displays and the camaraderie of 22 years of graduating classes from Fort Hunt. The event culminated in all alumni participating in a group photo at the fort, as is the alumni's new tradition.
School's History
Fort Hunt High School (FHHS) opened its door to students in September of 1963 to support the growing young population of the Fort Hunt area. The school closed due to declining enrollment in 1985. It thrived for 22 years of operation and graduated more than 10,000 students who, due to fine teaching staffs, caring administrators, and involved parents prepared the alumni to excel in business, philanthropy, politics, the military and the arts.
The mission of the alumni association is to keep the 'Spirit' of Fort Hunt High School alive through alumni activities, community involvement and active participation in the alumni website. The association is an IRS-recognized 501 c3 public charity that provides an annual College Scholarship to West Potomac High School college-bound seniors. They also provide financial support to Carl Sandburg Middle School where the alumni maintain a Memorial Garden.