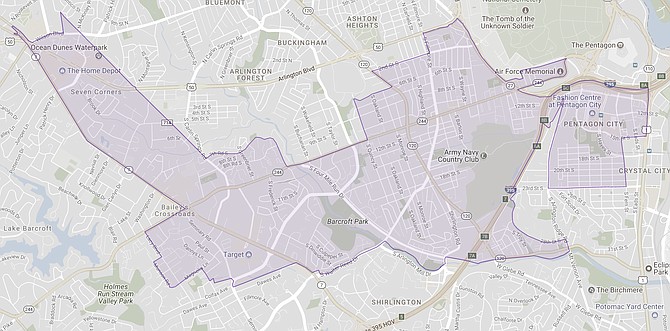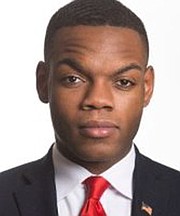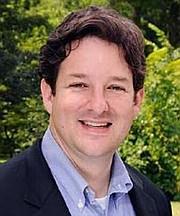 Until this year, three-term Del. Alfonso Lopez (D-49) has never had a Republican opponent. Back in 2011, he beat Democrat Stephanie Clifford in a primary fight to win the open seat vacated by Adam Ebbin, who is now in the state Senate. And he faced Independent Green Terry Modglin in 2013. But he's never faced a Republican.
Adam Roosevelt is challenging Lopez from the right in a district that leans so far to the left that Democrats very rarely fall below 70 percent. He says he'd vote against removing Confederate statues and expanding Medicaid. But Roosevelt is not a typical Republican. He says he'll also vote against hospital construction standards for abortion clinics and for closing the gun show loophole. On the campaign trail, Roosevelt accuses Lopez of failing to make much of a mark during his six years in Richmond.
"I disagree with the lack of innovation in the bills that have been attempted to be passed and patroned," said Roosevelt. "There was a water sewage quality bill that he passed, but yet we don't have bills passing through the General Assembly right now that are talking about the enhancement of STEM."
Lopez rejects this idea, and his campaign has created a list of bills Lopez has patroned or co-patroned that have passed the General Assembly and been signed by the governor. The list includes more than 100 state laws Lopez helped create, everything from a small-business investment grant fund and expanding Medicaid coverage to immigrant mothers and children to creating the Affordable Housing Trust Fund, which has invested $1.4 million in the 49th District. Lopez also says that as the Democratic whip, part of his job is wrangling up votes to sustain more than 100 vetoes since Gov. Terry McAuliffe took office in 2014.
"I'm very proud of the fact that we were able to sustain vetoes of bills that would have banned books, bills that would have demonized women who go to Planned Parenthood," he said. "Bills that would have decimated the social safety net, bills that would have harmed education funding, bills that would have made us look worse than North Carolina like the bathroom bill that passed the House and we were able to sustain the veto."
THE 49TH DISTRICT stretches from Seven Corners through Nauck and Penrose into Aurora Highlands. It's a solidly blue seat, where Democrats rarely get less than 70 percent of the vote. The only Democrat who failed to meet that threshold was state Sen. Creigh Deeds (D-25), who tried and failed to run a centrist campaign for governor against Republican Bob McDonnell in 2009. The district is only 53 percent white, which makes it the 14th lowest of the 100 House districts.
"As a demographic category, race is the strongest predictor of vote choice," says Geoff Skelley at the University of Virginia Center for Politics. "Nonwhite voters tend to be strongly Democratic while white voters are more likely than not to be Republican."
Another distinguishing characteristic of the district is the level of education. People who live here are highly educated, significantly above the average level of education in Virginia. Along with the racial and ethnic diversity, this contributes to the politics of the district.
"After race, education is now the second strongest predictor of vote intention," said Skelley. "Race is also part of this because white college-educated voters overall lean slightly Republican with women being slightly more Democratic and men being a bit more Republican. But non-college white voters are very Republican leaning, and there aren't many of them in this district."
ROOSEVELT, 25, is a native of Portsmouth. He served all over the world in the Army before settling in the 49th District in late 2015. He earned a bachelor's degree in information technology management from a California-based online college known as Trident University International while he was serving in Afghanistan. He is currently pursuing a master's degree from the University of Maryland University College in cybersecurity policy. He is currently in the Army Reserves as an information technology specialist and a contractor for the Department of Homeland Security working for intelligence and analysis in cybersecurity and cloud computing and cross-domain services.
"My generation has to have a future, and our voice has to be heard, and policies have to be rolled out to support the future of my generation," said Roosevelt. "I'm just a freedom fighter. I went to war for this country, and I believe that my generation has to have a future. The only way you can have a future is if you're out there every day being a voice to the people who need help."
If elected, Roosevelt says he would like to cut Virginia's corporate income tax from 6 percent to 4 percent for small businesses — essentially businesses with five or fewer employees. He says he'd also like to realign the public education system to work with the private sector to create "skill clusters" so students can get jobs in cybersecurity or the medial field. He also says he'd like to do away with regulations like traffic pattern analysis to facilitate transportation projects like a bullet train to New York. When asked what other regulations he would reduce or eliminate, he declined to offer more details.
"I don't want to go into the thousands of different complexities here because I'm really focusing on a high-level discussion," said Roosevelt. "When I pass a bill, which is the concept of what we are trying to do, it talks about cutting down on county and state regulations in order for us to produce innovative transportation mediums."
LOPEZ, 47, is a native of Williamsport, Penn., although he was raised in the Middleridge neighborhood of Fairfax County. He has a bachelor's degree in American Studies from Vassar College in New York and a juris doctorate from Tulane University Law School in New Orleans. Professionally, he's a former lobbyist for Alcalde & Fay, and he's currently director at a federal contracting firm known as Capitol Bridge LLC. He was first elected in 2011, and he's now part of the leadership in the Democratic caucus, serving as the Democratic whip.
"We need to focus on building a commonwealth that lifts everyone up and leaves nobody behind," said Lopez. "And so everything I do in the legislature is geared toward that."
If he's elected to a fourth term, Lopez says he would work to make sure that Virginia remains an open and welcoming commonwealth for immigrants as well as the LGBTQ community. He says he would also work to improve the environment and work toward renewable energy. Perhaps most importantly, though, Lopez says he wants to "grow the economy and increase jobs," a goal he says includes everything from helping small businesses to funding education. Ultimately, he says he wants to improve the quality of life and attract businesses to Virginia.
"It's not just expanding Medicaid, and it's not just strengthening our social safety net," said Lopez. "It's investing in transit and transportation. It's improving public education by reducing class sizes and time spent on standardized tests. It's ensuring that workers have a voice on the job."