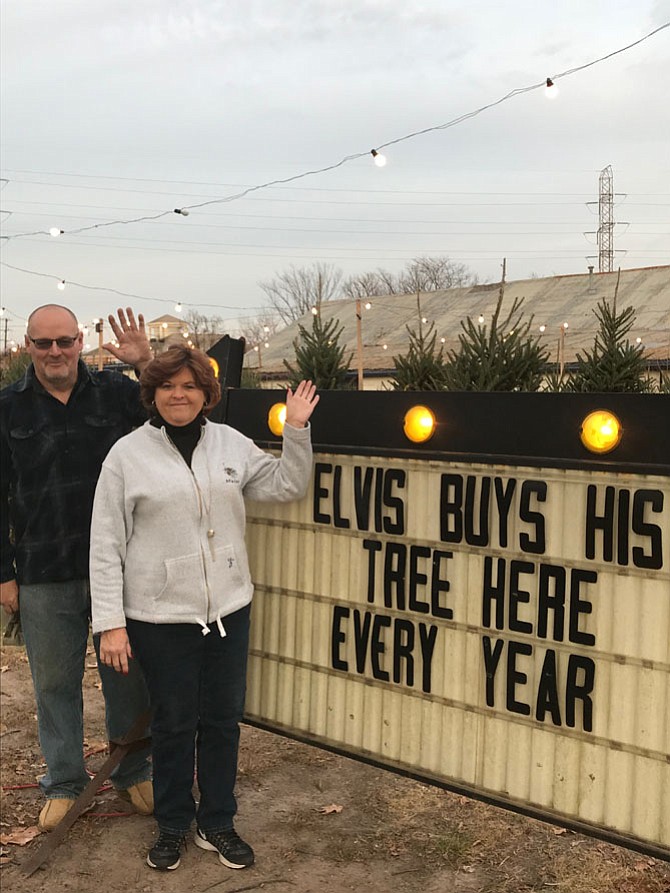 Herndon — Come next winter, Elvis will have to buy his Christmas tree somewhere other than the Town of Herndon. For 31 years, Suzanne and Mark Eaton have sold Christmas trees in Herndon and their sign, "Elvis Buys His Tree Here Every Year," has followed them.
Next year, the Christmas tree site at the corner of Elden and Center streets will not be available. In October of this year, the Herndon Town Council approved to move forward with a Comprehensive Agreement with Comstock Herndon Venture LC in the redevelopment of 4.675 acres of town-owned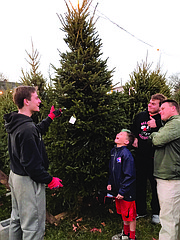 land which includes the location where the Eaton/Elvis lot is now.
Suzanne Eaton said they are looking for another town location, but cannot find one. Looking back, Eaton reminisced about the good old days when she and her husband Mark stood up their first load of Christmas trees in Herndon at the Exxon Station, 597 Elden St. "We were there until the owners, Dallas and Sherry Brumback put in the car wash. The Brumback's were very, very good to us," she said.
Eaton continued, "We then moved to the second of our three town locations, the one near the 7-Eleven at 701 Van Buren, across from the Post Office. We set up our Christmas trees in the adjacent field. When Fulton Bank went in there sometime during the mid-1990s, we moved to our last location, here at the corner of Center and Elden streets, then owned by Joe Paul, Subaru."
"This has been our home since then, but due to the pending redevelopment of the land, the town has told us this is our last year here," she said.
Eaton has kept photographs of the happy families who have been coming to the lot throughout the years, especially photos of the children. Many of them are now adults and are bringing their children to Elvis' tree lot one last time.
Eaton recalled how so many young parents pull their little red Radio Flyer wagon to the lot. When they arrive, their children are in the wagon, but when the family leaves, the prized tree rides in glory instead.
"Each year, as soon as I arrive back in Herndon, I'm reminded of the beautiful people who live here, and year after year bring their families."
According to Eaton their lease from the town ends Dec. 20. They will be pulling up stakes and heading back home after 31 fantastic years.
"We're going to miss all of you. Have a wonderful Christmas," Eaton said.
For more information about Suzanne Eaton Christmas Trees/Herndon, find them on Facebook at Suzanne Eaton Christmas Trees/ Herndon or visit them at 782 Elden St. in the Historic Downtown District.