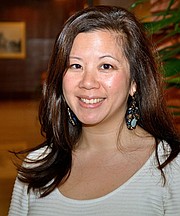 Like most young college graduates, I moved to this area thinking I would live here for a year or two before moving back home to California to "settle down." Somehow 20 years have passed and I'm still here.
I came here thinking about how I could make a difference in the world. Most of my career prior to ACT focused on workforce development in the for-profit, education and nonprofit sectors. I typically spent about two years in a job before I was ready to move on and try something new. Then I came to ACT. I never would have thought I'd be in the same job for more than 10 years, but ACT is different than any other place I've been. When people ask about the difference, I can easily point to the people and the work we are doing. There's something encouraging and exciting about working at the local level and making an impact in and for a community like Alexandria.
At ACT for Alexandria, we are making a difference, a lasting difference.
ACT is a resource builder: This year, ACT's Spring2ACTion helped 158 nonprofits collectively raise nearly $1.6 million in 24 hours to benefit the local community and we've raised more than $6.2 million since the giving day's inception in 2011.
ACT is a Grantmaker: ACT has awarded more than $850,000 in grants since 2005 to more than 40 local organizations to support nonprofit excellence and strengthen the leadership of Alexandria nonprofits.
ACT is Empowering Local Donors: ACT Donor Advised Fund holders have given more than $10.7 million to causes they care about since 2004, with 70 percent of those grants staying in Alexandria.
ACT is a Community Leader: ACT is convening the Early Care & Education Work Group to ensure every child in Alexandria has a strong start in life and in school. ACT hosts the IMPACT: Innovation + Philanthropy Forum bringing leaders together to discuss innovations in philanthropy and building the capacity of individuals to make a lasting impact in the community.
I have the privilege of working every day with so many incredible people including our local nonprofit, business, city, and school leaders, donors, ACT Board members and the ACT team. A great example is ACT's outgoing President and CEO John Porter.
I have known John for 11 years — first in his role as a founding board member and then as my boss for the past eight years. If you know John, or Mr. Porter as he is known by his T.C. Williams High School students and parents, you know he never forgets a name, always has a smile on his face, is ready with an encouraging word or thoughtful advice, and is always ready to do what it takes to make a difference in someone's life, to help a nonprofit, or work with our donors. ACT would not be the organization it is today without his leadership and I would not be the person I am today had I not learned from his examples of patience, humility, kindness, and compassion. John is a wonderful example of those making a lasting difference in Alexandria. While he is passing the torch to new leadership, he will continue to be active both with ACT and our greater community.
To learn how you can make a lasting difference in our community, please visit www.ACTforAlexandria.org.
Brandi Yee is the chief program officer at ACT for Alexandria (ACT). Launched in 2004, ACT is a community foundation that seeks to turn ideas into actions and resources into results.