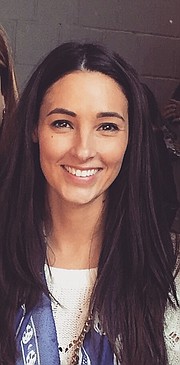 No matter how old you are, or what holidays are on your radar, it's helpful to get a little creative with your gift-giving.
Arlington resident and native Northern Virginian Rebecca Jackson made the biggest purchase of her life earlier this year, so she's had to think extra resourcefully for the holidays.
"I just bought my first house, so it was hard to shop for the holidays this year while keeping a new mortgage payment in mind," Jackson said. "Plus, my family has five birthdays between late October and early January, so I have to buy a ton of presents all at once. My secrets: shop early, keep track, and use shopping 'assistants,' like apps and other online sale alerts. When I see something I know a family member or friend would like, I buy it and store it until their next birthday or Christmas. I was completely finished with my Christmas, holiday and birthday shopping around Halloween this year. That way, I'm spending money throughout the year instead of all at once. Nerd alert: I keep track of all my gifts and spending in an Excel document so that I don't overspend or buy too many things for one person. Finally, I online shop a lot. I don't think a day goes by without at least one package arriving at my doorstep, so I use Ebates to get cash back and Honey to automatically find coupons."
In terms of what to get with her economically savvy approaches, she looks in the exact places she knows her loved ones won't.
"The gifts I like to give are usually things I know people wouldn't buy for themselves — not necessarily useful, but always fun," Jackson said. "I like to search Etsy for things I know my friends and family like, and then get them something unexpected — like matching 'Bah Humpug' shirts for my sister and brother-in-law, who are obsessed with their pug, Lois. My goal when giving gifts is to make sure the recipient will know it was from me whenever they use it — that's why I got my best friend a picture of my face turned into a pillow."
Retail expert and Arlingtonian Amanda Adams agreed that it's ideal to make a gift personal.
"The best gifts are thoughtful quirky and speak to someone's personality," said Adams, who has been in retail management for years. "Any sort of one size fits all gift is ideal; for example, accessories. "I love getting gifts that I can use for my house or something that I would not normally spend money on, like Lush soaps, Anthropologie candles, scarves, hats, and gloves."
Arlington residents like Alyssa Belmondo do see the beauty in giving and receiving more practical holiday presents — especially for her 20-something peers whose incomes aren't exactly disposable.
"I like getting and giving gifts that are useful as opposed to something that my friends and family might not need, especially because at my age, everyone seems to be on a budget," Belmondo said. "Even though gift cards seem lazy, I love getting them for my friends because they can actually be thoughtful. For example, I have some friends who really like to get their nails done, or do yoga and cycling classes, so I like to get them gift cards for manicures, pedicures and classes."
Although Belmondo errs on the side of more functional, her philosophy is to also in that she buys what she knows her giftees tend to simply browse.
"I like getting her things I know she doesn't spend her own money on," Belmondo said. "She loves reading but hates spending money on book so I like to get her gift cards to buy them."
When in doubt, keep it simple — even for children.
"If you're like me, most of the kids you know already have tons of toys," Jackson said. "Books are always a good gift, but try to think outside of the typical toy box — yes, pun intended — kids will go crazy over simple things like a slinky, a koosh ball, an echo microphone; things that you wouldn't necessarily think are as 'fun' as life-size dinosaurs or whatever crazy toys are on the market today. Also, kids are usually obsessed with at least one thing — for our family, it's trucks, Peppa Pig, and sports balls, respectively — so just google that and see what you can find. Pro tip: anything you were going to buy for your niece anyway — boots, an easel, a sleeping bag, a bathing suit — all come in Peppa Pig versions."