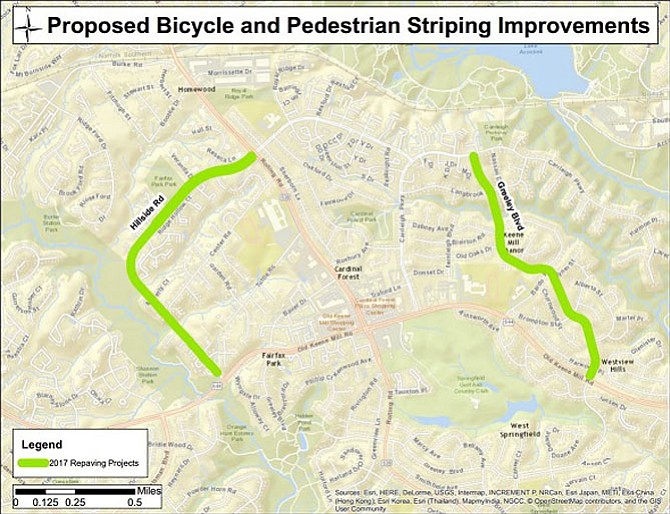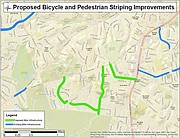 Howard Albers of Springfield was encouraged by what he saw at the community meeting discussing proposed road striping changes in Braddock and Springfield Districts on Jan. 24.
The two areas under review as part of the Virginia Department of Transportation's 2017 repaving schedule include Greeley Blvd from Carrleigh Pkwy to Old Keene Mill Road and Hillside Road from Rolling Road to Old Keene Mill Road.
The meeting was held at Irving Middle School in Springfield.
Some of the ideas included shared lane markings, designated bike lanes and "climbing lanes," where bike traffic going uphill is in a protected lane while traveling downhill in the opposite direction it would be a shared lane.
"It will give a sense of safety to bicyclists, to have a designated lane," said Albers, who is an avid recreational biker and director on the board of the Fairfax Alliance for Better Bicycling.
Albers said Adam Lind, the Fairfax County bicycle program manager, did a good job at the meeting of explaining the benefits of the restriping, and how when VDOT repaves the road, it will have to put new paint down anyway.
"I don't see any downsides," Albers said. "It's a low-cost option for the county improvements to be put in."
VDOT says it plans to repave nearly 1,300 miles of roads in Fairfax, Prince William, Loudoun and Arlington counties through June this year.
For Albers a key component of the new lanes is their effect of narrowing existing car lanes to 11 feet. "Research has shown that will slow down drivers," he said. Along Greeley Blvd in particular, he said, the traffic calming would be especially helpful.
The proposed improvements would also improve access for bikers to the county park system and Gerry Connolly Cross County Trail.
Design completion is scheduled for April this year, with projects expected to go to construction this summer.
The entire presentation from the Jan. 24 meeting is available online at http://www.slideshare.net/fairfaxcounty/hillside-rd-and-greeley-blvd-2017-vdot-repaving.
A community meeting on proposed Lee District bicycle improvements is scheduled for Feb. 16 in the cafeteria of Groveton Elementary School, located at 6900 Harrison Lane in Alexandria.
For more information on the VDOT Northern Virginia Paving Program, visit http://www.virginiadot.org/projects/northern_virginia/northern_virginia_paving_program.asp.