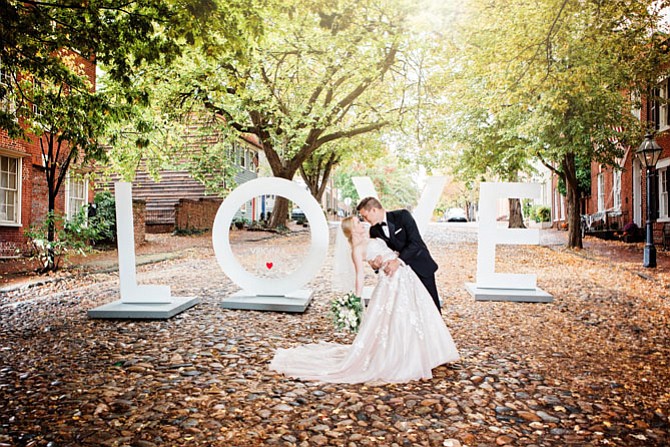 Alexandria — Monte Durham, co-host and fashion director of TLC's "Say Yes to the Dress: Atlanta," will be the featured guest at the first annual Alexandria Wedding Showcase Feb. 19 at The Westin Alexandria.
A career bridal image consultant, Durham is well known in Alexandria, where he resides and celebrated his own wedding in 2013. He will host a VIP reception and participate in the showcase.
"We are really excited about the inaugural Wedding Showcase," said Lorraine Lloyd of Visit Alexandria. "The quality of our vendors along with our program sets this apart from typical wedding showcases."
More than 50 local vendors will participate in the showcase, which will also serve as a benefit for Brides Across America, a nonprofit that provides weddings and wedding gowns to military and first responder couples nationwide.
"With Monte's help, 10 brides chosen by Brides Across America will select their gowns at the showcase," said Visit Alexandria's Megan Hosford, a member of the Wedding Showcase committee. "The gowns have been donated by Brides Across America and Global Bridal Gallery, an Alexandria wedding dress boutique. And $2 from each ticket sold to the Wedding Showcase will be donated to Brides Across America."
Hosford, who has a background in wedding planning, said the idea for a showcase began a year ago.
"Alexandria is a premier destination for weddings," Hosford said. "We wanted to engage the many wedding vendors with the goal of creating a great wedding community."
Showcase committee members include Blackwall Hitch, Eat Good Food Group, Global Bridal Gallery, Modern Bridal Studio, Potomac River Boat Company, The Westin Alexandria and Visit Alexandria.
"This really is a community effort," Lloyd added. "Sponsors of the showcase include Engaged! Magazine, The Westin Alexandria, Kimpton Lorien Hotel & Spa, and Visit Alexandria. And we couldn't have done it without the support of the Alexandria Marketing Fund."
Featured vendors will include bakeries, boutiques and caterers; dress and tuxedo boutiques; entertainment and music providers; florists; photographers; salons and spas; transportation and other service providers; and hotels and other venues.
Local celebrity chef Cathal Armstrong will discuss selecting the perfect wedding menu and mixologists from Blackwall Hitch and PX will present a demonstration on seasonal cocktails.
Showcase attendees who purchase tickets before Feb. 12 will be entered in a drawing to attend a VIP champagne reception with Durham. All attendees will be entered to win multiple other wedding-related prizes, including the opportunity to display the Virginia Is For Lovers "LOVE" letters at their own wedding.
The Alexandria Wedding Showcase will be held Feb. 19 at the Westin Alexandria Hotel, 400 Courthouse Square, from 11 a.m.- 3 p.m. Advance tickets can be purchased online for $15 each or $20 per couple or $25 per person the day of the event.
For more information or to purchase tickets, visit www.alxweddingshowcase.com.