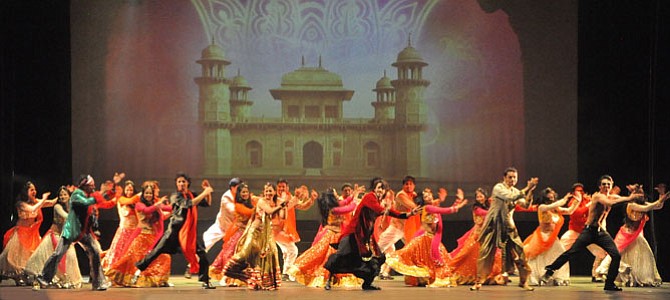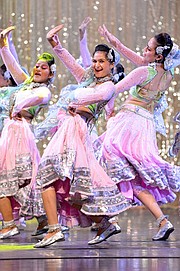 Where and When
"Taj Express: The Bollywood Musical Revue" at George Mason University, Center for the Arts, 4400 University Drive, Fairfax. Performances: Feb. 18, 2017 at 8 p.m. and Feb. 19, 2017 at 4 p.m. Tickets: $50, $43, $30. Call 888-945-2468 or visit www.cfa.gme.edu. Note: Pre-performance discussion led by member of "Taj Express" 45 minutes before each performance.
Contemporary performing arts from India is heading to the Center for the Arts. It is the extraordinary music, dance and cinema associated with Bollywood, titled "Taj Express: The Bollywood Musical Revue."
"Taj Express" will present an accessible performance that is true to the Indian culture, and celebrates the contemporary pop music and dance that is such an important part of the Bollywood film experience," said Tom Reynolds, Director of Artistic Programming, Marketing and Audience Services, Center for the Arts.
"Taj Express" is a live performance with India's high-energy pop music and dance and film excerpts rooted in the art of the Bollywood cinema. The production was created by choreographer Vaibhavi Merchant and director Shruti Merchant as a tribute to Bollywood blockbuster movies.
"There has been a great deal of interest in events that share Indian culture, both from the Indian communities around the Washington metro area, and from people who are not of Indian descent," said Reynolds.

"Being part of a university with one of the most culturally diverse student populations in the country, we also continually look for performances that will help people of all backgrounds develop a better understanding of the traditions and art forms specific to a particular culture." added Reynolds.
Inviting patrons to "Taj Express" Reynold said, "We strongly believe that this will be a performance that will be, at its heart, enjoyable regardless of how familiar people are with the genre. The authentic, colorful costumes that are a part of the Bollywood tradition, the energy-filled dance, and the upbeat popular music will enhance the film excerpts."

"Taj Express" is based on one of the great Bollywood films of the same name. The production weaves a tale of Varsha, an Indian journalist living in Europe. After traveling home to write a story about Bollywood and discovery "The Greatest Indian Love Story Ever Told," Varsha is swept up in a glittery, joyful musical extravaganza all of her own. "Taj Express" has action, romance, comedy, a royal wedding Bollywood-style, and larger-than-life dance numbers set to India's pop hits and its folk-music classics.
George Mason University has listed "Taj Express: The Bollywood Musical Revue" as one its Center for the Arts cultural passport events meant to introduce audiences to the world experience.
"Taj Express" will be like "no other we have had at the Center for the Arts, an amazing composition of film, live dance and music," concluded Reynolds.
More like this story