Two large trucks pull out of the parking lot at the First Christian Church on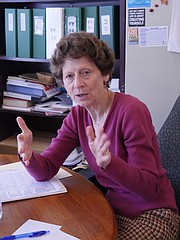 King Street early Saturday morning. The weekly ALexandrians InVolved Ecumenically (ALIVE!) furniture pick up and delivery is on the way.
On an average Saturday there will be about eight stops with five pickups and three deliveries in the City of Alexandria per truck. Diane Charles, executive director of ALIVE! says beds are the biggest need. She remembers one recent story where a family whose children had gone off to college donated bunk beds. They were delivered to a family where the grandma slept on the couch and the two boys on the floor. "The boys' eyes lit up when they realized they would have bunk beds to sleep in that night," she said.
Each week people contact ALIVE! to donate furniture and others contact them with furniture requests. "We don't have a warehouse anymore, and that elevates the challenge," Charles said. ALIVE! lost their free warehouse space a year ago as part of the waterfront redevelopment. Charles explains without a warehouse they can only accept donations for what has been requested that week.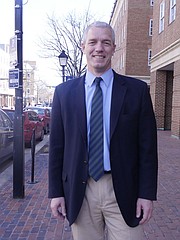 Mike Mackey, who is volunteer coordinator for the furniture program, says this means, for instance, if they get four bed donations and only three requests in a particular week, they have to turn down a donation.
"This makes it a bit more of a puzzle, keeping the donors happy," Charles said. However, she adds that they have a very generous resident of Alexandria who has donated her garage for storage. "At least that's a place where we can put all of the mattresses." However, the logistics are difficult and the need is great for a large storage space.
Mackey says that he has been volunteering for 10 years and became coordinator a couple of years ago. "I was donating some furniture 10 years ago and said 'what's this all about?' If you ever need a hand ….." Before he knew it he was volunteering the next Saturday. He says that different congregations volunteer to take a Saturday and then round up members of the congregation to help that week.
"Some of them have had the same Saturday for years," Charles said.
Ideally there would be 8-10 volunteers on a Saturday, "but I have
done it with two," Mackey said.
He says it isn't overwhelming to be a volunteer, and there is need for drivers, coordinators, heavy-lifters and other support. Most volunteers work every 4-6 weeks. "I feel uplifted by the good people who lend a hand and the good people with whom we come in contact — both donors and recipients. I'll do it for the rest of my life. As the former program coordinator said to me, 'you may be lucky to change someone else's life but you know it will change yours."'
ALIVE is the largest private safety net for the needy in the City of Alexandria. The furniture program is one of the five of seven programs staffed and managed entirely by volunteers. To qualify to receive furniture a person must obtain a referral from an agency or organization. They will contact ALIVE! To request the furniture. To donate furniture or if you wish to volunteer, call 703-837-9300 or email furniture@alive-inc.org.