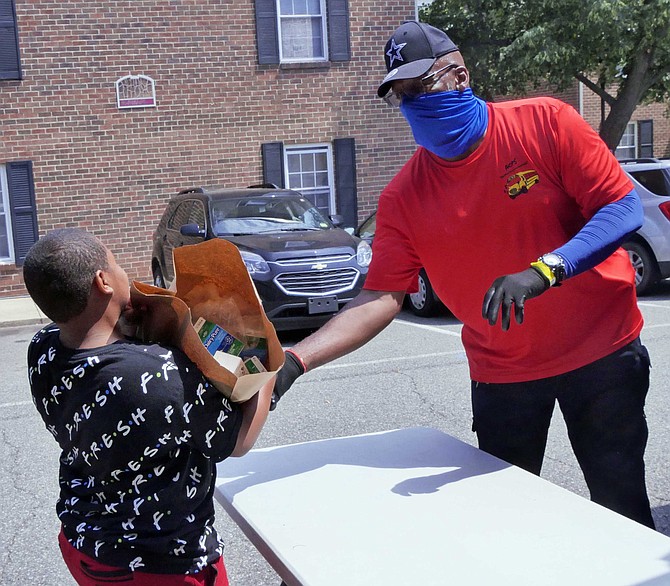 Third in a series on food insecurity in Alexandria during the coronavirus. Link to Part 2.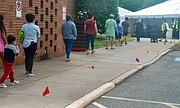 Ann Patterson, Food Program Director for ALIVE!, says that the first week after the pandemic was announced, they packed for 400 in their regular food distribution but 1,100 families showed up. "We ran out of food. We didn't know what to expect." The next delivery on April 4, they packed for 1,300 and didn't run out.
"It has been going in waves. We don't know what to expect."
She says in March it was a little bewildering with the ebb and flow. "We had to always be nimble enough to evaluate the data and pivot when necessary."
ALIVE! serves as the City's basic food resource for people in need through a variety of programs targeting specific populations. On the last Saturday of the month ALIVE! distributes groceries in a Trunk to Truck program for those needing assistance during the pandemic. This program replaces their Last Saturday Food Distribution designed to bridge the gap at the end of the month when many households run out of food.
This Trunk to Truck program allows contactless distribution through drive through or walk-up options at Cora Kelly or John Adams Elementary Schools. People drive up and the veggies, eggs, dry products are loaded directly into their car trunk without the driver getting out of the delivery truck. The bags are placed on a table for only one family at a time so no one can touch another's person's delivery. Tables are washed down between families.
Each family receives four grocery bags with rice, beans, pasta, one dozen eggs, a family pack of frozen chicken, 20 pounds in a box. Patterson said their programs are people-based and they try to develop a relationship with clients to provide culturally appropriate food. "We provide low sugar and carbs if we get referrals with special dietary needs. And," she adds, "We noticed that Muslims wouldn't take the meat we offered, so we started offering Halal chicken when possible."
Patterson said when they had an inkling that schools were going to close they did a "double double" distribution two weeks in succession to replace the weekend care bags of groceries that would have normally been handed out at school to low-income families. Then most of the church pantries closed when it became unsafe for their mostly over-65 volunteers to continue to work there. So until the school system got their plan up and running it was just ALIVE! filling in the holes.
WEEKLY EVALUATION of data while monitoring the economic situation as well as the eviction landscape helps to determine food insecurity, Patterson said. Are unemployment checks starting to arrive? How have additional SNAP benefits affected need?
Ally Barbaro, who is a VISTA volunteer for Hunger Free Alexandria, keeps an up-to-date list of resources indicating who is open and who is closed for the City of Alexandria.
Barbaro explains Hunger Free Alexandria was formed in 2014 after the release of a report that examined access and utilization of food resources. The report determined that 1-in-5 Alexandrians, disproportionately children, face food hardship in the City. "It is a community-based coalition with partners from all different organizations."
Patterson said ALIVE! meets once a week with the core planning team to track what other organizations are doing and plan so they don't duplicate services and don't miss anyone. Wherever there are pockets of unmet need ALIVE! steps in. Barbaro says, "There are very few organizations who aren't involved with ALIVE!
ALIVE!'s mission is to" help people faced with emergency situations or long-term needs become capable of assuming self-reliant roles in the community" through a series of initiatives including their food program as well as furniture and housewares program and child development center.
In addition to the Truck to Trunk program, ALIVE! has a home delivery program on Monday-Friday afternoons for those who can't attend the truck to trunk distributions including seniors, disabled people and parents with very young children who can't leave their homes. ALIVE! also reaches out to homeless people and other pockets of highly vulnerable populations.
THE SITUATION for homeless people has changed since they are no longer in shelters due to the coronavirus, and numerous families are in hotels with no way to get food. ALIVE! steps in to assist.
ALIVE! also provides wrap around programs where other non-profits or the City have stepped up. ALIVE! will provide groceries in conjunction with somebody else where they aren't the lead but supplement other programs.
For instance, ALIVE! supplements the World Central Kitchen dinners served every Thursday night to about 400 families. Patterson says each family receives four meals from World Central Kitchen but they get dinner for only that Thursday night so ALIVE! passes out ten-pound bags of groceries plus 20 pounds of produce. The last Central World Kitchen dinner was June 25, "but we have talked about what to do and will continue to pass out groceries as needed."
"We do have a unique situation with one superwoman who does much of the food distribution herself. Phyllis Johnson has unlimited energy. She is out in parks and a lot of churches. She makes thousands of bags a week."
—Ann Patterson, Food Program Director for ALIVE!
DURING THE PANDEMIC, ALIVE! has extended its services to pop up mobile sites where every week they provide food in a high need neighborhood where they serve 150-200 families. On Monday morning Thaddeus Smith, the school bus driver, pulls up in the parking lot at Old Towne West Apartments on S. Albert Street, one of the pop up sites. He and his team have just come from Ruby Tucker Family Center where they handed out 184 meals.
A young boy is the first customer. "Good morning. How many kids today?" Harold Robinson pulls out enough lunches and breakfasts for three kids for two days. "Today they have an apple, milk, chips, a piece of cheese and a peanut butter sandwich. For breakfast there is a juice box and breakfast bar." He says in the summer people don't eat as much.
"See you next time." The school bus stops at Old Towne West Apartments parking lot on Monday, Wednesday and Friday from 11:20-11:50 a.m.
Next a woman drives up. She needs food for three kids plus three more for her cousin's kids. "His car broke down today." She left with two bags of meals. "I come every time."
Robinson says, "We have our regulars."
Barbaro says, "Food insecurity is one of the things I am passionate about." She says she has learned so much about the community nearby. "It seems like this is one of the problems that has solutions but there is a lack of public will." She says, "Alexandria is motivated and a hard working community. There has to be a partnership. All hands on deck."
MANY OF THE places that would normally provide food to those in need are closed. "But," Patterson says, "We do have a unique situation with one superwoman who does much of the food distribution herself. Phyllis Johnson has unlimited energy. She is out in parks and a lot of churches. She makes thousands of bags a week."
Patterson says in this time of need donors are very generous with financial donations. "We no longer do food drives until we feel it is safe to have people come to the warehouse." She says they get meat from grocers and produce from the generous community gardens as well as gleaning from the farmer's market. She said they have some donors who will have an entire pallet of pasta delivered to the warehouse eliminating the multiple layers of hands involved with stocking, buying and bagging supplies from the grocery store.
ALIVE! encourages virtual food drives. Instead of collecting food, they ask you to consider donating the amount you would have spent on purchasing food. Get you family, friends, neighbors together to provide a group donation. For information on the list of emergency food access points visit www.hungerfreealexandria.com or www.alive-inc.org