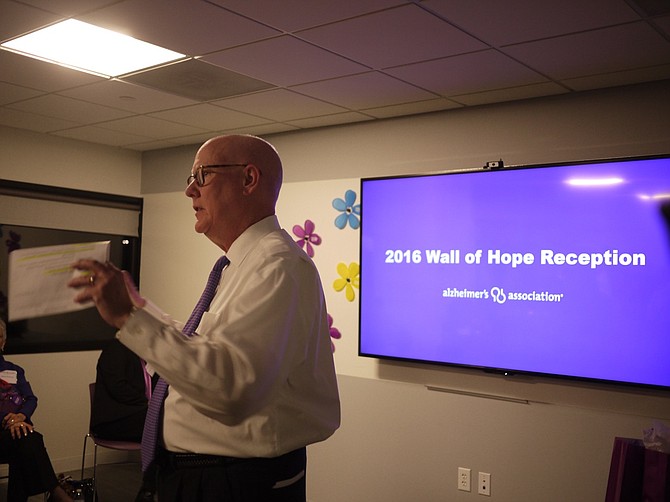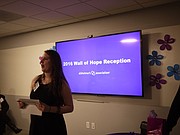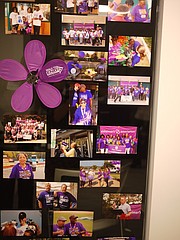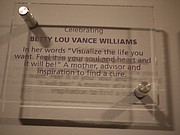 Megan Newman told her story at the Alzheimer's Association "Wall of Hope" reception at Tysons Corner on Feb. 9. She was only 18, a senior in high school, when her mother started to ask the same question more than once. They both attributed it to stress. They laughed about it. A few months later, it became clear to Meghan that what was wrong with her mother was more than stress. She convinced her to see a doctor, but it took many tests and many neurologists later before she was diagnosed with Alzheimer's.
It came at a difficult time for Megan, as she was headed off to college. She was supposed to be at the "best years of your life" stage. She laughs about it now, but switching roles with her parent at that point in her life was anything but funny. When she went to college, her mother went with her. When she moved off campus, she moved with her mother. The long days of caregiving, studying and managing the lives of two people took a toll on Megan. Her mother didn't really appreciate being told she had to brush her teeth or that she wasn't going to be able to drive her car any longer. Alzheimer's patients don't always exhibit a good-natured response to having children tell them what to do. Megan wasn't always patient and forebearing. And that bothered her. When it became time for her to hold down a job, Megan couldn't manage both tasks anymore. That is why she was so grateful to find the Alzheimer's Association, and why she will always give back to this organization: they helped her manage her mother and supported her, she said.
The reception on Feb. 9 recognized event participants and supporters who distinguished themselves through leadership and exemplary fundraising during the year. Supporters were able to see the unveiling of new plaques on the Wall of Hope, which honors those who suffered from the disease and their friends and family who gave in their name.
Attendees at the event made up 2 percent of the fundraisers and sponsors who raised over 45 percent of total funds from events. In 2016, 7,700 participants raised a record $1.78 million. And they had a good time doing it. Chris Boullire, the CEO of the National Capital Area Alzheimer's Association chapter, honored the 29 cyclists who created the "Ride to Remember," riding 100 miles and raising more than $20,000; the 260 Longest Day participants who raised over $118,000 participating in creative activities; the "Blondes v. Brunettes" (a flag football game for women,) which had 80 participants and raised over $85,173; and the biggest event for 2016 in this area: the Walk to End Alzheimer's had 7,300 participants at seven walks throughout the region who raised $1.53 million.
The Alzheimer's Association in the area is always looking for additional Walk volunteers and teams for 2017. Interested people can visit www.alznca.org/walk.